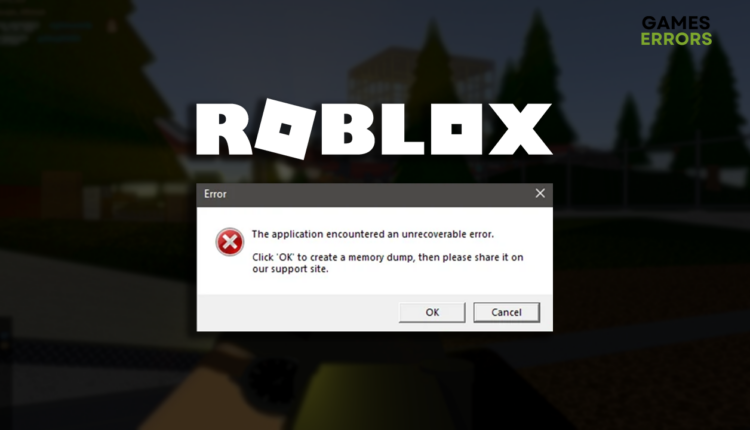 Roblox: The Application Encountered an Unrecoverable Error [Solved]
We are trained to be ready to fight against the most unexpected errors. Follow our lead as we show you the path towards getting rid of this error in Roblox! 👾
Gamers are experiencing Roblox the application encountered an unrecoverable error for many months now. The official patch seems unlikely, so we are here to provide valuable information on troubleshooting this confusing error.
If the game often stops for you, learn what to do when Roblox freezes.
The application encountered an unrecoverable error.
Click 'OK' to create a memory dump, then please share it on our support site.
Why did Roblox encounter an unrecoverable error?
Roblox the application encountered an unrecoverable error due to virtualization settings, problems with anti-cheat, poor internet connection, Windows Firewall blocking the game, pilled-up cache files, using an unreliable wireless connection, compatibility issues due to background apps and startup services, outdated Windows, or other network-related problems.
How do I fix the application encountered an unrecoverable error in Roblox?
Get started with these quick checks and fixes:
Check virtualization settings: If you enabled virtualization in BIOS settings, disable it. Additionally, don't run Roblox on a virtual machine but directly from your PC.
Uninstall Roblox anti-cheat: Head to the Add or Remove programs and search for Byfron's Hyperion anti-cheat software. Uninstall it and launch Roblox so it automatically downloads it again.
Check the internet connection: Head to the Google Speed Test page to check if your internet is working correctly and what are the speeds and latency.
Run Roblox as Administrator: When you run games as administrator, you allow them to use more processes and to surpass the limits placed on them by your system, thus this method might fix the unrecoverable error in Roblox.
Microsoft Store App: Another way to fix the Roblox application encountered an unrecoverable error is to access it by using the Microsoft Store App temporarily.
Proceed with step-by-step solutions for eliminating the Roblox unrecoverable error.
1. Allow Roblox through the Firewall
Time needed: 5 minutes
Windows Firewall is the core security feature on your PC, and you should always keep it enabled. However, if you can't eliminate the unrecoverable error in Roblox, we advise you to add the game to the list of Firewall exceptions.
Click on the Windows icon, type Windows Defender Firewall, and open it.

Click on Allow an app or feature through Windows Defender Firewall.

Click on Change Settings and Allow Another App.

Select Browse and navigate to the Roblox installation folder.
Click on the Roblox executable file (.exe) and select Open.
Check the checkbox in columns Private and Public in the Roblox row and hit OK.
Restart your PC.
2. Use a VPN
Some gamers claim that the only way they managed to get past the unrecoverable error is to connect through a VPN. The most important thing is to use a reliable VPN so the speed and latency don't suffer.
The VPN service of our choice is ExpressVPN. This provider has servers in over 90 countries worldwide, allowing low-latency connection with outstanding performance. Brownie points go for having support for routers, thus enabling VPN for any device you connect to the network!
3. Delete cache files
Roblox and other games on your PC store cache files so they can launch and run smoother. However, if these files are corrupted or aren't saved correctly, you must manually delete them from the Local folder.
Use the Windows Key + R shortcut to open the Run dialog, type %localappdata%, and hit OK.

Press CTRL + A to select all files in the folder.
Hit the Delete key to delete all the files in the folder.
➡ If prompted to confirm, click on Yes.
➡ If some files can't be deleted, click on Skip.

Extra steps to fix Roblox the application encountered an unrecoverable error:
If you still can't enjoy the gameplay due to Roblox unrecoverable error, try to:
🌐 Use a wired connection: A wireless connection is known to cause various issues when playing Roblox and other games, so we advise you to connect via ethernet cable.
❌ Close background apps: This will stop background apps from creating compatibility issues.
♻️Change Roblox's Compatibility: Depending on your system and Windows updates, Roblox might run better with compatibility mode on. In addition, consider disabling fullscreen optimizations by checking the box right next to it.
👩🏻‍🚒Update all of your drivers: Sometimes the Roblox unrecoverable error is caused by outdated drivers or wrongly installed ones. As you might or might not know, some drivers must be installed in order for them to function properly. Take the dedicated and integrated GPU, for example. First is the integrated driver, and then the dedicated one.
⬆ Update Windows: Since this error might be related to some missing DLL files, some gamers say it could only be resolved by performing a Windows update or reinstallation.
💿 Perform a Clean Boot: Prevent startup services from interrupting the game from launching!
🔁 Reinstall Roblox: Uninstall the game and restart your PC if nothing else resolves your issue.
📶Use another Browser: To quickly fix Roblox, the application encountered an unrecoverable error. You can try to switch the browser you are using. Try using Chrome or Opera GX, which is kind of made for gamers.
Related articles:
Conclusion
In conclusion, Roblox the application encountered an unrecoverable error message, which can be prevented by disabling virtualization settings, uninstalling Roblox anti-cheat, and using a reliable wired internet connection. Some solutions include allowing the game through the Firewall and deleting cache files.
Don't forget to enable VPN if the game still doesn't work. Our recommendation goes to ExpressVPN. Furthermore, close background apps and perform Clean Boot before launching Roblox. The last resort is to reinstall Roblox using the Microsoft store.