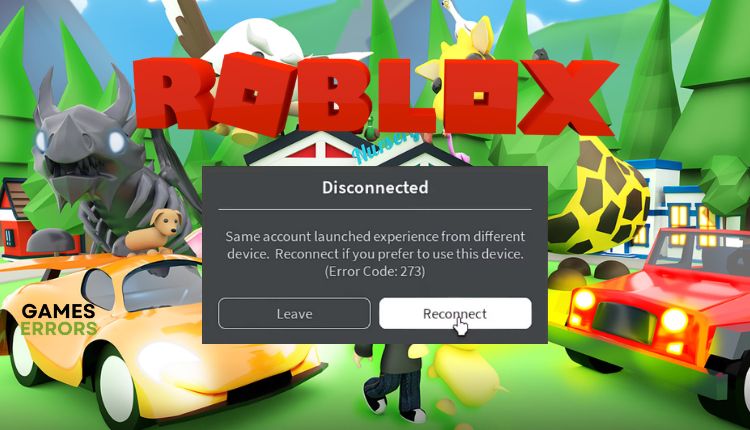 Roblox Error Code 273: How To Fix It [2023]
Are you annoyed by Roblox error code 273? Try to solve the problem with our proven solutions. 👍
X
INSTALL BY CLICKING THE DOWNLOAD FILE
The main appeal of Roblox is that you can be creative in the game by designing your virtual worlds and entirely new games. However, encountering errors on Roblox, like error code 273, can be an unpleasant gaming experience. Unfortunately, this error is not uncommon but is vague and sometimes very problematic. Fortunately, this guide will explain everything you need to fix roblox error code 273.
What does error code 273 mean in Roblox?
When you encounter Error 273 while playing a game, the game's authentication and account servers have detected a double sign-in session on your account. However, it's important to note that someone cannot start a new game session from another device without your username and password. The problem may be a false warning, and your account security is not at risk. In some cases, the issue may be with the Roblox servers. Additionally, there may be problems on your end, such as a slow or unstable internet connection, problems with your account, DNS cache issues, or other software difficulties.
How do you fix error code 273 on Roblox?
Before you try to fix error code 103 with our tips, do these more straightforward steps first:
Ensure you have the latest version of Roblox.
Check the status of the Roblox server. Maybe the servers are down due to a technical issue or scheduled maintenance.
Power cycle your modem and router.
Log out of Roblox or restart your PC.
In case you haven't solved the problem yet, do the following:
1. Change your Roblox password
Although Roblox error code 273, in most cases, does not mean that your account has been compromised, we still advise you to change your login password. This way, you will be sure that no one but you owns your account. Do the following:
1. Log into your Roblox account.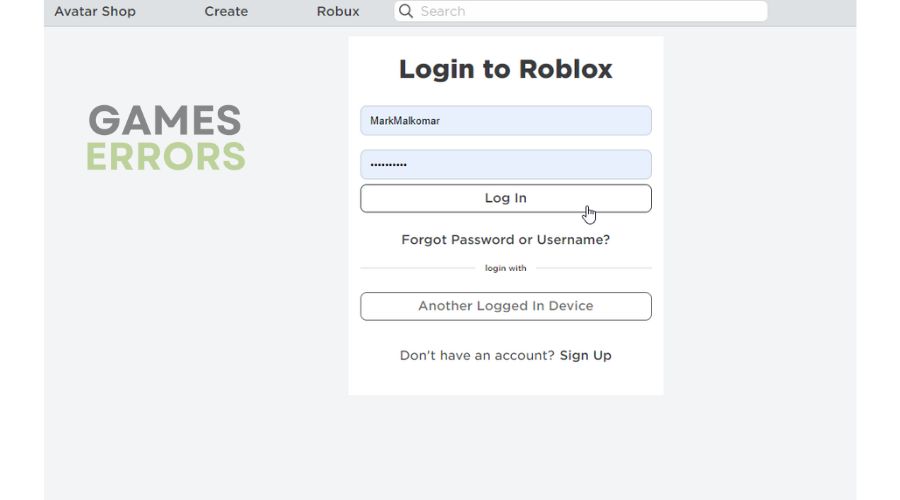 2. Click the gear icon in the website's upper-right corner to go to Settings.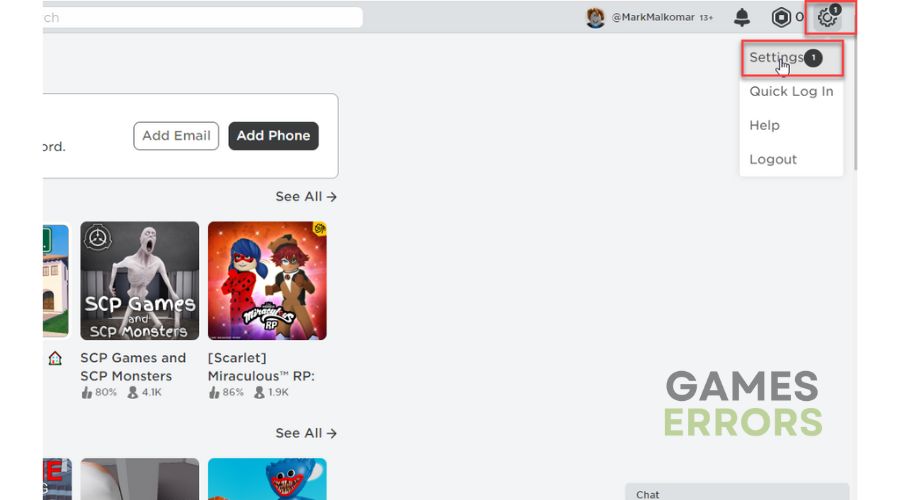 3. Click Account Info and then Change Password icon.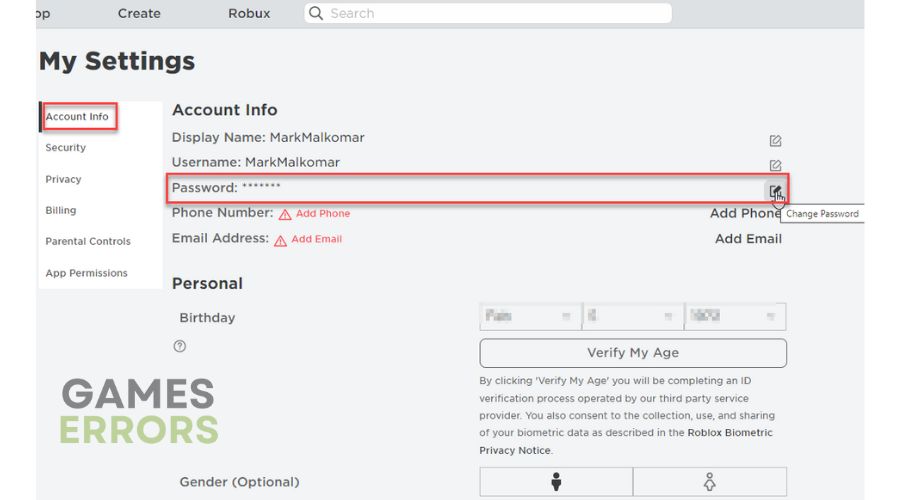 4. Save the changes and exit Roblox.
2. Log out of all other sessions
Time needed: 1 minute.
As part of the solution to fix the Roblox Error Code 273, we suggest forcing a logout from all other devices. You can achieve this by following the steps provided below:
Log into your Roblox account

Click the gear icon in the website's upper-right corner to go to the Settings page.

Click Security

Click Security in the left-bar menu and then scroll down to the bottom of the screen.

Log out of all other sessions

Click the Log Out of All Other Sessions button and press Log Out once the confirmation panel appears.
You have successfully logged out of all other devices except the one you currently use. Additionally, as you have just created a new password, only you can access your account.
3. Allow Roblox through the Windows firewall
Sometimes you may get error code 273 in Roblox if your Firewall interferes with the game. Then you need to allow the game through the firewall settings as follows:
1. Press the Win+R keys to show the Run dialog box.
2. Type; "firewall.cpl" and press Enter to open Windows firewall settings.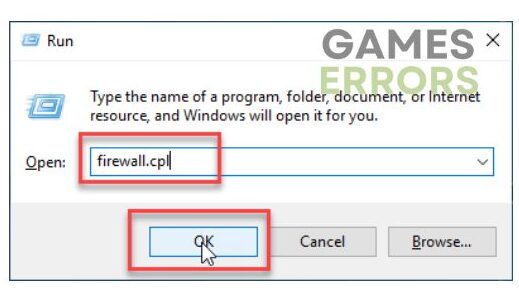 3. Click the option Allow an app or feature through Windows Firewall.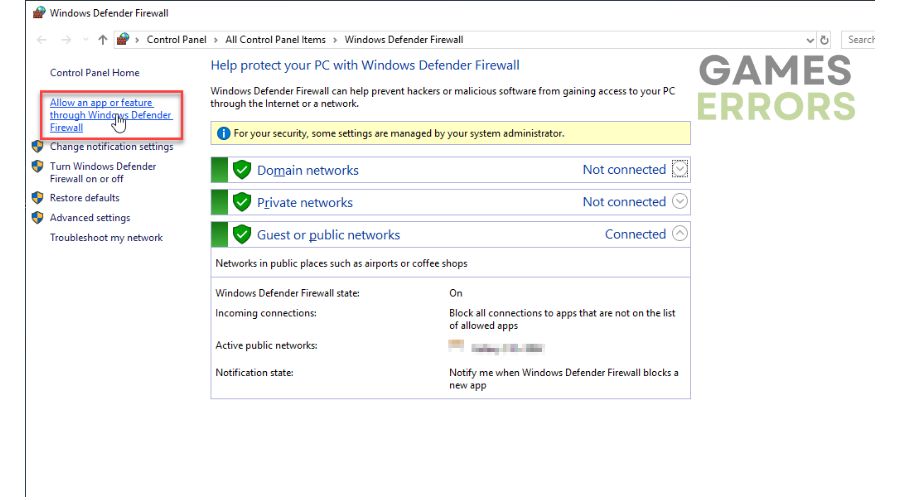 4. Select the Change Settings button and Allow Another App.
5. Use the Browse option to add the Roblox exception to the Firewall.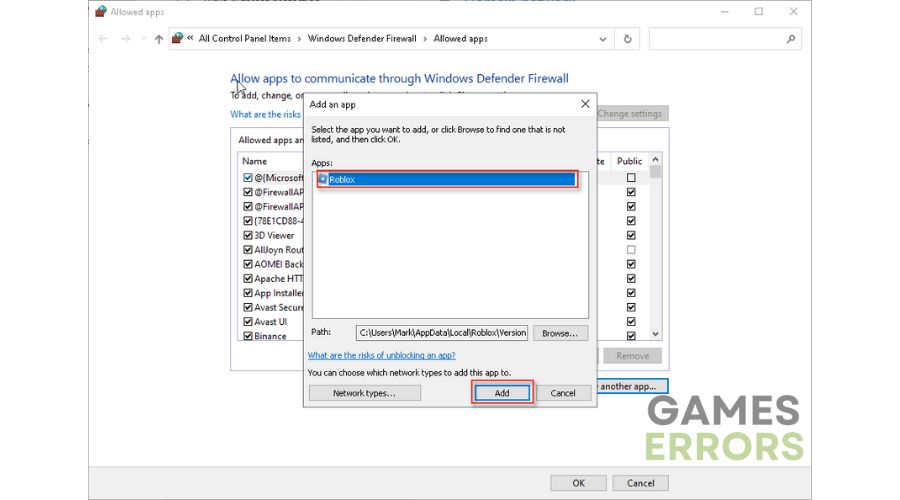 6. Click the respective checkboxes by allowing Roblox through Public and Private networks and confirm on OK.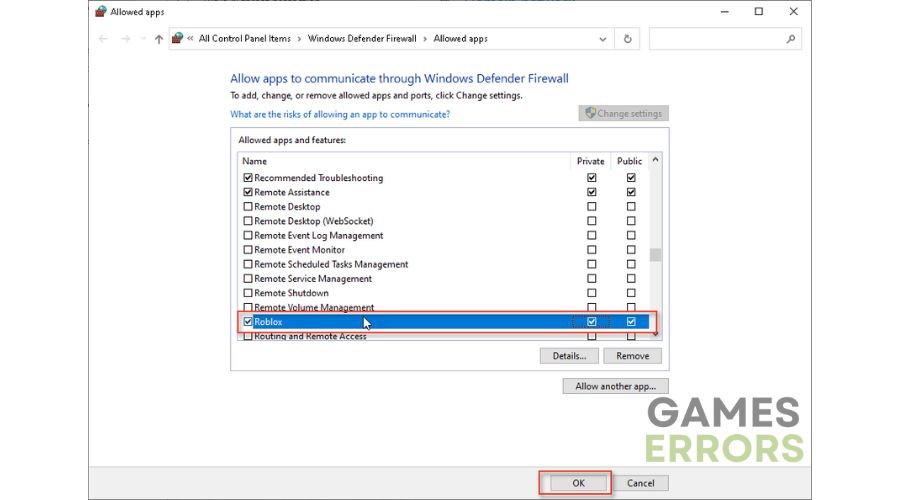 4. Flush your DNS cache
To fix Roblox errors and address security and internet issues, you can clear the cache of IP addresses and DNS records by flushing DNS. Here's how:
1. Press the Win+Q keys and type cmd in the search bar.
2. Right-click on the Command Prompt and select Run as administrator.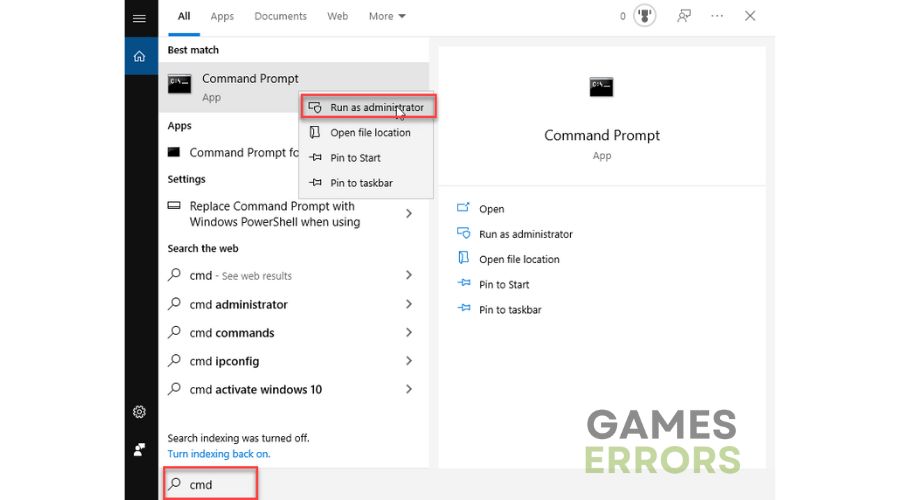 3. Type; "ipconfig /flushdns" and press Enter, then "ipconfig /registerdns" and press Enter, and "ipconfig /release" and press Enter.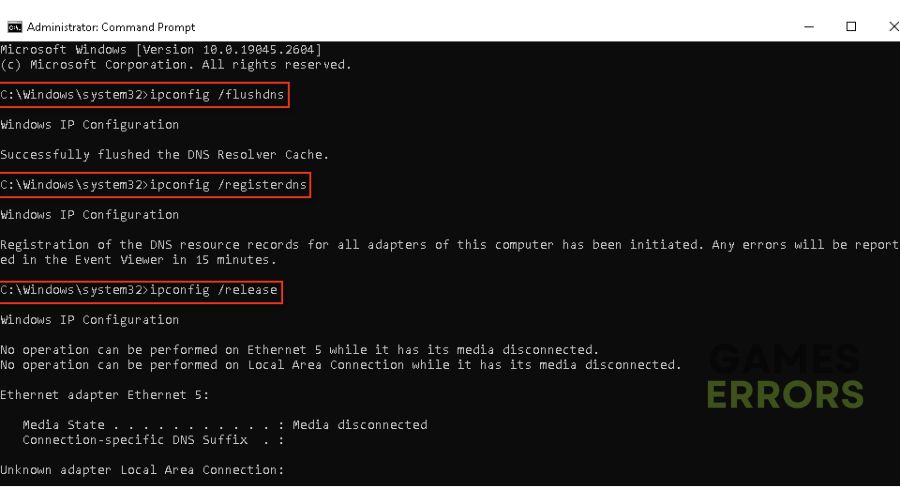 4. Now, type; "ipconfig /renew" and press Enter, and finally, type; "netsh winsock reset" and press Enter.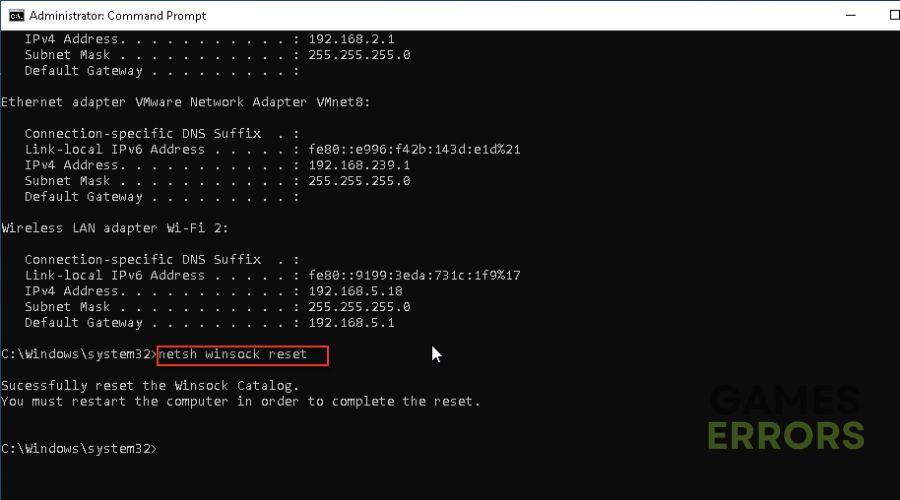 5. Reboot your PC and see if the Roblox error code 273 is fixed.
5. Delete game logs and cache files
Roblox stores cache and logs files on your computer. These files can be corrupted, leading to many errors in Roblox, including error code 273. We recommend that you periodically clear the Roblox log files to prevent errors from occurring during gameplay. Here's how to clear log files:
1. Press the Win+R keys to show the Run dialog.
2. Type: "%localappdata%\Roblox\logs" in the Run dialog box and press Enter.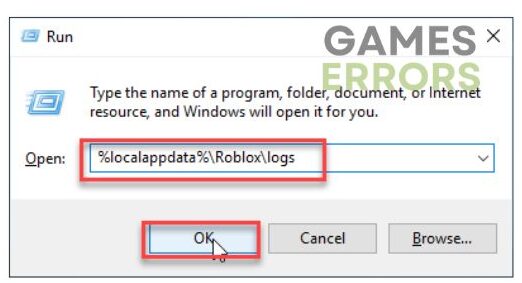 3. A folder with Roblox temporary log files will open.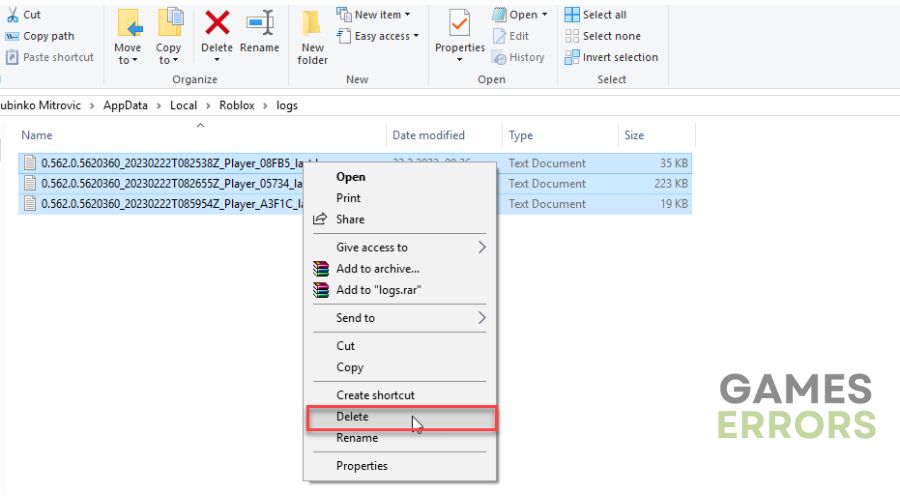 4. Select all files using Ctrl + A keys, then right-click and select Delete.
5. To clear Roblox cache, press Win + R, and type %Temp%\Roblox and press Enter.
6. The deletion procedure is the same as in the case of log files.
Related articles:
Conclusion
We have compiled some easy solutions to resolve Roblox error code 273. If you have a different solution, kindly share it in the comments below.
If you encounter any issues or errors while playing your favorite games and require support, feel free to contact us here. Our team is always ready to assist you and ensure your gaming experience is seamless and enjoyable.