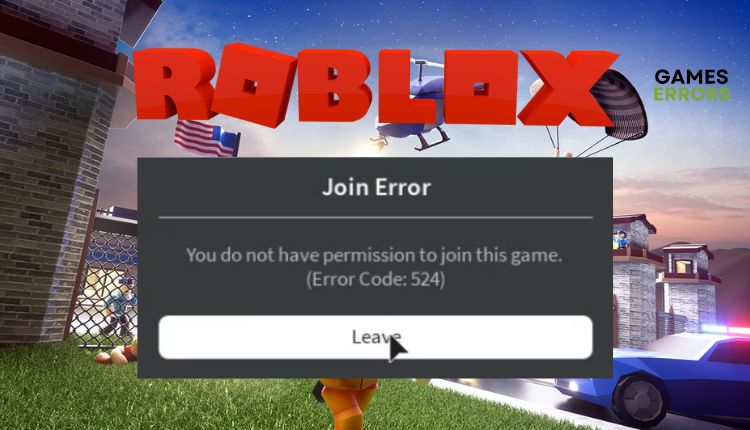 Roblox Error Code 524: Fix it For Good
If you get error code 524 in Roblox, apply our solutions for this problem. 🤖
X
INSTALL BY CLICKING THE DOWNLOAD FILE
Think of Roblox as a massive playground where you can design and share your video games, engage in various multiplayer games created by other players, and communicate with one another. Unfortunately, even this fun platform sometimes has bugs that can reduce your gaming experience, like Roblox error code 524. That's why we made this guide to explain how to fix Roblox error code 524 so you can continue playing without problems.
What does error code 524 mean in Roblox?
If you're experiencing issues joining a game server on Roblox, the error code 524 may be the result. This particular error is related to authorization and can be caused by problems with your connection or the server itself. Also, new accounts must be old for at least one month to access most content. However, here are some common causes of Roblox error code 524:
Roblox servers are down
slow or unstable internet connection
Roblox account is banned
failed to connect to a VIP server
How do you fix error code 524 on Roblox?
Before attempting to resolve error code 524 using our recommended tips, execute these simple steps initially:
Check the status of the Roblox server. If servers are down due to a technical issue or scheduled maintenance, you must wait and try to connect again later.
Run Roblox as administrator.
Power cycle your modem and router.
Check and verify the stability and speed of your internet connection.
If you haven't resolved the issue yet, follow these steps:
1. Check if your account is banned
As a first step, we recommend checking if your account is banned on a certain server, i.e., crashes only happen on that server. In this case, you can contact the game creator on the server and request to be unbanned. On the other hand, if you can't access all servers with error code 524, there's a good chance that Roblox has banned you for violating specific rules. Do the following:
1. Create a new account and try playing.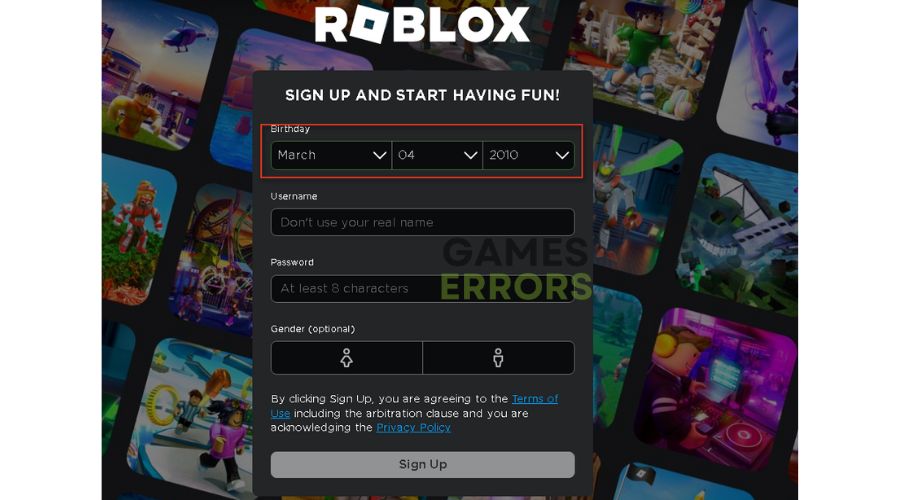 2. If everything works fine, Roblox has banned you from your main account.
Create a new account with your date of birth set to be over 18 years old to ensure you can access all content on Roblox.
3. If you're still getting the 524 error code, you should ask Roblox Support why you're banned.
2. Change invitation settings
Time needed: 1 minute.
To access a private server (VIP), you need to have an invitation from someone who can access it. However, if you cannot receive any invitations from your friends, you can modify the invitation settings for your Roblox account.
Log into your Roblox account.

Click the gear icon in the website's upper-right corner to go to the Settings page.

Select Privacy

Click Security in the left-bar menu and then scroll to Other Settings.

Change Other Settings

Under "Who can invite me to private servers?" choose Everyone from the drop-down menu.

Try to join the server.

Now request another invitation from your friend or an administrator of the private server. After accepting the invitation, join the server and verify if the 524 error code persists.
3. Use a VPN
Utilizing a VPN can be beneficial to address the problem of server unavailability in your area or if you are banned from Roblox. This is because it alters your location IP, sent to the server, and substitutes it with another location IP. By connecting to a VPN location that is not affected by the issue, you may be able to resolve the problem. We suggest installing ExpressVPN, a trustworthy, speedy, secure VPN provider. With the capability to connect to a VPN server in any of the 94 countries available, you can reduce ping and latency while engaging in online activities.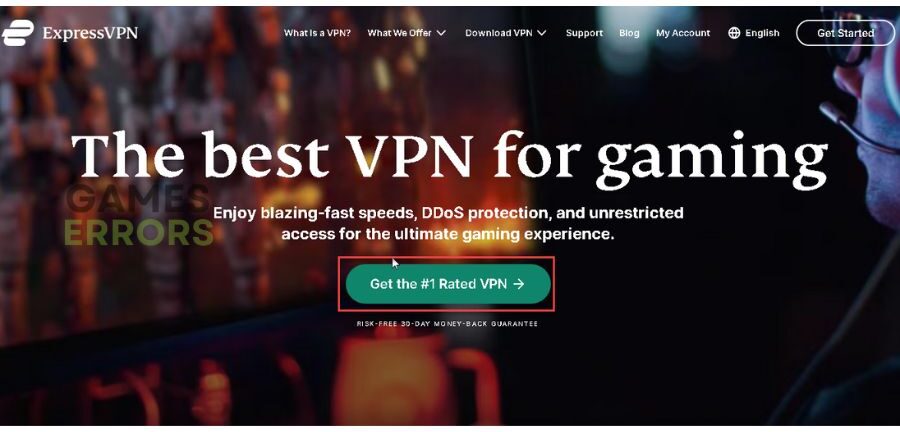 4. Disable extensions in your web browser
AdBlock, AdGuard, and other web browser extensions can cause connection issues to the Roblox server and lead to error code 524. We advise you to disable or remove AdBlock and all other similar extensions and then try to connect to Roblox.
1. Open Roblox on your browser and locate AdBlock.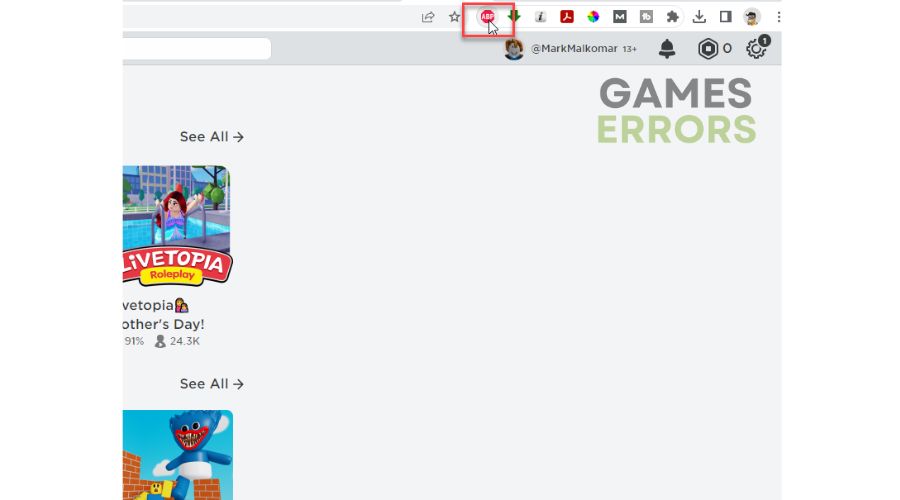 2. Click on the AdBlock icon and toggle off the extension for the Roblox webpage.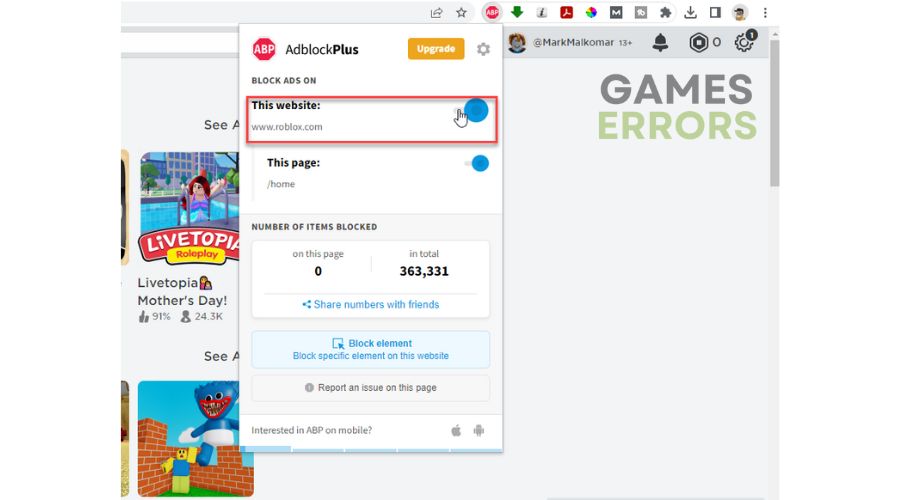 3. Refresh the page and check the Roblox error code 524 is fixed.
Related articles:
Conclusion
We have gathered a list of practical solutions to fix the Roblox error code 524. If you have any other solution, feel free to share it in the comments section.
If you encounter any issues or errors while playing your favorite games and require support, feel free to contact us here. Our team is always ready to assist you and ensure your gaming experience is seamless and enjoyable.