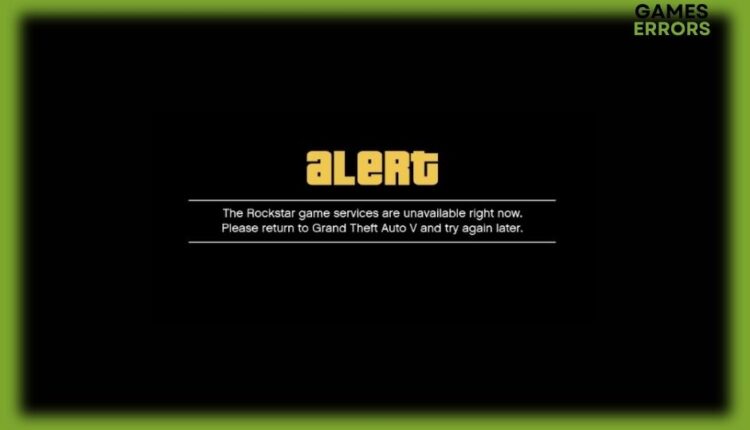 How to Fix Rockstar Game Services Unavailable
When you face the Rockstar game services unavailable wall, don't despair. Get around the issue with these fixes and get back to your game.
X
INSTALL BY CLICKING THE DOWNLOAD FILE
Rockstar hit the jackpot with GTA V. That game alone brings in millions of dollars in revenue every month, even though it was first launched in 2013. Now you might think that with such a lucrative franchise, the online gaming experience would be top-notch and smooth. Until you're hit with the Rockstar game services unavailable message. So what's the deal with this issue?
What is Rockstar Game Services Unavailable Error?
Rockstar has a knack for kicking players out for no fault of their own. Admittedly, some players break the rules and deserve to be banned. But even good players tend to get on the wrong side of the Rockstar strict rules and regulations more often than they like. And that's when the servers ban you from logging in. The causes for this may vary.
You're using a VPN to hide your real location and IP address.
Your graphics driver is outdated, and the game cannot be launched.
Your current IP address is banned on the server, and you need to get a new one.
Your internet service provider is blocking access to the Rockstar servers.
How do I fix Rockstar game services are unavailable?
1. Update your Graphics Driver
When an online game won't let you log in, it could be a connectivity issue, or it might simply mean that you don't have the latest version of the primary graphics driver. This can be a recurring problem since major GPU manufacturers release new updates all the time. I'll show you how to update your graphics driver and offer you a permanent solution for this issue below. First, here's how to update your driver.
Click one of these links NVIDIA, AMD, or Intel, to download the latest graphics driver for your primary GPU. 
Right-click the Start menu and select Device Manager.
Expand Display Adapters and right-click the primary graphics driver. Select Uninstall.
Restart your PC and double-click the graphics driver file you downloaded earlier to install it.
Follow the instructions on the screen then start the Rockstar game.
Now to the permanent solution for the issue of outdated graphics drivers. Simply install DriverFix and let it do the checking, downloading, and installing of the latest updates to all the drivers on your system. No more game crashes or game services unavailable errors. Problem solved.
2. Disable VPN
Online game servers need to track every player connected to the game to make sure that gamers stay on their best behavior. Some of the information they collect about you include your IP address, geolocation, and time zone among others. When you use a VPN, you practically obfuscate all of this information and provide the game servers with fake data. Rockstar doesn't like that. The game code can detect when a player is using a VPN and then blocks them from accessing the servers.
If you're using a VPN, disable it before launching the Rockstar client. That should fix the game services unavailable problem.
3. Flush the DNS
Time needed: 2 minutes.
Even when you've been a good player and never broken the Rockstar rules, there's a chance that your IP address gets flagged. Other times your DNS fails to connect you to the game servers due to an out-of-sync cache. All of these scenarios can be solved by just flushing the DNS. Here's how to do it.
Close any apps using the internet and right-click the Start menu.
Select WindowsPowershell (Admin) to run it in elevated mode.
Now copy and paste each one of the following commands and press Enter to run it.
ipconfig /flushdns

ipconfig /registerdns
ipconfig /release
ipconfig /renew

netsh winsock reset
Restart your PC and launch the Rockstar client.
4. Switch to Another DNS
When you're using your internet service provider's default DNS, you put yourself under their mercy. They can block your access to any game server, website, or app they like. This includes the Rockstar game services. But you can switch to another DNS such as OpenDNS or Google DNS. Here's how to do it.
Go to Settings > Network & Internet > Wi-Fi
Scroll down to the middle and click Change Adapter Settings.
Right-click your active internet connection and select Properties.
Highlight Internet Protocol Version 4 and select Properties.
Check Use the following DNS server addresses and enter the following values
Preferred DNS Server: 8.8.8.8
Alternative DNS Server: 8.8.4.4
Click OK and start the Rockstar game.
Related Articles:
That should get the Rockstar game services up and running again. Let us know in the comments section if you have other solutions.
If you encounter any issues or errors while playing your favorite games and require support, feel free to contact us here. Our team is always ready to assist you and ensure your gaming experience is seamless and enjoyable.