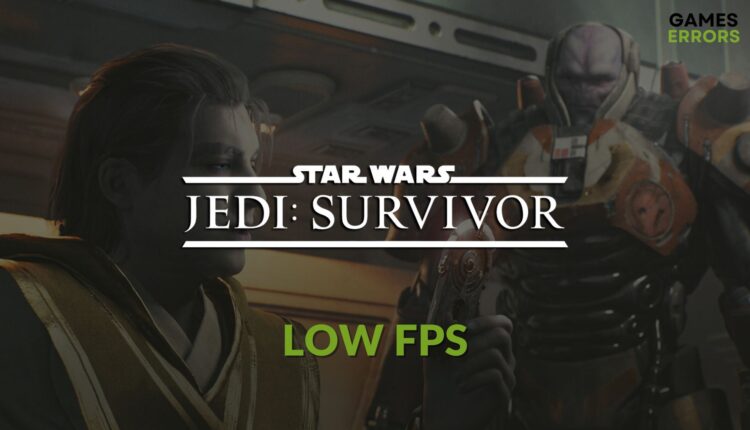 Jedi Survivor Low FPS: How to Instantly Boost Performance
If you notice frame dropping issue on Star Wars Jedi: Survivor, update the GPU driver and follow these tips 🚀
X
INSTALL BY CLICKING THE DOWNLOAD FILE
Low FPS or laggy performance issues on the new Star Wars Jedi Survivor can ruin your gaming experience. But, if you follow this article, you will be able to get rid of this problem quickly.
Unlike some other games, this sci-fi action-adventure title is pretty much GPU-demanding. Nonetheless, this item may not run well even on a PC with a modern high-end graphics card. If it happens to you, don't worry. Tweaking the right things will improve the situation.
Learn how to fix Star Wars Jedi: Survivor stuck on the loading screen if you are interested.
Why is my FPS so low on Star Wars Jedi: Survivor?
This new Star Wars Jedi: Survivor may go through frame dropping or stuttering or similar problems because of these reasons:
Graphics driver problem: Any performance or frame rate-related problems on this game may appear due to a buggy or outdated GPU driver on your PC.
Excessive background activities: Too many background processes may occupy a large amount of computing power on your PC. It may be why the Star Wars Jedi: Survivor is not being able to give you the expected performance.
Problematic game files: Problematic or outdated game files can also cause laggy performance issues in this game. It also may create problems like Star Wars Jedi: Survival won't launch.
Improper settings: Depending on your PC's specifications, not all settings are ideal for performance on this title.
How can I fix Star Wars Jedi Survivor's low FPS problem?
We have arranged the most significant methods to improve the frame rate on Star Wars Jedi: Survivor. However, before trying these techniques, we suggest you do these things:
Now, go through the following methods to boost performance in this game:
1. Update the display driver
Time needed: 2 minutes
If you want to fix Star Wars Jedi: Survivor's low FPS problem, you should start by updating the graphics card driver to the latest version.
Select Search automatically for drivers and complete the procedure.
Outbyte Driver Updater is an excellent driver updating tool that can find and install the most appropriate version of the recent driver for your graphics card. It helps to gain better performance in games like this new Star Wars Jedi.
2. Reduce background services
Some less essential tasks may take a lot of computing power in the background. You will get better FPS on Star Wars Jedi Survivor if you can reduce this type of thing. For this, follow these steps:
Right-click on the Taskbar and then click on Task Manager.
Go to the Processes tab.
Select the process you want to disable and then click on End Task.
In this way, turn off all of the unnecessary resource-hungry processes.
While disabling tasks, don't select any essential items or the ones you are unfamiliar with. It may bring additional problems.
3. Repair the game files
Launch Steam.
Click on Libary and go to Home, as shown in the screenshot.
Navigate to the Local Files tab.
Click on Verify integrity of game files.
Wait for a few moments.
For the Jedi Survivor FPS fix, you also can repair the game files in the EA App. For this, go to the library and click on three vertical dots on the game. Then, click on Repair.
4. Roll back the GPU driver
Open the Device Manager, as shown in method 1.
Right-click on your graphics driver and go to Properties.
Complete the process and restart Windows.
5. Play with lower settings
If the problem persists, we suggest lowering the in-game preset quality to gain more FPS on Star Wars Jedi: Survivor. Also, disable certain features, including Vsync, Motion blur, Ray tracing, etc. Depending on the GPU chipset, you can enable NVIDIA DLSS or AMD FSR. It will improve performance.
The above methods are enough to solve low FPS issues on Star Wars Jedi: Survivor. However, you may still go through the same issue in some cases. In this situation, consider reinstalling the GPU driver. Also, reinstall the game.
You also should update Windows and all of the drivers on your Windows 11 or 10 PC. Then see whether this game still performs poorly or not.
If you are interested, learn how to fix Star Wars Jedi: Survivor crashing.
This article has explained how you can fix Star Wars Jedi: Survivor's low FPS problem. Let us know in the comment box if you have any better suggestions.