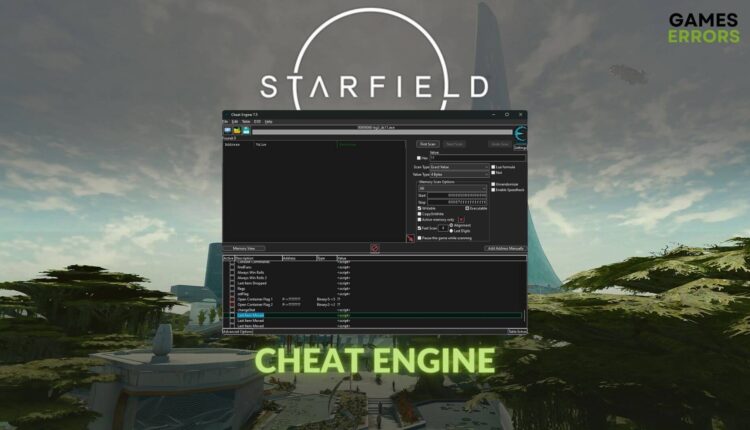 Starfield Cheat Engine: The Best Guide to Use It Properly
Do you want to get various cool unfair advantages in Starfield using the Cheat Engine? You should check out this article for the best guide on it 🚀
X
INSTALL BY CLICKING THE DOWNLOAD FILE
You may want to use Cheat Engine on Starfield to get overwhelming advantages in the gameplay. However, sometimes, the thing is trickier than you can think. This article will guide you to make everything convenient for you.
Bethesda's Starfield is already out. Gamers are enjoying the gameplay, and some find it very challenging. So, the necessity of the Cheat Engine is very relevant. You should follow some specific rules and steps to use this tool in this Sci-Fi Adventure RPG.
Learn how to solve Starfield keeps crashing if necessary.
👨‍💻 How to use Cheat Engine in Starfield?
Cheat Engine is an awesome tool to get unfair advantages in a challenging video game like Starfield. By using this item, you can take two types of approaches to cheat on this Sci-Fi space adventure game. These are:
1. Cheat manually step by step
Time needed: 5 minutes
To get cool advantages like having unlimited Oxygen, unlimited dialog turns, no reload, and many more, you can use Cheat Engine for the Starfield game by following these steps:
Visit the Cheat Engine download page and download it on your PC.

Now, in the game, see the value you want to change, for example, ammos, and type it in the Cheat Engine's value box, and then click on First Scan.

Now, look at the search results. If you don't recognize the correct memory address, shoot once in the game, type the reduced ammo value in the Cheat Engine, and then click on Next Scan.

Keep doing it until you recognize the correct memory addresses.
Double-click on the correct record from the memory address list to add it to the cheat table.
After that, double-click on the the value from the table, type your desired value, and then click on OK.

In this way, you can set any number in this Sci-Fi space game.
The above steps have shown a way to get an unlimited or desired number of ammos in the game. In the same way, you can modify any values and get benefits like unlimited health, no reload, countless ship weapons, unlimited credits etc., using Cheat Engine on Starfield.
2. Apply existing cheat tables
It's very hard to determine a memory address and change its value. Sometimes, it may take a lot of time. So, you may want to use a cheat table from the community and use it on Cheat Engine for Starfield. To do it, follow the instructions given below:
Make sure that the Cheat Engine is already installed.
Visit the cheat download page for the Starfield on the Fearless community.
Then, download a cheat table file like Starfield_v1.2.CT file on your PC.
Double-click on that file to open it with CE.
Select the Starfield.exe process.
Keep the list.
Then, to activate the cheat, check the boxes next to your desired option.
Now, you can start playing the Starfield with cool new advantages. Using the Cheat Engine, you can get the following benefits or even more:
Player Pointer
Container Pointer
Respawn Mantis Armor
Ship Engine Pointer
Experience Multiplier
Zero Weight
Research Ignores Skill Check
Free Research
Free Build
Free Craft
Free Equipment Mods
Ignore Skill Challenge
Unlimited Dialog Turns
Unlimited Boost Pack
Unlimited Oxygen
No Reload
Ship Systems Run at Full Power
Ignore All Ship Design Errors
Perfect Stealth
Unlimited Ship Weapons
Stealth Always Active
Stealth Meter Always Visible
Unlimited Inventory
Cheat using Mods:
Nexusmods already has a page for Starfield where you can find various mods, including some with various cheats. There are other similar websites as well. But this one is the well-recognized one. To use their mods for cheating, follow these steps:
Visit the NexusMods website for Starfield.
Find the Starfield mods you want to use.
Download and install it according to the instructions you find on that website.
After that, start playing Starfield and enjoy.
Starfield cheat codes and console commands:
Starfield allows you to use cheat codes and console commands. The only disadvantages is you won't earn any achievent badges if you use such codes. For this, simply press ~ key on the keyboard. Then, type your desired commands.
Here are some of the most common codes that you may want to use:
tgm: To toggle God Mode.
tim: To toggle Immortal Mode.
tcai: To toggle Combat AI
tfc: To toggle Freefly Camera
tm: To toggle Menus
tcl: To toggle No Clip
There are many other codes available to do various things in the game.
Use trainers to cheat on Starfield:
The easiest way to cheat on Starfield without using the Cheat Engine is definately a trainer software like WeMod. This tool is not free. But, it comes with a lot of benefits. You can activate a cheat with just a single-click on a very userfriendly UI. To use this tool, follow these steps:
Visit the WeMod official website.
Download and install this tool on your computer.
Open it.
Sign in or sign up for an account.
Go to the Starfield's page from the list.
Launch the game by clicking on the Play button directly on the WeMod.
Now, toggle the cheat you want to use in this game.
Enjoy the gameplay.
WeMode currently comes with the following common benefits on Starfield:
God Mode/Ignore Hits
Infinite Health for Both Player and Spaceship
Infinite Jetpack Boost
Infinite Oxygen
Infinite Ammo
No Reload
Infinite Weapon Energy for Player and Spaceship
Tweak Movement Speed
Set Jump Height
Prevent Injury
Defense Multiplier
Infinite Boost for Spaceship
You can even edit credits, and do many other things on this small app.
Having poor performance from this title? Learn how to solve low FPS issues on Starfield.
---
This Starfield Cheat Engine guide has featured the easiest ways to use this tool for this game and also has demonstrated additional methods to cheat in the game. The manual approach, while somewhat time-consuming, remains applicable across all game versions. However, the other methods suggested in this article are working perfectly with the current version of Starfield. But, there is no garuantee for the future updates. If you have an opinion on this topic, feel free to write in the comment box.