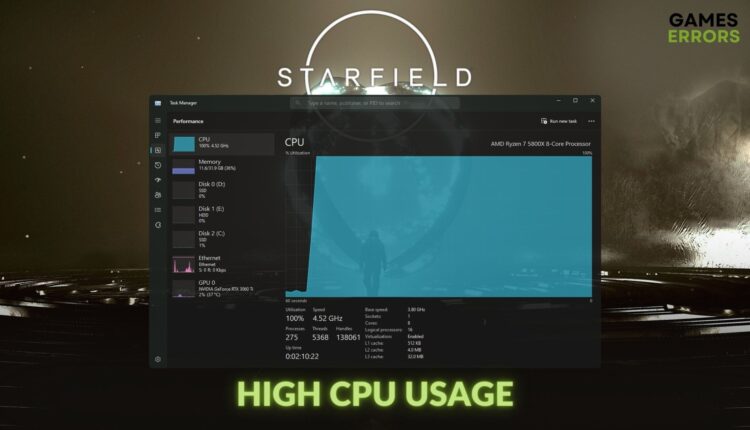 Starfield High CPU Usage: 5 Most Precise Fixes
Excessively higher CPU usage while playing Starfield may create a lot of hassles. If you want to troubleshoot this issue, follow the methods featured in this post ✅
X
INSTALL BY CLICKING THE DOWNLOAD FILE
Are you going through a Starfield high CPU usage situation? Starfield's CPU bottleneck has become a notable issue in the gaming community. It may happen due to various reasons that we're gonna share below. By taking the right steps, this problem can be solved very easily.
While playing this Sci-Fi adventure, a lot of gamers are having significantly higher CPU utilization problems than usual. It's happening on both mid and high-end PCs. This game indeed requires powerful hardware. But, 90-100% CPU usage is still not normal for Starfield.
What causes high CPU usage on Starfield?
High CPU usage on Starfield can be caused by many factors including:
Some third-party apps also can be behind this issue. But it's not impossible to fix.
💬 By testing Starfield, we discovered that this game is actually quite CPU-intensive and will use the majority of both your CPU and GPU.

👨‍🔧 In this article, we suggested the solutions that worked best for us and carefully selected those that were most effective for other players. By using our easy fixes, you won't have the same high CPU usage problem after leaving our article.
How can I fix Starfield's high CPU usage problem?
To fix Starfield's high CPU usage problem, you can start by checking some quick requirements. However, the solutions we have prepared will surely help. But, before that, you should quickly verify these things:
After confirming the above things, you can apply the techniques mentioned below to troubleshoot Starfield's 100% CPU usage problem:
1. Update the drivers
Most of the time, updating your drivers will fix the problem. For us and other players, this method worked, too. We decided on two updating methods: using the Device Manager, which requires a little more time and attention, and using a driver updater tool, which handles all the grunt work for you:
Press Win + X on the keyboard and go to Device Manager.
Expand the Display Adapters.
Right-click on the GPU driver and then click on Update driver.
Then, click on Search automatically for drivers and complete the process.
Update all other drivers in a similar way.
At last, restart Windows.
You should use Outbyte Driver Updater to scan and update multiple drivers, as this tool can do this job with just a single click. Also, unlike the Device Manager, you will get more accurate performance from this small application.
2. Install/Update the Visual C++ redistributable
As outdated game components can be the root of the high CPU usage issue on Starfield, you should update the Visual C++ library by following these steps:
Visit the

Microsoft Visual C++ Redistributable page

.

Use the correct link to download it on your PC.

Install it.

Restart Windows.
3. Uninstall suspicious apps
Some apps may create problems and increase CPU usage while playing Starfield. So, uninstall that program by following these steps:
Go to the Windows Settings by pressing Win + I on the keyboard.
Find the problematic or suspicious app, particularly the one you have installed recently.
Uninstall any other similar apps.
Restart your PC.
4. Update the game
Launch Steam or the client you are using for Starfield.
Go to the game library, as shown in the screenshot below.
Right-click on the Starfield and go to it's properties.
Go to the Updates tab.
Relaunch Steam.
Now, Steam will update this game before updating others. However, if you use the Xbox app, you will get the Update button when it's available. After updating, start playing the Starfield again and see if the high CPU usage issue still exists or not.
5. Adjust in-game settings
Time needed: 3 minutes
In most cases, the root of Starfield's high CPU usage issue is the CPU bottleneck on your PC. Decreasing the graphics level from the game settings can dramatically improve this situation.
Set the graphics preset to medium or low.
Then, turn off Dynamic resolution.

Set the Upscaling to FSR2.

Also, lower other settings and disable any GPU power-demanding features.
After adjusting the in-game graphics settings, launch Starfield, monitor the CPU usage, and see whether it is still high or the situation is better.
💫 More quick solutions to reduce CPU usage in Starfield:
Sometimes, the Starfield high CPU usage problem may still keep affecting your gaming experience. In this case, try the following solutions too:
If necessary, learn the ways to stop Starfield from crashing.
Related Starfield issues:
After trying the above solutions, you should be able to get rid of Starfield's high CPU usage problem. However, it may persist for some users if the PC hardware is not powerful enough and there is a bottleneck issue. In this case, you may need to upgrade to a better CPU or enable overclocking to see if it helps. Do you have a better suggestion? Feel free to write it down in the comment box.