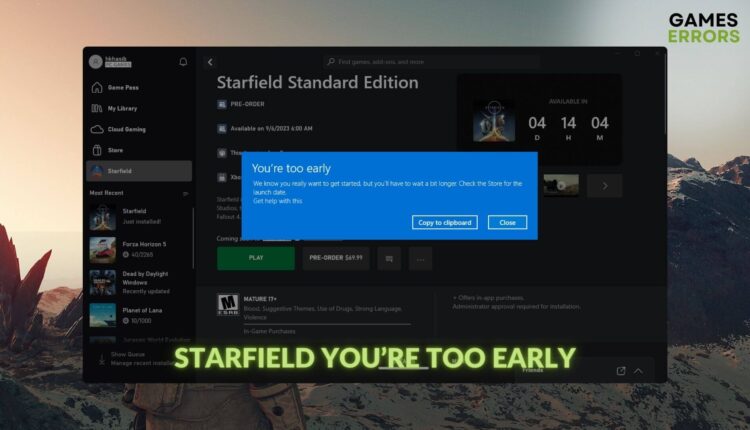 Starfield You're Too Early: What to Do If This Error Appears
Can't play the Starfield because of you're too early error on PC or Xbox? Learn why it occurs and how to solve it from this article ✅
A lot of gamers, particularly the Xbox game pass users, are panicking because of the you're too early message while launching Starfield. Though it's not a very serious problem, this article will give you some helpful information.
Starfield is already available to download and install for the Game Pass users. However, after you install this title, you won't be able to play it until the platform makes it available for you.
So, every time you attempt to play, you will be stopped by the following Xbox error message:
You're too early.

We know you really want to get started, but you'll have to wait a bit longer. Check the Store for the launch date.
In social media, we have seen many gamers posting about this situation.
If necessary, learn how to solve Starfield not launching problem.
What should I do to get rid of the Starfield You're Too Early error message on PC and Xbox?
Now that the game is available, you shouldn't encounter the Starfield you are too early error. However, if you still encounter it, the following few steps that worked during early access can be helpful for you:
Correct the time and date from Settings.
Repair or reset the Xbox app.
Re-download the Starfield using the Xbox app.
Consider using a VPN like ExpressVPN to see if it works.
Related Articles:
Final Thoughts:
If the above tips don't help, the issue can be slightly different. The too early error message may also appear because the game is not available for you yet, though it may not be a problem for other users. Usually, it occurs when a massive number of gamers install a specific title and want to get access to it.
As a result, to make this thing smoother, the store limits the number of users who will get access to the game.
So, if you are having Starfield You're too early error on Xbox and Windows 11/10 PC, we suggest you keep patience. Also, follow the above-mentioned tips if you think there's something wrong on your side.