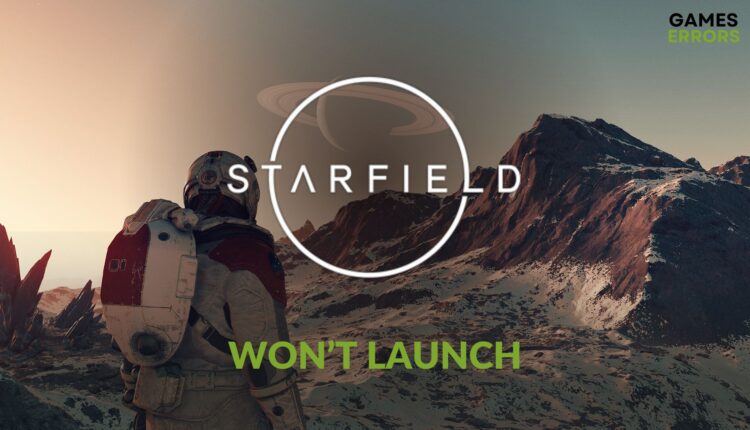 Starfield Won't Launch: How to Make It Start Properly
Starfield won't launch on your computer even after fulfilling the system requirements? Try the solutions featured in this article and start enjoying the stunning-looking gameplay 😎
X
INSTALL BY CLICKING THE DOWNLOAD FILE
Is Starfield not launching? When you see that Starfield won't launch on your PC, the frustration level will reach above the limit 😤. But tweaking the right things can fix this issue and let you enjoy the game smoothly.
Undoubtedly, Bethesda Game Studios' new creation is a fantastic example of a Sci-Fi action-adventure game. But, due to some technical glitches or issues, you may not be able to dive into the exciting world of Starfield on your PC.
✅ We tested this game several times to find the right solutions that work 100% to fix Starfield not opening. As a result, the solutions are listed in this article in descending order of relevance and practicability.
Why won't Starfield start?
One of the reasons Starfield won't launch may be due to an outdated GPU driver or your PC simply won't meet the game's minimum specs.
Several unwanted things can prevent Starfield from launching on your computer. Here are the most common reasons that may cause the game starting up problem:
Problematic display driver: Starfield might struggle to start with an incompatible or old version of GPU driver, or if there is no such driver installed on your Windows 11 or 10.
Problematic game files: A few unknown or known factors may mess up the essential game files. Some of these may be required for Starfield's launching process.
Third-party apps: Sometimes, programs like antivirus tools or firewalls can cause trouble while launching this sci-fi open-world title.
System requirements: You won't be able to run this game on your PC if it doesn't have the required specifications. Even if you are able to do it, Starfield will keep crashing randomly.
Here's how to fix Starfield not launching?
The first step to fix Starfield not launching is to ensure that your PC is compatible with games's system requirements. Then, before diving into the main solutions, try these smaller fixes:
Stop your Firewall or Antivirus and any other security programs temporarily to see if it helps.
From the Power Settings on Windows, enable the High performance mode and disable any energy-saving features.
Update DirectX and the Visual C++ packages and restart Windows.
If you are still unable to launch Starfield, try the following methods one by one to fix it:
1. Update the graphics driver
💬 Updating the graphics driver helped us and other users instantly fix Starfield not starting.
Press Win + X on the keyboard and go to Device Manager.
Expand the Display Adapters category.
Right-click on the display driver and then click on Update driver.
Now, click on Search automatically for drivers.
Follow any onscreen steps and complete the steps.
At last, restart Windows.
Rather than using the Device Manager, which is not efficient every time, you can use Outbyte Driver Updater, which is an excellent tool that finds the best game-ready driver and installs the latest version. It helps to reduce the chance of facing game-related problems on a Windows 11 and 10 PC.
Updating the GPU driver is also helpful if you get very low FPS from Starfield during the gameplay. Also, rolling back drivers helped players fix the launching issue.
2. Clear the game client cache
Time needed: 2 minutes
Clearing game client cache is the most effective method that can resolve the Starfield not launching problem.
Within a couple of seconds, the Steam will relaunch itself.
If you use the Xbox app for this game, right-click on it from the Start Menu and go to App Settings. Then, click on Reset. After that, try to launch the Starfield again and see if it works.
3. Re-install the game on a different drive
Before re-installing, please repair the game files and see if it helps fixing the Starfield won't launch problem. If not, take the following steps to re-install this title:
Open Steam like before.
Then, go to the Steam Library, as shown in the screenshot.
Right-click on the Starfield and then click on Uninstall.
After that, click on the Install button when it appears.
Select your preferred installation location and click on Next.
Finish the installation process.
If previously you were not able to play Starfield, check the game now after you applied this solution, to see if the problem was fixed.
4. Uninstall and Reinstall Premium Content
While the Premium Content is great and adds more to the game. Due to the optimizations available it might bring problems such as Starfield Launch issues. To ensure that the gameplay is smooth and to lower the possibility of encountering launching problems, turn it off.
Steam allows you to install and uninstall DLCs easily by going to the game page in your Steam Library.
Xbox also lets you manage add-ons individually by going to the Manage game and add-ons menu.
Is Starfield still not launching? Try these final solutions:
At this point, you should no longer encounter the Starfield won't launch issue. If you do, follow these fixes as well:
Perform the clean boot and see if it helps.
Close unnecessary processes: Starfield won't launch if there are conflicts between the background apps that you are not using and the game. To solve the problem, try to disable most of them.
Re-install the GPU driver: If Starfield is not starting, consider reinstalling your graphics driver.
Update Windows to the latest version.
Verify Game Files: Starfield won't start if you have missing or corrupted game files messing with the whole game, and this might be the only solution, besides restarting the game, to fix the problem.
Reinstall Steam: If Starfield is not launching on Steam after you reinstalled the game, consider opening it from the game folder, and if it still doesn't work, maybe the only solution is this one.
For more solutions, see how to solve games not launching on PC.
Related Articles:
If your Starfield is not working, there might be other issues that you are encountering, and below you will find how to fix the most commonly encountered ones.
Final Thoughts:
These above-mentioned methods can successfully solve Starfield not launching on PC or similar Starfield not working issues. However, in some situations, you may need to upgrade your PC hardware to be able to play this type of high-end game. So, consider it if the situation requires it. If you have questions, feel free to ask in the comments.