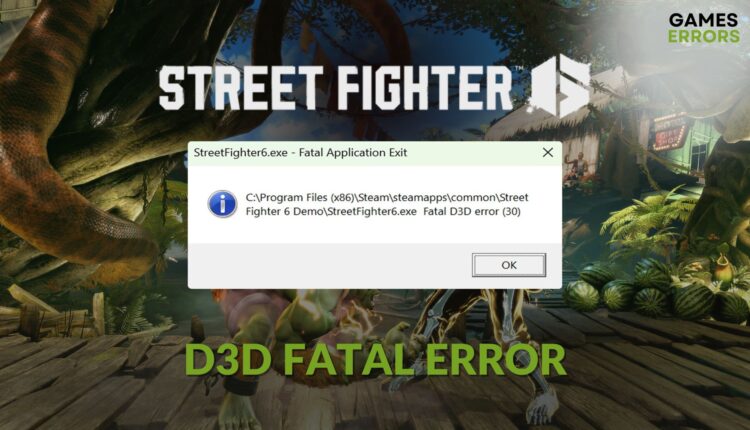 Street Fighter 6 Fatal D3D Error: Best Methods to Fix
To fix D3D fatal error on SF6, update the display driver, install DirectX Runtime and follow these methods 🎯
You may notice that Street Fighter 6 fatal D3D error while launching or during the gameplay. After that, this game may crash. This article will tell you how to troubleshoot this problem.
When you encounter this issue, the SF6 will stop working by showing the following error message:
StreetFighter6.exe – Fatal Application Exit

C:\Program Files (x86)\Steam\Steamapps\common\Street Fighter 6\StreetFigheter6.exe Fatal D3D error (30).
You may get a slightly different error message as well. But the solutions are the same in every case.
If necessary, learn how to solve SF6 won't launch.
Why is SF 6 showing fatal D3D error?
Usually, due to the following reasons, a gamer may encounter this fatal error on Street Fighter VI on a Windows 11 or 10 PC:
Problematic game components: If game components like DirectX Runtime and other related files are outdated or corrupted, you may get this fatal D3D error on Street Fighter 6.
Outdated GPU driver: In case your PC has a very outdated version of the graphics driver; this can be a valid reason behind D3D fatal error or Street Fighter 6's crashing problem.
Improper settings: Unsuitable settings on both PC and the SF6 can also trigger this type of annoyance.
Overclocking: If you have overclocked any on your hardware, it also can create this situation.
How do I Fix Street Fighter 6 fatal D3D error?
You can take several effective steps to fix this issue on this latest CAPCOM game. However, we suggest you complete these steps before touching any major troubleshooting methods:
Check and confirm that your PC meets the system requirements for Street Fighter 6.
Ensure that you have enabled game mode and high-performance mode.
Make sure that you are not overclocking anything.
Disable your antivirus and firewall.
After that, go through the following methods to fix D3D fatal error on Street Fighter 6:
1. Install the DirectX Runtime
Visit the DirectX Runtime download page.
Download the package.
Install it.
Restart your Windows 11 or 10 PC.
2. Update graphics card
Time needed: 3 minutes
You can update the graphics driver to the latest version to fix fatal D3D error on Street Fighter 6. Right now, it is one of the most effective ways to solve this problem.
Select Search automatically for drivers.
Install any available updates.
Restart your PC.
You should use Outbyte Driver Updater to update the GPU driver on a Windows 11 or 10 PC. Unlike device manager, this tool can find and install the latest game-ready driver on your PC. It helps to reduce the chance of getting various error codes while playing high-end games like SF6.
⇒ Get Outbyte Driver Updater
3. Repair the game files
Repairing game files is another effective solution to resolve D3D fatal errors on SF6. Here are the steps to follow:
Open the Steam desktop app.
Click on Library on the menu and then click on Home.
Navigate to the Local Files tab.
Click on Verify integrity of game files.
Give it some time to finish the process.
Relaunch SF6 and see whether it still shows the fatal error or not.
This method also helps if Street Fighter 6 becomes stuck while loading.
4. Tweak graphics settings
If you play SF VI with higher settings, but your GPU is not that powerful, this title may crash by showing the D3D fatal error. So, we suggest you lower the preset quality. Also, disable any special graphics effects. Then, try to play the game and see if it helps.
5. Re-install the game
Go to the Steam game library like before.
Right-click on Street Fighter 6, hover the cursor on Manage, and then click on Uninstall.
After uninstalling, click on the Install button to install again.
Choose the location, preferably an SSD drive, where you want to install, and then click on Next.
Keep patience until Steam finishes downloading and installing SF6.
Now, try to play again and see whether it still shows the D3D fatal error or not.
Extra steps:
Are you still experiencing the same problem? Try these solutions as well:
Update Windows to the latest version.
Install the latest Visual C++ packages.
Re-install the graphics card driver.
If it's a known problem, wait for the next game update.
If you are interested, learn the methods to fix crashing issues on SF6.
This article taught you how to fix Street Fighter 6 D3D fatal error on a PC. If you have any questions, feel free to ask in the comment box.