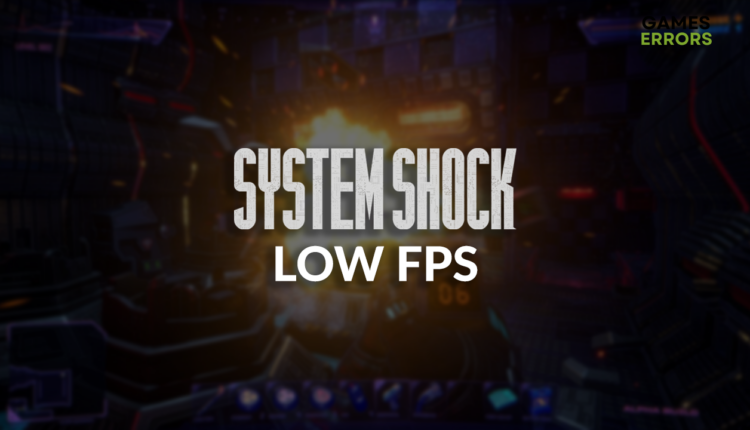 System Shock Remake Low FPS: How to Improve It
Are you angry at the performance you get in System Shock? Take a deep breath and dive into our solutions! 🤿
Seeing stuttering in the most intense moments of action-adventure games is very annoying. Following our solutions, you can eliminate the System Shock low FPS problem and boost the in-game performance!
If the performances are not your only issue and the game stability is equally concerning, learn how to fix crashes in System Shock.
Why do I have low FPS in System Shock?
You have low FPS in System shock due to old PC configuration, problems with resolution, outdated graphics driver, resource-consuming background apps, pilled-up cache files, or issues related to Windows permissions.
How to fix System Shock low FPS?
Begin with these simple checks and fixes:
Check the hardware requirements: Even though System Shock has decent hardware requirements, for a game released in 2023, you will still have trouble playing it on an old PC.
Use the native resolution: Ensure you launch and play System Shock with the display resolution you use on your PC and monitor.
Run System Shock as an administrator: This will allow the game to use all available resources fully. Right-click on the game .exe file, select Properties, go to Compatibility, and enable this option.
To significantly improve FPS in System Shock, proceed with the solutions listed below.
1. Update the graphics driver
Time needed: 5 minutes
Your graphics card processes visual details of the System Shock. This device functions appropriately if you have a suitable graphics driver installed. Another thing to consider is that the graphics driver is continuously improving, and you have to update it to receive these improvements.
Click on the Windows icon, type Device Manager, and open it.

Double-click on the Display Adapters section.

Right-click on your graphic card and select the Update driver option.

Click on the Search automatically for drivers option.
Install the driver update.
Restart your PC.
There is a way to avoid game performance issues caused by outdated drivers! Outbyte Driver Updater can handle complete driver management, thus leaving you with much more time to play games.
2. Disable background apps
You must preserve your PC's resources whenever you want to play a game where you previously had performance issues resulting in low FPS. One way to do it is by disabling all unnecessary background apps before launching the game, in this case, System Shock.
Use CTRL + Shift + ESC to open Task Manager.
Find an app you don't need while playing System Shock.
Right-click on the app and select the End task option.

⚠ Warning: Never disable Windows-related background processes, antivirus software, or apps in which you have unsaved progress.
3. Delete cache files
Every app on your PC stores files locally, which helps it launch faster and run smoother. However, if there are too many cache files, the effect can be the opposite, so we advise you periodically delete cache files on your PC.
Use the Windows Key + R shortcut to open the Run dialog, type %localappdata%, and hit OK.

Press CTRL + A to select all files in the folder.
Hit the Delete key on your keyboard to delete all the files in the folder.
▫ If prompted to confirm, click on Yes.
▫ If some files can't be deleted, click on Skip.

4. Tweak the Game Bar settings
If the Xbox Game Bar runs in the background and records your gameplay, it will drastically lower your FPS in System Shock.
Click on the Windows icon and select Settings (gear icon).
From the Settings window, choose Gaming.
Disable Xbox Game Bar.

Navigate to the Captures tab and disable Background recording.

Extra steps
If you still struggle with System Shock low FPS, try to:
🎮 Enable Game Mode: Click the Windows icon, type Game Mode, and open this app. Simply toggle this feature on, and it will optimize your system for games the next time you run System Shock.
💻 Change the Power Mode: Gamers who use laptops can click on the battery icon in the taskbar and set the Power Mode to the Best Performance.
❄ Keep it cool: If your PC overheats, the computing power will drop, and with it, the System Shock FPS. To fix this, ensure proper ventilation and cooling for your PC, primarily for the CPU and GPU.
Related articles:
Conclusion
Hopefully, you don't have to think and seek information about the System Shock low FPS. If you stumble upon any additional fixes that can improve this game's performance comment, we will spread the word to help other gamers.
If you encounter any issues or errors while playing your favorite games and require support, feel free to contact us here. Our team is always ready to assist you and ensure your gaming experience is seamless and enjoyable.