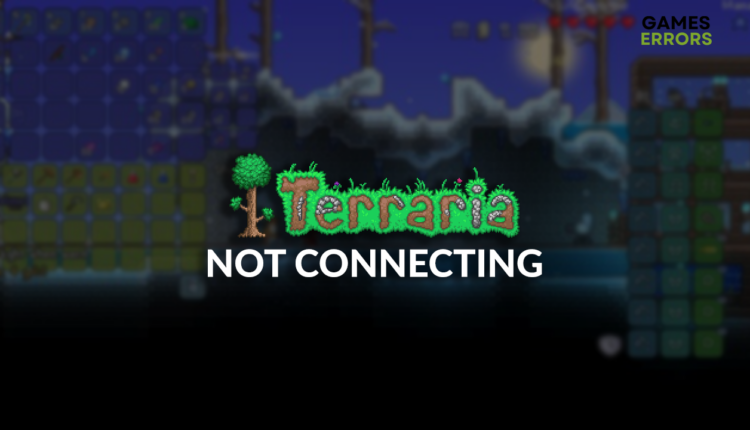 Terraria Not Connecting: What to Do to Fix It
When waiting and hoping doesn't resolve it we are here to propose the most efficient solutions! 👾
Can't connect to the Terraria server? Many players complain that the Terraria not connecting problem prevents them, so we made this complete guide you can follow. We covered it all, from minor and temporary issues to bigger ones, on which you must take immediate action to troubleshoot.
Why is Terraria not connecting?
Terraria not connecting problem occurs when there are temporary issues on your PC or network devices, game files are corrupted, Terraria is being blocked by the Firewall, using an unreliable DNS, there is a problematic IP address, lack of players spots on the server, or temporary issues with the server.
How do I fix Terraria not connecting?
Here are some easy checks and fixes to apply initially:
Restart your PC: This quick fix might resolve a temporary issue on your or your friend's PC.
Restart network devices: Press the restart button on the back panel of your router or modem and wait until it restarts.
Proceed with the step-by-step solutions for the Terraria not connecting problem listed below.
1. Allow Terraria through the Firewall
Windows Firewall is an extraordinary security feature that should always be kept enabled. However, if Terrarium can't connect to the server, you must add it as a Firewall exception so it doesn't cause the Terraria not joining server problem.
Click on the Windows icon, type Windows Defender Firewall, and open it.

Click on Allow an app or feature through Windows Defender Firewall.

Click on Change Settings and Allow Another App.

Select Browse and navigate to the Terraria installation folder.
Click on the Terraria executable file (.exe) and select Open.
Check the checkbox in columns Private and Public in the Terraria row and hit OK.
Restart your PC.
2. Change DNS settings
Time needed: 5 minutes
DNS navigates the connection from your home network to the game server. To avoid potential issues such as Terraria not connecting, we recommend you use Google DNS, the most reliable DNS for everyday purposes and gaming.
Using the Windows Key + R shortcut, open the Run dialog, type control, and hit OK.

Click on View network status and tasks.

Click on the Change adapter settings.

Right-click the internet network you use and select Properties.

Double-click Internet Protocol Version 4 (TCP/IPv4).

Enable Use the following DNS server addresses and add:

▶ 8.8.8.8 for the Preferred DNS server
▶ 8.8.4.4 for the Alternate DNS server

Click OK and restart your PC.
3. Use a VPN
One way to avoid being stuck on the connecting screen of Terraria is to use a reliable VPN to bridge the connection between your PC and the server. However, there is a catch! You must use a reliable VPN if you don't want to sacrifice speed and performance after resolving the Terraria not joining server issue.
There are plenty of reasons to choose ExpressVPN as your trusted VPN provider. They have servers worldwide, allowing fast and secure connection with minimal latency. A nice perk is having a VPN option on all devices connected to your network, with up to 5 different locations!
Extra steps to fix the Terraria not connecting problem:
If the Terraria not connecting problem prevails, try to:
💻 Invite players through Steam: If inviting players through Terraria still doesn't work, try asking them to join from Steam.
➕ Increase player spots: The server hosting can head to the server settings and increase the number of slots reserved for players.
💡 Try re-hosting: If it doesn't work from the first attempt, try closing the party and asking your friends to join again.
🔎Verify game files: Corrupted game files might be an obstacle for Terraria clients connecting to a server.
👨‍⚖️​Run the game as administrator: By running a game with administrator privileges, you will allow it to use multiple processes and you will allow it to function freely.
🚫Close background applications: Some background apps and processes might be the reason why your Terraria is not connecting to servers, due to app conflicts.
🔁 Reinstall Terraria: Sometimes, the only option to get past the 'Connecting to…' screen is to uninstall the game, delete all files and folders related to it, and perform a clean Terraria installation.
Frequently Asked Questions
Why can't I connect to a Terraria server?
You might not be able to connect to a Terraria server because the server is invite-only,  it has some specific connection settings enabled, your internet connection is not stable, you are using the wrong character, your game version is outdated, you are holding modded items, your DNS is not working properly, or you have corrupted system files.
Additionally, you might be using the wrong server IP, or the server you are trying to connect to is closed.
Related articles:
Conclusion
To conclude, the Terraria not connecting problem can be fixed by adding the game to the Firewall exceptions list, changing the DNS settings, or using a reliable VPN, like ExpressVPN. Remember first to restart your PC and network devices, as well as to verify game files.
Some additional methods include inviting players through Steam instead of the Terraria menu and re-hosting the game. For a player to join, enough spots/slots must be available, so increase them in the server settings if they are low. Good luck, and share this article with a friend struggling with this issue.