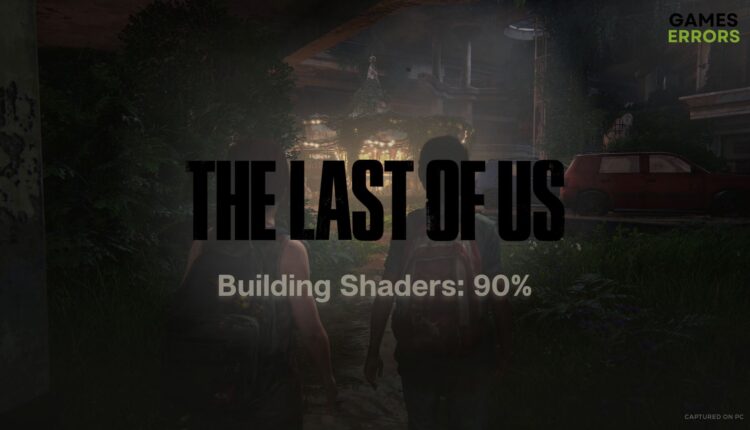 The Last of Us Building Shaders Taking Forever: How to Fix
If you face The Last of Us building shaders problem, update the graphics card and tweak these settings ✅
X
INSTALL BY CLICKING THE DOWNLOAD FILE
If you are having building shaders issues on The Last of Us, you are not alone. After the initial release of this game on PC, many users have had this problem. This article will explain this issue and feature a few possible solutions.
Undoubtedly, The Last of Us Part 1 is one of the best-looking games with an excellent story. You will not find a second title similar to this. But, many users are having various issues with this action-adventure survival horror game. Building shaders problem is one of them.
Learn how to fix The Last of Us stuck on the loading screen if necessary.
Why does The Last of Us keep building shaders?
Shaders in games are essential. It's a program that renders different pixels to create shadows, lighting, texture effects, etc. When you first open The Last of Us Part 1 on a PC, it starts creating the shaders, and you may see the Building Shaders message in the bottom right corner.
The building shaders' percentage should be increasing. After a while, this message will go away. But, for some users, it may stay there for a very long time or forever after reaching a certain percentage, like 90%. This is the real problem.
What may cause The Last of Us building shaders issue?
The reason behind this problem in this title is not apparent yet. However, according to the latest update from various sources, this is a known issue with the current version of this game. This issue may appear due to driver problems and some settings.
It also can be a result of system requirement issues on your Windows 10 or 11 PC.
How can I fix The Last of Us building shaders issue?
We have discovered the most working solutions to fix The Last of Us compiling shaders problem. However, before getting started, we like you to do these three quick things:
Now, if needed, follow these methods to fix this problem:
1. Update the drivers
Right-click on the Windows start button and then go to Device Manager.
Expand Display adapters.
Right-click on the display driver and click on Update driver.
Click on Search automatically for drivers.
Follow any onscreen steps to finish the updating process.
Similarly, update all other drivers.
It will take a lot of time to update dozens of drivers manually. So, we suggest you use Outbyte Driver Updater. This tool can update multiple drivers with just a single click.
2. Clear the shader cache and try again
Press Win + I to open Windows settings.
Go to Temporary files.
Check DirectX Shader Cache.
Uncheck all other options.
Click on Remove files.
3. Lower VRAM usage by tweaking in-game settings
Launch The Last of Us Part 1.
Go to Options.
Then, go to the Graphics settings.
Lower the Graphics Preset to decrease the VRAM usage.
You also can lower other settings according to your preference.
This method will also help if you are facing low frame rate issues on The Last of Us.
4. Tweak the DLSS settings
Time needed: 2 minutes
Depending on various situations and PC specifications, enabling or disabling DLSS settings in The Last of Us can fix the building shaders issue.
Save the Settings.
Now, relaunch the game and see if it helps. If you already had the DLSS enabled, disable it and see if it fixes the problem or not.
5. Update the game
Open Steam.
Go to the game library.
Go to the Updates tab.
Save the settings.
Now, if a patch is available, Steam will update The Last of Us before any other things and solve the stuck on building shaders problem.
6. Update Windows to the latest version
Go to Windows Settings.
If anything is available, click on Download/Update button.
After updating, restart Windows and see if it fixes the problem.
Now, play The Last of Us and see if the building shaders' progress is still stuck at a certain percentage or not.
Extra steps:
If the problem still persists, consider doing these things:
Troubleshoot internet connection. According to some users, it has worked for them.
Re-install The Last of Us on an SSD.
Learn how to solve The Last of Us crashing on PC if necessary.
This article has explained how to fix The Last of Us stuck on building shaders problem. If you have any questions, let us know in the comment box.