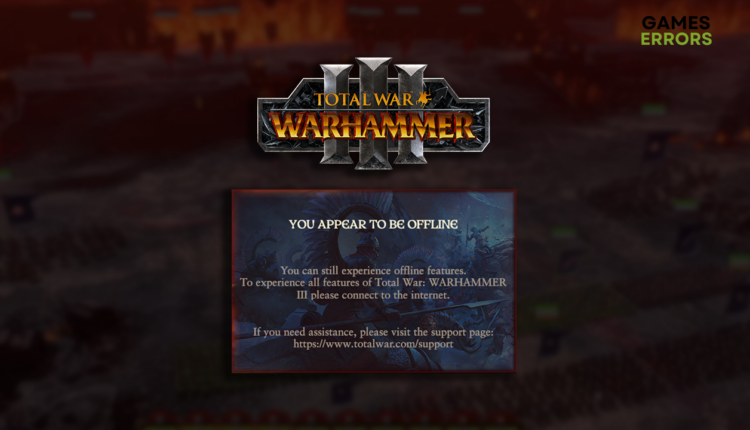 Total War Warhammer 3 You Appear to Be Offline [Quick Fix]
The problem can be related to your connection, but also to the PC settings. Let's discover and fix it together! 🙌
Launching your favorite strategy game and encountering Total War Warhammer 3, you appear to be offline issue will come as a cold shower. Many fellow gamers experience this, so we decided to investigate the problem, list the causes, and provide suitable fixes so you can enjoy TW Warhammer 3!
If you experience other problems playing Total War with your friends, learn how to fix TW Warhammer 3 multiplayer.
Why does Total War Warhammer 3 appear to be offline?
You get a "you appear to be offline" error in Total War Warhammer 3 due to a faulty internet connection, temporary problems with network devices, poor VPN service, issues with Windows Firewall, outdated network driver, troubling network settings, or linking problems with your game account.
How to fix Total War Warhammer 3 'You appear to be offline'?
To fix this connection-related issue, start with some simple checks and solutions:
Check your internet connection: Use a browser or another app to check if your internet is working or a game-related issue. Additionally, you can check it from another device.
Reset network devices: Modems and routers are the most common network devices. They can have temporary issues that can be solved by pressing the restart button, usually on the back side of the device.
Disable the VPN: Although VPN software can be a great way to preserve privacy and access geo-restricted content, it can also cause issues when connecting to the game server.
Proceed with the step-by-step solutions listed below.
1. Add the game as a Firewall exception
Time needed: 5 minutes
Security is the biggest priority when it comes to the digital environment. That is the field in which Windows Firewall plays a significant role. However, it can falsely recognize Total War Warhammer 3 as a threat.
Click on the Windows icon, type Windows Defender Firewall, and open it.

Click on Allow an app or feature through Windows Defender Firewall.

Click on Change Settings and Allow Another App.

Select Browse, and navigate to the Total War Warhammer 3 installation folder.
Click on the game executable file (.exe) and select Open.
Check the checkbox in columns Private and Public in the Total War Warhammer 3 row and hit OK.
Restart your PC.
2. Update the network driver
Your network adapter communicates with the internet through your home network. However, an up-to-date network driver must be installed on your PC for this to be possible.
Click the Windows icon, type Device Manager, and open it.
Double-click on Network Adapters.
Right-click on your internet adapter and select Update driver.
Select Search automatically for drivers.
Install the driver update.
Restart your PC.
Another way to update the network driver is by using a driver updater tool. The tool we choose is Outbyte Driver Updater, swift and reliable software that can take over the complete driver management process.
3. Reset the network settings
Even with the latest network driver installed, some outdated network settings can create problems connecting to the Total War Warhammer 3 game servers. To ensure this is not the case, you can use Command Prompt and the below commands to reset the network settings.
Click on the Windows icon, type Command Prompt, and click on it to open it.
Type the commands below, one by one, and hit Enter after each one:
ipconfig /flushdns
ipconfig /registerdns
ipconfig /release
ipconfig /renew
netsh winsock reset

Restart your PC.
Extra steps
If you still get the "you appear to be offline" error message in Total War Warhammer 3, try to:
🕹 Relink your account: The Total War Warhammer 3 has to be linked to the Steam or Epic Games account. Go to the Total War Dashboard and ensure your account is connected correctly.
🛡 Whitelist the game on your antivirus: You can disable the antivirus, check if the game works, and if so, you can add it as an antivirus exception, similarly like you already did with the Windows Firewall.
🌐 Connect to another network: If the problem is the network itself, try using another one. Ideally, you want to connect using a wired (ethernet) connection.
Related articles:
Conclusion
These were the most effective fixes for the Total War Warhammer 3 "you appear to be offline" error message. Comment if you discover an additional method that works, and we will spread the word.
If you encounter any issues or errors while playing your favorite games and require support, feel free to contact us here. Our team is always ready to assist you and ensure your gaming experience is seamless and enjoyable.