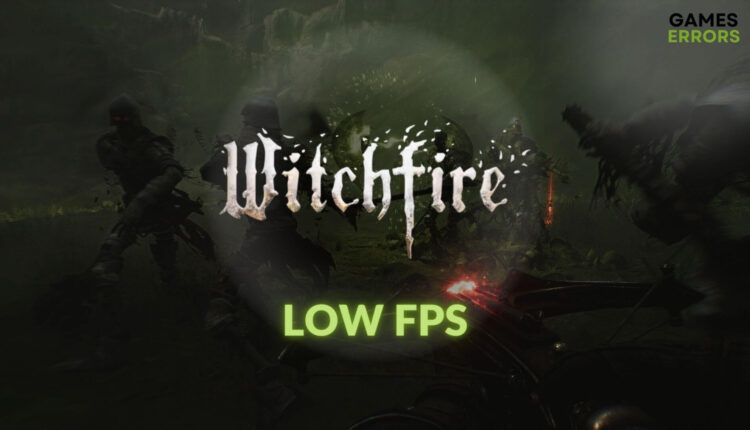 Witchfire Early Access Low FPS: Tips to Improve Performance
Without a better FPS, the stunning visuals on Witchfire are pointless. So, to fix the low FPS issues on this game, try the featured solutions from this article 🎯
You will not get the best gaming experience if the Witchfire early access version's low FPS problems appear. But, by making a few adjustments and applying some solutions, you can easily get rid of this problem.
Modern dark fantasy games like Witchfire look stunning and can attract any gamers. Frame rate per second is an important factor here. If you don't see the expected FPS from it, you won't get the immersive experience like other gamers. This article will tell you what to do to get rid of this problem.
If necessary, learn how to fix Witchfire not launching on PC.
What causes the low FPS problem on Witchfire?
Even the early access version of Witchfire looks amazing. But, you may not get the desired FPS count due to the following reasons:
GPU driver problem: For a problematic graphics card driver, your PC may fail to deliver the expected frame rate while rendering Witchfire.
Problematic background apps: Too many background services or a few power-hungry ones can affect gaming performance and cause low FPS problems on Witchfire.
Improper settings: Unsuitable in-game settings and problematic or unoptimized Windows configuration can trigger this issue.
Corrupted components: Outdated or corrupted game components and files can also cause poor performance issues on Witchfire.
How do I fix Witchfire Early Access low FPS?
First of all, you must do these quick things before taking any actions to fix this problem:
Now, try the following methods to increase FPS on Witchfire:
1. Enable the game mode and disable power saving mode
Press Win + I on the keyboard to open Windows Settings.
Toggle the switch next to the Game Mode to turn it on.
Relaunch the game.
2. Update the graphics driver
Time needed: 4 minutes
After updating the graphics driver, you will see that the low FPS problem on Witchfire has gone away. In our test, we have seen the same result.
Click on Search automatically for drivers and finish the process.
Restart your PC.
By using the Outbyte Driver Updater, you can install the most appropriate version of the latest GPU driver. As a result, you may get better performance from a modern video game like Witchfire.
⇒ Get Outbyte Driver Updater
3. Disable fullscreen optimization
Modern video games are heavily adopting DirectX 12's advantages. Surprisingly, by disabling fullscreen optimization, you may get better FPS from some of these titles, for example, the Witchfire. Here are the steps to do it:
Click on the three horizontal dots for the Witchfire and go to Manage.
Then, click on the Folder icon to open its installation directory, as shown in the screenshot below.
Right-click on it's exe file and go to Properties.
Go to the Compatibility tab.
At last, click on Apply and OK.
This method will also help if you encounter Witchfire crashing problems.
4. Tweak Windows Graphics Settings
To fix the FPS drop and poor frame rate problem on Witchfire's early access version, consider making some adjustments to the Windows graphics preferences. Follow these steps to do it:
Open Windows Settings again like method 1.
Click on Graphics.
Select Witchfire from the list and then on Options.
Next, click on Change default graphics settings.
Enable Hardware-accelerated GPU scheduling.
Also, enable Optimizations for windowed games.
Restart your computer.
After adjusting the Windows settings, run and play the Witchfire and see if the frame rate is in a good state or not.
Learn how to solve the infinite loading screen on Witchfire if necessary.
Extra solutions:
In some cases, you may still get poor FPS from this dark fantasy game. In this situation, the following methods may become helpful:
To get even more suggestions, see this guide on how to increase FPS in games.
By correctly implementing the techniques mentioned above, you should be able to fix the Witchfire early access low FPS issue. We also suggest lowering your in-game graphics settings and disabling any extra visual improvement features. If nothing works, re-install the game or upgrade your hardware. Please feel free to ask in the comment section below if you have any questions.