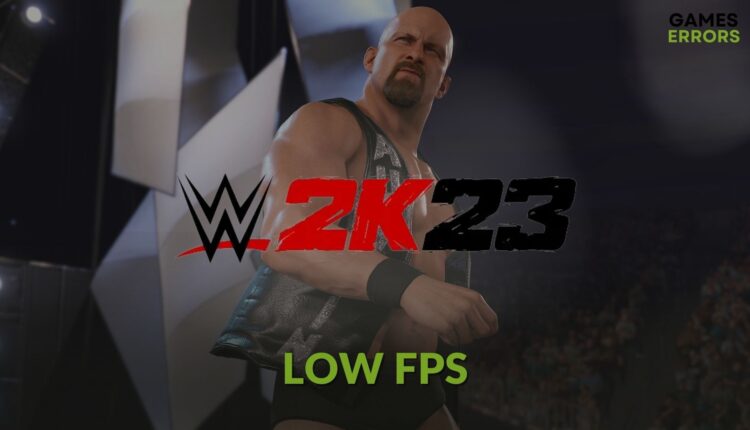 WWE 2K23 Low FPS: How to Improve Performance
To improve performance on WWE 2K23, update the GPU driver and follow these methods 🎯
X
INSTALL BY CLICKING THE DOWNLOAD FILE
Low FPS issues on games like WWE 2K23 can ruin your experience. The situation will be worse if it's a multiplayer match. However, this article will tell you how to solve this problem and improve gaming performance.
Wrestling lovers have picked the WWE game series pretty well in recent years. The popular characters, gameplay mechanisms, visuals, everything seems excellent. But, if its 2023 version performs poorly or you constantly get a low frame rate and stuttering problems, you will be disappointed rather than enjoying.
Why is my WWE 2K23 running slow?
If the WWE 2K23 is giving a laggy performance, it can be due to the following reasons:
System requirements: If your PC doesn't meet the system requirements, WWE 2K23 won't launch or perform very poorly.
Graphics driver problems: Outdated or problematic display driver is one of the most common reasons behind this frame-dropping issue.
A known bug: It's also possible that this performance problem is a known issue with the current version of the game, and developers are working on it.
Incorrect settings: Improper configuration and settings also can trigger low FPS problems on WWE 2K23.
Third-party background services: Too many active background services also may prevent this game from performing well.
How do I fix WWE 2K23 low FPS problems?
Before trying out the actual troubleshooting methods, do the following things:
Make sure that your PC meets the system requirements of WWE 2K23.
Disable your antivirus and firewall to see if it helps.
Enable high-performance mode and plug the power cable if it is a laptop.
Now, follow these methods to solve performance issues with WWE 2K23:
1. Update the graphics driver
Time needed: 3 minutes.
To improve FPS on WWE 2K23, you should update the graphics card driver without thinking about anything else.
Choose Search automatically for drivers and complete the update.
To update the GPU driver, we suggest you use a dedicated tool like DriverFix. It has a very large database, which helps to find the best compatible driver for your GPU. In addition, this tool can update the drivers automatically on regular basis in the background.
2. Enable game mode
Press Win + I on the keyboard to open Windows Settings.
Toggle the switch next to the Game Mode.
After enabling game mode, launch WWE 2K23 and see if you still experience low FPS problems or not.
3. Disable fullscreen optimization
Open the Steam desktop app and go to the game library.
Right-click on the WWE 2K23, go to Manage, and click on Browse the local files.
Right-click on its EXE file and go to its Properties.
Navigate to the Compatibility tab.
Click on Apply and OK.
4. Reduce extra background services
Press CTRL + Shift + Esc to open the Task Manager.
Go to the Processes tab.
Click on the tasks you want to disable and click on End Task.
Disable all other unnecessary tasks.
While disabling background processes, don't touch anything you don't know. Ending an essential task may cause other problems. However, if you can end the unnecessary ones, it will help the WWE 2K23 to utilize more available system resources, and you will gain more FPS during the gameplay.
5. Set graphics preferences to high performance
Open the Windows Settings.
Go to Graphics.
Select WWE 2K23 and click on Options. If it is not available, add the game manually.
Restart your PC.
6. Roll back the GPU driver
Open Device Manager and then double-click on the GPU driver.
Navigate to the Driver tab.
Follow any on-screen steps to finish the process.
7. Re-install the GPU driver
7.1 Uninstall the driver
In the Device Manager, right-click on the display driver and click on Uninstall.
Restart Windows.
7.2 Install again
Visit AMD, Intel, or NVIDIA driver download page, depending on your GPU model.
Select your graphics card model and click on Search.
Download the correct game-ready driver.
Install it on your PC.
8. Disable Vsync
Open NVIDIA Control Panel or any other graphics control panel depending on your GPU chipset.
Go to the Manage 3D settings.
Find the Vertical sync and turn it off.
Save the settings.
Restart Windows.
9. Repair WWE 2K23
In the Steam game library, right-click on the WWE 2K23 and go to Properties.
Go to the Local Files tab.
Click on Verify integrity of game files.
Wait for a while.
Now, play the game and see if it still has the low frame rate problem. This method will also help if the WWE 2K23 is stuck on the loading screen.
Additional methods:
If the problem is still bugging you, consider doing these things as well:
Play with lower settings.
Update Windows to the latest version.
Re-install the game and see what happens.
If it is a known bug, wait for the next WWE 2K23 patch update.
If you are interested, learn how to fix WWE 2K23 crashing.
This article taught you how to fix the WWE 2K23 low FPS problem. Hopefully, it will help.
If you encounter any issues or errors while playing your favorite games and require support, feel free to contact us here. Our team is always ready to assist you and ensure your gaming experience is seamless and enjoyable.