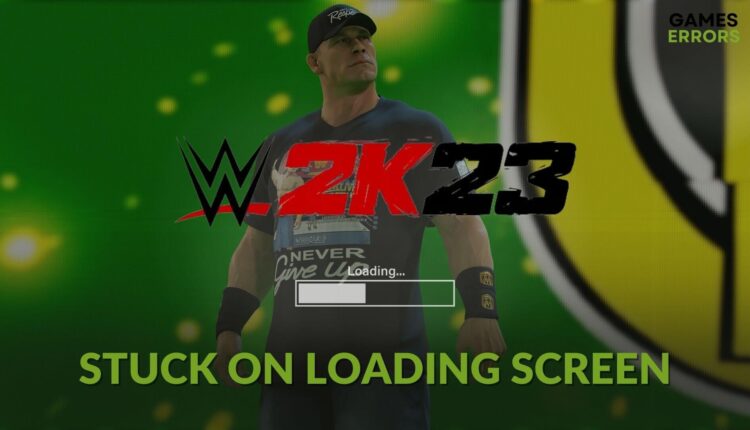 WWE 2K23 Stuck on Loading Screen: How to Fix
Is WWE 2K23 stuck while loading? Update the GPU driver and repair the game files 🎯
Is WWE 2K23 stuck on the loading screen? You are not only the person encountering this problem. This article will explain why it happens and how to solve this issue.
If you are a wrestling game fan, you may have been playing the WWE series for years. Each new version has new features and changes. If you cannot play the latest WWE 2K23 just because it is stuck while loading, it will be a very frustrating experience. Luckily, there are some practical solutions.
What is preventing WWE 2K23 from loading on my PC?
If you see that WWE 2K23 is taking forever to load or freezing up while loading, you will find these as the most common reasons:
Driver problem: Outdated or buggy drivers, especially the one related to the graphics card, can cause WWE2K23 freezing issues on the loading screen.
System requirements: If your PC doesn't meet the system requirements, but you attempt to run this game, in this type of case, WWE 2K23 may become stuck on the loading or launch screen.
Corrupted cache: Cache files related to the games or the client also can be responsible for this type of problem.
Corrupted game files: If the related game components or the installation files become corrupted, you will experience this problem.
Disk problem: Disk performance is important for a large game like WWE. If there is a problem, the game may not load and become stuck forever on the launch screen.
How can I fix WWE 2K23 stuck on the loading screen?
If you want to get rid of this problem, you must do the following things before going through the main methods:
Now, if the WWE 2K23 is still stuck while loading, go through these troubleshooting methods to fix this problem:
1. Update GPU driver
Time needed: 3 minutes
In WWE 2K23, freezing issues or stuck on loading screen type problems appear due to GPU driver issues. So, you should update the driver to the latest version to fix this problem.
Select Search automatically for drivers and complete the update.
For updating the GPU driver, Outbyte Driver Updater is a much better option. This tool can find the most compatible game-ready GPU driver for your PC. This helps to solve game-related problems and improve performance.
⇒ Get Outbyte Driver Updater
2. Clear cache
Launch the Steam desktop app.
Relaunch Steam.
Clearing the download cache on Steam will help to solve problems like WWE 2K23 won't launch or getting stuck on the loading screen.
3. Repair WWE 2K23
If the WWE 2K23 is taking an infinite amount of time to load, repairing the game files by following these steps is one of the most effective solutions:
In the Steam app, go to your game library.
Navigate to the Local Files tab.
Click on Verify integrity of game files.
Give it some time to finish the repair process.
4. Clean boot
Press Win + R on the keyboard to open Run.
Type msconfig, and hit Enter.
Go to the Services tab.
Click on Apply and OK.
Restart your PC.
In clean boot mode, this game may run without any problem. If yes, it means a third-party service was causing this issue. So, we suggest you enable the services one by one until WWE 2K23 becomes stuck on the loading screen again. Then, uninstall that problematic service from your PC.
5. Repair common disk issues
Open This PC.
Right-click on the disk drive where you have installed WWE 2K23, and click on Properties.
Navigate to the Tools tab.
Wait for a while until it finishes the process.
Slow disk performance, bad sectors, etc., can slow down the game-loading process. As a result, you may think the WWE 2K23 is taking forever to load. Repairing the common disk issues will help to overcome this type of situation.
6. Delete the user profile data
If your progress doesn't have a cloud backup, deleting the user data from documents can delete your in-game progress. But it helps if WWE 2K23 is not loading at all. So, we suggest you take a backup and delete the profile data by following these steps:
Open This PC.
Go to Documents.
Go to the WWE 2K23 folder.
Back up and delete all contents in this folder.
Relaunch the game.
7. Re-install the game
Open Steam like before.
After finishing the uninstallation process, click on the Install button.
Choose an installation location and click on Next.
Finish the installation process.
Now, Launch this WWE game and see if it is still stuck or not.
If necessary, learn about the ways to fix WWE 2K23 crashing.
Related articles:
This article has explained the methods to fix WWE 2K23 stuck on the loading screen. Let us know in the comment box if you have any questions or suggestions.