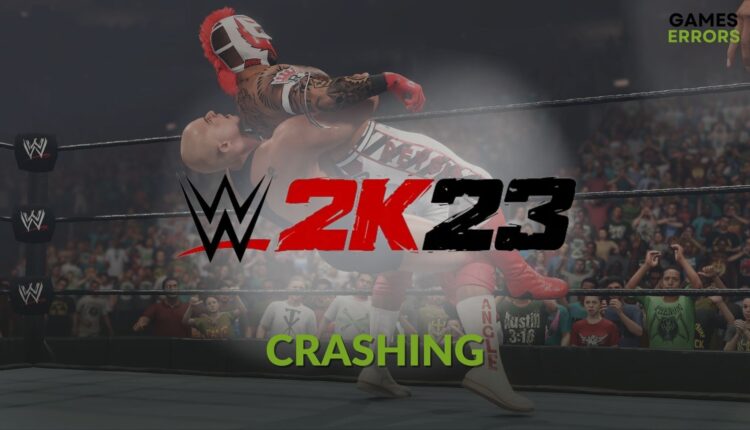 WWE 2K23 Keeps Crashing: Easiest Ways to Fix It
If WWE 2K23 keeps crashing on your PC, follow these quick solutions 🎯 As John Cena would say: 'You can't see me, my time is now!' 👋🏼
If you want to know the ways to fix WWE 2K23 crashing problem on your PC, you are at the right place. This article will explain why it happens and how to fix it.
Any wrestling game fans will prefer WWE over many other titles. But, for some users, this game may stop working even though the PC meets the system requirements. Luckily you can get rid of this problem.
Why does WWE 2K23 keep crashing?
If you see that the WWE 2K23 keeps crashing after launching or while playing, it may be because of the following reasons:
| Crashing Cause | Meaning |
| --- | --- |
| System Requirements | Your PC should meet the necessary specifications to run WWE 2K23 smoothly. If not, the game may crash. |
| Graphics Driver Problem | If there are issues with the graphics driver, even a powerful GPU like RTX 4080 may not perform well, leading to crashing problems in any games. |
| Memory Problem | If there are physical or temporary problems with your RAM, memory-intensive games like WWE 2K23 may crash. |
| Corrupted Game Files | Corrupted game files in the installation directory can be a major cause of crashing issues in WWE 2K23. |
| Problematic Game Components | WWE 2K23 relies on specific game components on your Windows 11 or 10 PC. If any of these components have problems, the game may crash. |
How do I fix WWE 2K23 crashing problem?
Before going through the main troubleshooting steps, do these quick things:
Check WWE 2K23's system requirements and determine if your PC is capable of running this title or not.
Disable your antivirus and firewall temporarily.
Set your PC/Laptop to high-performance mode from the power settings.
Now, follow these effective methods to prevent WWE 2K23 from crashing:
1. Update graphics card driver
Time needed: 4 minutes
In most cases, the WWE 2K23 crashes due to video driver-related problems. Updating it to the latest version is a very effective solution to solve this issue.
Select Search automatically for drivers.
Complete the update process.
Outbyte Driver Updater is probably the best option to update the graphics card driver. It is because, to solve game crashing issues, you must install a game-ready GPU driver compatible with your PC. This tool is very powerful and accurate in finding and keeping such drivers up to date.
⇒ Get Outbyte Driver Updater
2. Install/update game components
If WWE 2K23 still keeps crashing, you should download and install two crucial game components. Here are the steps to follow:
Visit the Microsoft Visual C++ Redistributables page.
Download the component for X64 architecture.
Install it on your PC.
Visit the DirectX Runtime download page.
Download the installer.
Install it on your Windows PC.
Restart your computer.
3. Clear shader cache
Press Win + I on the keyboard to open Windows Settings.
Go to Temporary files.
Check DirectX Shader Cache, and uncheck all other options.
Click on Remove files.
Now, if you launch WWE 2K23 on your PC, it may have low FPS or stuttering problems for a while. Once the new shader cache is compiled, everything will be OK, and you may no longer encounter the crashing issue.
4. Repair the game files
The crashing issues on this WWE game also may appear because of corrupted game files. Steam has an excellent option to sort it out. Here are the steps to repair the 2K23's game files:
Open Steam.
Go to your game library.
Right-click on the WWE 2K23 and go to Properties.
Go to the Local Files tab.
Click on Verify integrity of game files.
Wait for a while.
5. Re-install the game on SSD
After that, click on the Install button to install it again.
Choose an installation location located in an SSD and click on Next.
Finish the installation process.
6. Disable XMP
Shut down your PC.
Turn the power switch on.
Keep pressing the F12/Del/F2 button on the keyboard, depending on your motherboard model. It will boot into the BIOS/UEFI mode.
Go to the option similar to the Advanced Memory Settings.
Click on Extreme Memory Profile (XMP) and disable it.
Save the settings and restart your PC.
The above instructions are applicable to Gigabyte motherboards. If you use different ones, you may find slightly different options. However, disabling XMP is a very common way to solve crashing issues for certain PC models.
For more, we suggest you learn how to solve games crashing after enabling XMP.
7. Run the Windows Memory Diagnostic tool
Press Win + R to open Run.
Type mdsched and press Enter.
Click on Restart now and check for problems.
Restart your PC.
This process may take a while to complete. For some users, it may take more than an hour. We suggest you keep your patience. It will automatically find and fix common memory-related problems. You will also understand if your RAM sticks have some physical damage.
After solving memory problems, Run WWE 2K23 and see if it still crashes or not. If you still face the same problem, we suggest you update Windows to the latest version.
Related articles:
If necessary, learn how to stop any games from crashing.
This article has explained the ways to solve WWE 2K23 crashing problem. Which method has worked for you? Feel free to let us know in the comment box.