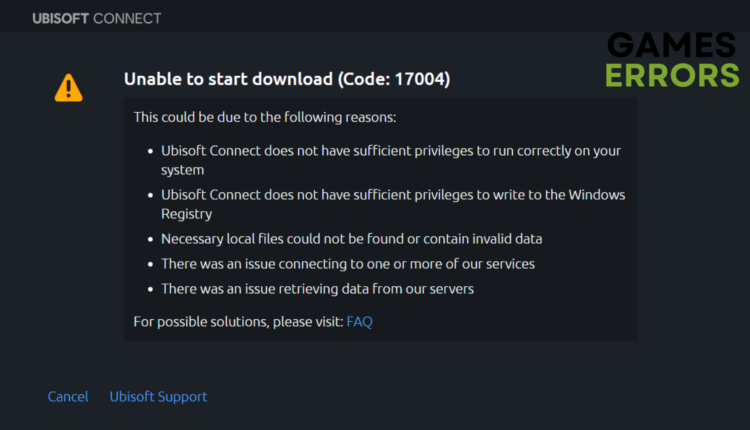 XDefiant Error Code 17004: Why & How To Fix Quickly
XDefiant Error Code 17004 will not let you play the game. Here are quick troubleshooting steps to fix it easily! 👏
XDefiant is an upcoming FPS title by Ubisoft scheduled to release in Summer 2023 on Xbox One and X|S, PlayStation 4/5, PC, Google Stadia, and Amazon Luna. The game is in its final open beta stage, and it's natural to face different bugs and errors while playing. One of them is the XDefiant Error Code 17004 which is not letting players enter the game at all, which can be pretty frustrating.
Now, there can be multiple reasons for encountering this error in XDefiant, and we have explained all of them below, along with their fixes, so that you can continue playing the game.
Why am I getting XDefiant Error Code 17004?
One of the major reasons for you to face XDefiant Error Code 17004 is that the in-game servers are either down or facing some technical issues due to overloading, which is the case right now, and Ubisoft is aware of it.
Apart from this, if your internet is not working properly, the in-game files are corrupted, or the Ubisoft Connect doesn't have all the permissions to run the game, you will still face this error. However, worry not, as we have listed all the possible solutions for this issue so you can bypass it quickly and jump into the game.
How to fix XDefiant Error Code 17004?
Table of contents:
1. Check XDefiant's server status
Before trying out any other fixes, the first and most important thing you need to do is check XDefiant's server status by going to the official Ubisoft support website. In addition to this, you can also keep an eye on XDefiant's official Twitter handle, where Ubisoft will notify the community if there is any maintenance going on or if the servers are facing any technical issues, which can also be a reason for you to get slow download speed.
In this case, all you have to do is wait, as Ubisoft will inform the players once the servers are up and running fine.
2. Check your internet connection
If your internet is not working, you will not be able to play XDefiant or any other game, which could be one reason for XDefiant Error Code 17004 to appear. If this is the case, try switching your Wi-fi modem off and turning it on again, or else contact your Internet Service Provider to fix the internet problem and relaunch the game to see if the error is fixed.
3. Run Ubisoft Connect as an administrator
Time needed: 1 minute
It is possible that Ubisoft Connect doesn't have all the necessary permissions to run, which can result in Error Code 17004. Thus, it is worth trying to run the client as an administrator as it will ensure that it has all the rights to run the game properly. Here are the instructions to run the application as an administrator:
Find the Ubisoft Connect icon on your desktop or the Start menu.

Right-click on the icon.

From the dropdown menu, select "Run as Administrator."

A pop-up window will appear, asking for your confirmation to run the program with admin privileges. Click "Yes" to proceed.

The client will now launch with administrator privileges.
4. Contact Ubisoft support
While the fixes explained above have solved the problem for the majority of the players, if you are still facing it, you can contact Ubisoft customer support by going to their official website. All you have to do is select XDefiant from the list of games, log in with your account, and create a ticket explaining your issue, and a support agent will get back to you with a solution based on the information you provided.
Related articles:
That is everything you need to know about fixing Error Code 17004 in XDefiant.