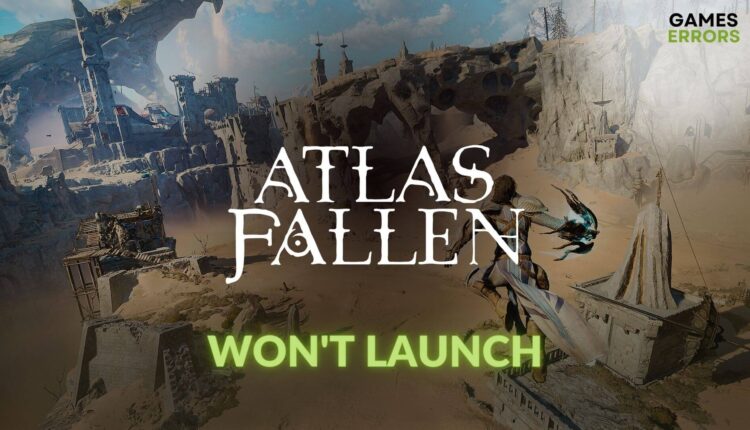 Atlas Fallen Won't Launch: Best Methods to Resolve It
Is Atlas Fallen not launching on your PC? Try these fixes, rise from the dust, start haunting the legendary monsters and explore the fantasy world 🎯
Suddenly or right after installation, you may see that Atlas Fallen won't launch on PC. To tackle this problem, discover the most practical solutions from this article along with helpful information.
This new exciting new video game has stunning graphics and exciting gaming elements full of actions and challenges. Any PC gamer should like this title. But, all of your excitement fades quickly if you see that the Atlas Fallen is not launching on your computer.
Why is Atlas Fallen not launching on my PC?
Several things can directly contribute to this launching issue on Atlas Fallen. Among them, these are the most common ones:
Problematic drivers: Outdated or incompatible drivers on your PC may hinder the game-launching process and prevent you from playing this masterpiece.
Corrupted components: If the problematic components exist which are necessary for this title, the Atlas Fallen will crash or won't launch at all.
Third-party apps: Many third-party apps, including the firewall, antivirus, and various game-boosting tools, can be behind this problem too.
System requirements: The Atlas Fallen won't launch on your computer if it doesn't have the required specifications.
Many other minor factors may also cause this issue on Windows 11 or 10. But, the solutions are have featured should work in every situation.
How can I fix Atlas Fallen won't launch?
If your PC meets the system requirements of the Atlas Fallen, the solutions will work. However, before taking any major actions to troubleshoot this problem, perform these quick steps:
Enable high-performance mode from Windows Settings.
Temporarily deactivate the security programs to see if it works.
Verify the integrity of the game files and see what happens.
Ensure that you have a working SSD drive.
Restart your PC.
After finishing the above steps, proceed to try the following methods to resolve Atlas Fallen not launching:
1. Update the drivers
Expand Display adapters.
Right-click on the graphics card, for example, RTX 4060 Ti, and then click on Update driver.
Click on Search automatically for drivers.
Follow any additional onscreen steps to finish the process.
In this way, update all other drivers on your PC.
Restart Windows.
If you update drivers one by one manually, it will kill a lot of time. So, we recommend Outbyte Driver Updater. This small tool can update dozens of drivers on Windows 11 and 10 with just a single click.
⇒ Get Outbyte Driver Updater
Performing driver updates will also solve low FPS issues on Atlas Fallen.
2. Clear the cache
Time needed: 2 minutes
If you want to fix Atlas Fallen not launching problem on your PC, clear the download cache from Steam.
Now, relaunch Steam
3. Re-install the game on an SSD
It's possible that the disk where you have installed the game has problems. So, we suggest you uninstall Atlas Fallen and re-install it on a different SSD drive to fix the launching problem. Here are the steps to follow:
Go to the Steam Library.
Right-click on the Atlas Fallen, hover the cursor on Manage, and then on Uninstall.
After that, click on the Install button.
Give the installation location information and click on Next.
Finish the process.
The whole process may take a while, depending on your internet speed. So, keep patience and see whether this method has solved the Atlas Fallen not running problem or not.
If necessary, learn the techniques to resolve Atlas Fallen's infinite loading screen problem.
More fixes:
Are you still unable to open this title on your computer? Don't worry. Try these methods:
Update Windows to ensure that the core components are up to date.
Run the game in a clean boot environment to see if it helps.
For more suggestions, see how to fix games not launching on a PC.
The methods outlined above can be extremely helpful if you see that Atlas Fallen won't launch on your PC. However, if you don't get the desired result, reset Windows and see if it works. Otherwise, upgrading your PC hardware may be the last solution. If you have any inquiries regarding this topic, write in the comment box.