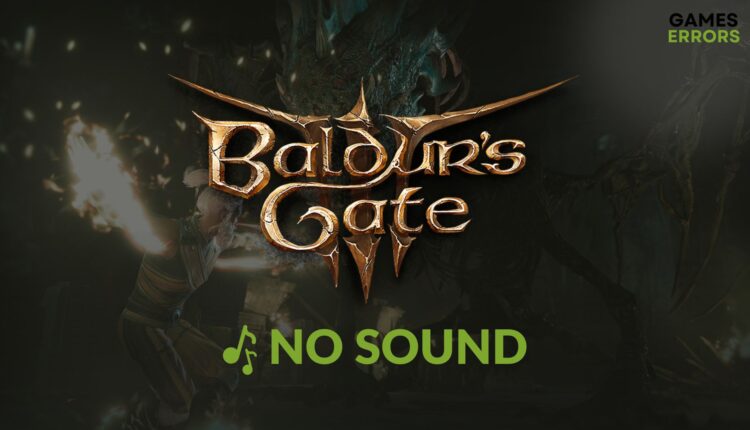 Baldur's Gate 3 No Sound: How to Make It Work
Playing a stunning-looking game like Baldur's Gate 3 without audio is like spring without color. So, take the steps mentioned in this post to solve no sound issue on BG 3 🔊
The highly acclaimed role-playing video game Baldur's Gate 3 may have no sound issues on your PC. This article will help you to troubleshoot this problem.
Larian Studios' Baldur's Gate 3 is a well-optimized, story-rich RPG that most gamers have admired. But it doesn't mean you won't encounter problems. Due to some glitches, no sound issues in this title have affected many users' gaming experience.
What causes no sound or audio bug in Baldur's Gate 3?
If you get no sound while playing or interacting in Baldur's Gate III, it is because of these reasons:
Audio driver problem: Your problematic audio driver is the most common issue behind any audio problem in BG 3.
Improper settings: Sometimes, settings on Windows and the game itself can be why you hear nothing from BG3.
Third-party apps: Third-party apps and services can create conflict and cause this problem.
Else, temporary glitches on your PC may also cause this issue. That should automatically go away after a restart. See the next part of this post to get the complete solution for this problem.
How can I get rid of Baldur's Gate 3 no sound problem?
Usually, you won't have to apply the main troubleshooting methods at the beginning. Sometimes, the following quick steps can fix no sound problem on BG3:
First, make sure that your PC meets the system requirements of BG 3.
Ensure your speaker or headphone is in a good state and the cable or the Bluetooth is working correctly.
Disconnect any extra audio output devices.
Try a different audio device to see if it helps.
Disable your antivirus to see what happens.
Reset the audio and sound settings in the game.
🎧 If the audio bug still keeps interrupting your experience, the following methods will fix this problem:
1. Update the audio and graphics drivers
Time needed: 4 minutes
If you want to fix no sound issues on Baldur's Gate 3, the first and most effective method is updating both graphics and audio drivers to the latest version.
Select Search automatically for drivers and finish the update.
Finish the process like before.
Restart your PC.
We suggest you use Outbyte Driver Updater to update multiple drivers at once. It will save you much time as this tool can update dozens of drivers with just a single click.
⇒ Get Outbyte Driver Updater
2. Verify the audio output device
Click on the Audio icon from the left side of the taskbar.
Then, click on the expand (>) icon next to the audio output device, as shown in the screenshot.
Now, select the correct device.
After that, launch Baldur's Gate 3 and see whether it has fixed the no-sound issue or not.
3. Change the playback format
According to a group of users, changing the playback format can solve this audio bug on BG 3. To do it, follow these steps:
Open Windows Settings by pressing Win + I on the keyboard.
Next, go to your preferred audio output device to open the properties.
Select a different option next to the Format.
Relaunch BG 3 and see if it solves the no-sound issue.
4. Enable audio enhancements
Navigate to the audio device properties like before.
Scroll down and select Device Default Effects or anything else except Off next to the Audio Enhancements.
Enable any other enhancement features you see.
5. Run the Audio Troubleshooter
Open the Windows Settings like before.
Navigate to Other Troubleshooters.
Follow the onscreen steps to complete the process.
Now, verify if this method has fixed the no-audio problem on Baldur's Gate 3 or not.
👉 Extra tips:
In extreme cases, the problem may still exist. In this case, try these methods:
Re-install the GPU and Audio drivers.
Uninstall any third-party audio tools and see if it works.
Related Baldur's Gate 3 Articles:
Hopefully, if you can be able to apply the fixes mentioned above, you will no longer encounter Baldur's Gate 3 no sound problems. However, to make sure that the problem will not return, always keep the game, GPU driver, and audio components up to date. Feel free to let us know in the comment box if you have any opinions.