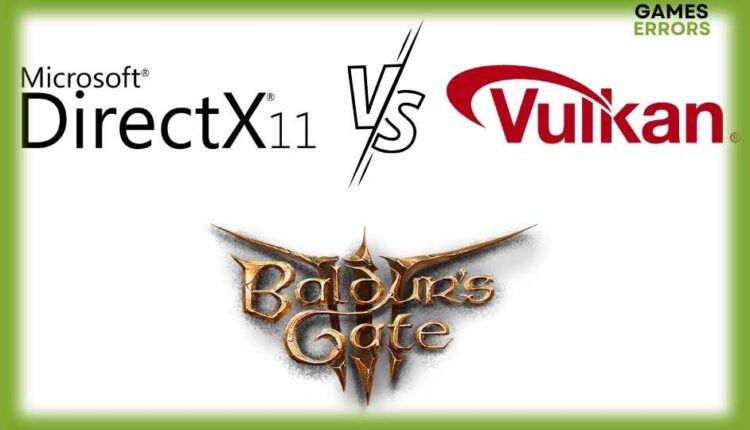 Baldur's Gate 3 DX11 vs Vulkan: How to pick the Best One
DX11 vs Vulkan in Baldur's Gate 3: A Guide to Optimal Gaming Performance
If you are wondering which API would win when it comes to Baldur's Gate 3 Vulkan or DX11, keep in mind that this selection can significantly influence the game's performance, and the optimal choice is contingent on the player's system specifications and gaming preferences.
This guide offers an in-depth comparison between DX11 and Vulkan, empowering you to decide on an enhanced Baldur's Gate 3 gaming experience.
Decoding DX11 and Vulkan
DirectX 11 (DX11) and Vulkan are graphics APIs facilitating the interaction between the game and your PC's hardware. Vulkan, the default and recommended API for Baldur's Gate 3, is recognized for its potential to deliver superior performance and cross-platform compatibility. However, it might be less stable and could cause some game-launching issues, stuttering problems, and fps drops.
DirectX 11, on the other hand, is an alternative that might be more suitable for some users or systems, for example, Nvidia GPU users. Players can alternate between the two APIs in the game launcher or run different executables. Other settings and compatibility modes may enhance the game's performance on either API.
Baldur's Gate 3 DX11 vs Vulkan: A Detailed Examination
The performance provided by the Baldur's Gate 3 DirectX 11 or Vulkan settings can differ depending on the type of graphics card used. Here's a comprehensive breakdown of how each API performs with Nvidia, AMD, and Intel graphics cards:
Nvidia Graphics Cards
For Nvidia graphics card users, DX11 generally outperforms Vulkan. DX11 delivered higher frame rates in tests than Vulkan, albeit with a slight decrease in 1% lows. This suggests that Vulkan may provide more consistent performance with less significant dips. However, the lowest 0.1% of frame rates were often better on DX11, indicating that Vulkan might occasionally dip lower than DX11.
AMD Graphics Cards
For AMD graphics card users, Vulkan is typically the preferred choice. Vulkan generally offered higher average frame rates and higher 1% low frame rates in testing. However, the lowest 0.1% of frame rates were sometimes lower than with DX11. Some users have reported more issues with the Vulkan API than DX11.
Intel Graphics Cards
For Intel graphics card users, Vulkan is likely the optimal choice. The architecture of Intel's Arc graphics cards has been designed for newer APIs, and Vulkan, being a newer API, generally provides the best performance on these cards.
Source: PCGamer
Should I use Vulkan or DX11 baldurs Gate 3?
Choosing between Baldur's Gate 3 DX11 or Vulkan hinges on your system's hardware. If you're running the game on slightly older hardware, DX11 may provide a more stable performance. However, Vulkan will likely offer superior performance if you have a relatively new system, as it can leverage newer hardware. Remember, you can always switch between the two APIs if you encounter performance issues or glitches.
My decision regarding Baldurs Gate 3 DX11 vs Vulkan was to try both. I have an Nvidia GPU, and I was looking forward to seeing how Vulkan performs, but as this guide suggests, DirectX 11 might perform better based on the specifications of the entire system and if you are using Nvidia GPUs. With Vulkan, my game is a bit clunky, while with DX11, it gets more stable and I can play with little to no problems. Regardless of the app, you will still get some drops here and there when you are using the bomb pouch or the explosive barrels.
How do I change from DX11 to Vulkan?
To manually switch between APIs when you enter the game launcher there are two options Vulkan and DirectX 11, you just need to select the desired one.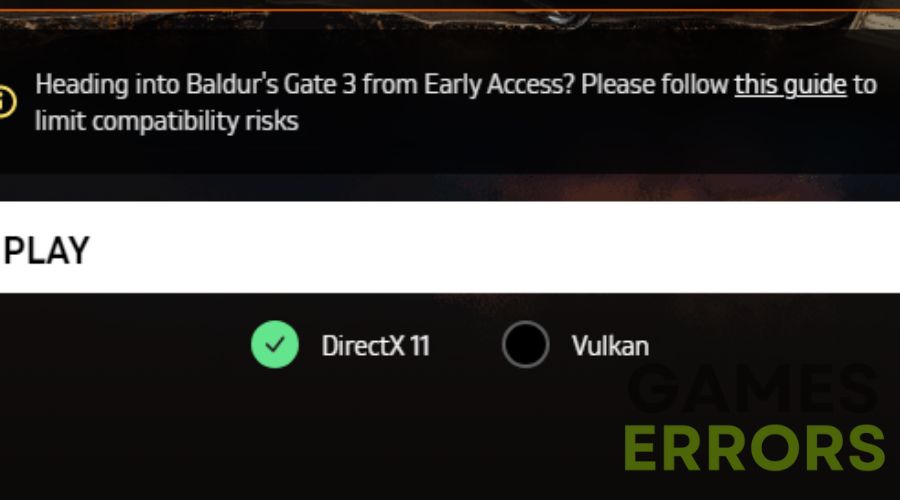 Use Supersampling on Performance
Supersampling or SSAA, is a way of increasing your fps in Baldur's gate regardless of the GPU you are using, it is recommended to use the FSR option for AMD and DLSS for Nvidia. However, you can use the one that works best for your system.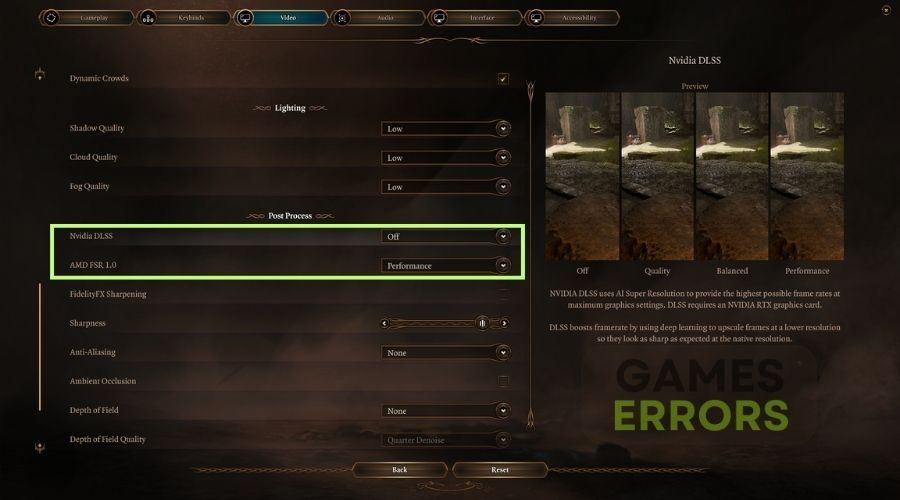 Related Baldur's Gate 3 Articles:
Final Thoughts
To sum up, the decision is mostly up to you and based on your system. If you are running on NVIDIA GPUs, try going for DirectX 11, as it might be the better version. However, if you are looking for more stable GPU and CPU resource utilization and you are using AMD GPUs or Intel GPUs, run the game with Vulkan. At the end of the day, what's important is to test them both and see which one performs better on your system.