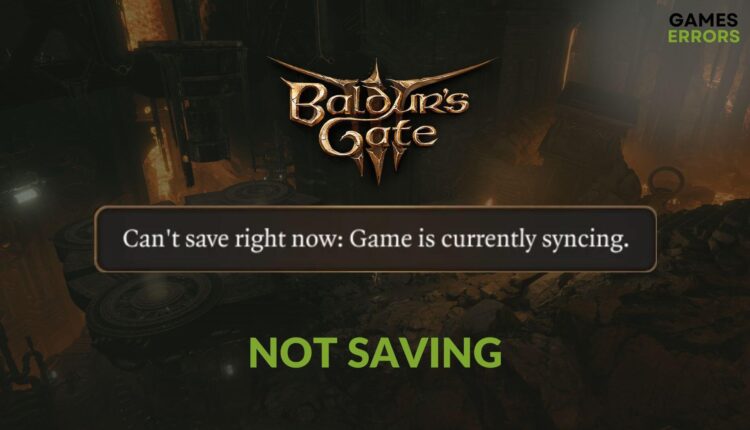 Baldur's Gate 3 Can't Save Bug: Fix It in Multiple Ways
If you can't save the progress in Baldur's Gate 3 because the game is syncing, it must be an annoying experience. To fix it, try the solutions featured in this post 🎯
I had the worst experience with Baldur's Gate 3 Can't Save Bug in Act 3 while I was doing the Circus of the Last Days. Unfortunately, this problem is affecting many other users, and it prevents game saves of any kind. I would have preferred if it just prevented quick saves, but that wasn't the case. At least I knew what was going on because I encountered the following message:
Can't save right now: Game is currently syncing.
Fortunately, I think I rolled a nat 20 because the solutions and fixes below can solved this problem.
Why can't I save on Baldur's Gate 3?
The main reason why you can't save in Baldur's Gate 3 is because there is an ongoing Can't save bug. However, you may see Baldur's Gate 3 is syncing, but the game can't save anything for several other reasons. These are:
Network problem: Steam cloud sync will not work, and Baldur's Gate 3 will be unable to save and sync the progress if there is a connectivity problem.
Internal bug: A relatively new game like BG3 may fail to save because of a known bug.
Temporary glitch: This problem can be a temporary issue caused by problems on your PC, the Steam client, or the game itself.
Problematic components: Problematic game files and components can also cause this issue.
Firewall and Antivirus problems: They might consider BG 3 a threat to your system and they could either block some of the needed processes or the game entirely.
Early Access game saves: If you are like me and you have played the game since early access, you might be using one or two of the characters from back then. Unfortunately, you might need to consider using a new character because the older game saves might be corrupted.
Mods: Most of them are great at adding new content. However, if you use them to create your character or to add more features and then remove them, this might be the reason why you can't save your Baldur's Gate 3 game.
How do you save in Baldur's Gate 3?
To save your game in Baldur's Gate 3, you can either press Esc and Save Game or use the quick key, which is on F5. Additionally, you can rebind it to make it more accessible to you. Also, to make the troubleshooting methods effective, we suggest you do these quick things before trying the main techniques:
Disable your firewall or antivirus.
Ensure you have a better internet connection and that no proxy or VPN is active.
Power-cycle your PC and internet router.
After that, try the following solutions one by one to solve this bg3 not saving error:
1. Re-enable or turn off the Steam cloud sync
Time needed: 3 minutes
To resolve Baldur's Gate 3 not saving or similar issues, you should turn off the Steam cloud sync or re-enable it. This method is the most successful one you can try right now.
Open Steam.

Right-click on Baldur's Gate 3 and go to Properties.

Make sure that you are on the General tab.
Now, toggle the switch off next to the Keep games saves in the Steam Cloud for Baldur's Gate 3 under the Steam Cloud section.

Using File Explorer, locate the following directory: C:\Users\myUser\AppData\Local\Larian Studios\Baldur's Gate 3
Delete this folder.
Relaunch Steam.
You can consider re-enabling the cloud sync on Steam after resolving the issue. However, if it returns, repeat the above steps again and leave the Steam Cloud feature disabled.
2. Turn off OneDrive
I tend to keep my OneDrive turned off all the time. It is one of the main reasons why you might encounter syncing problems, such as the Baldur's Gate 3 Can't Save game syncing problem. Below are the steps you need to follow to turn it off.
Press Win + X on the keyboard to open the Power Menu and go to Task Manager.
Then, go to the Startup Apps tab.
Restart your PC.
According to a group of users, disabling the OneDrive on Windows 11 or 10 may help eliminate the can't save the game error on BG 3.
3. Change DNS
Besides the fact that changing the DNS can improve the internet performance and fix the Baldur's Gate 3 Save Game Syncing problem, changing your DNS can also help you increase security and protect your privacy.
Press Win + I to open Windows Settings.
Select Manual and enable IPv4.
Restart Windows.
Changing the DNS has could be an effective solution to the Baldur's Gate not saving bug. Unfortunately, there is no permanent fix released for now.
4. Reset network
As the root of the Baldur's Gate 3 Can't Save problem can be your network settings, we suggest you reset it by following these steps:
Go to Windows Settings again.
Navigate to the Network reset option.
Then, click on Reset now.
Restart your PC.
5. Update the game
If the Baldur's Gate 3 save is not showing or working, update the game and see if it works. Here are the steps to follow:
Go to the Steam game library.
Then, go to Baldur's Gate 3 Properties like before.
Navigate to the Updates tab.
Relaunch Steam.
At last, launch Baldur's Gate 3, play it, and then see if the save game feature works successfully.
6. Turn off the Cross Save
One of the easiest solutions to the BG3 not saving issue is to turn off the cross save from the game settings which allows you to play the game from where you left it on other devices such as PS5 or Xbox.
Open the BG3 on your device and go to Settings.
Under the Gameplay Settings tab search for Cross-Save option.
Turn the Cross-Save option off by ticking the box and restart the game.
You are good to go.
7. Rename the Baldur's Gate 3 Folder
Another quick fix worth trying to solve the Baldur's Gate 3 not saving problem is to rename the folder from the %Appdata% to force your game to create a new one. Learn how to do it in a few steps following the instructions below:
Press Win + R and type appdata or Win + S and type %Appdata% but you will be sent to another location

If you picked the 2nd method you will have to select Appdata once again from the Roaming folder and then go on Local

Once you are in the Appdata Local Folder look for Larian Studios
Inside of it you will find the Baldur's Gate 3 and you need to rename it.
Once you are done, launch the game again and you are good to go.
Additional solutions for Baldur's Gate 3 Can't Save game is syncing bug:
If you are still encountering Baldur's Gate 3 unable to save bug, try the following methods:
Verify the integrity of the game files on Steam: Whenever your games are acting up, if you play them on Steam, one of the best solutions is to use the provided repair tool. It can fix the BG3 not saving problem with ease if it comes from corrupted or faulty game files. Additionally, this method can remediate other problems too.
Update Windows: There are plenty of reasons why this method works, and one of them is due to the updates it might bring to your system applications which are required to run games smoothly. Thus, by upgrading your windows you could solve the Baldur's Gate 3 Can't Save problem with ease.
Install the latest network driver using Outbyte Driver Updater.
Re-install the game on a good SSD: The difference between an SSD and a HDD is huge. The SSD helps you run games and other programs faster. While it is mostly recommended to use it for your system files, sometimes it is best to use it for your games too. In this case, it can remedy the Baldur's Gate 3 save not working problem.
Run the game as administrator: By running Baldur's Gate 3 as an administrator, you will allow the game to take on more processes and work without restrictions, which might solve your BG3 Can't Save bug.
Run Steam or the Launcher as administrator:
Delete Old Game files and Saves: This method worked for me so far, and you can delete whole campaigns with or without the latest save. It is a great mechanic which allows you to save space and fix the Baldur's Gate 3 Can't Save Bug. The only downside is that you will give up on the chance of experiencing new routes.
Uninstall or disable your Mods: The Baldur's Gate 3 Can't Save Game is Syncing bug could be the result of miss-matched data caused by the mods.
Disclaimer: The previously mentioned solutions were tested and verified by our gaming professionals and technicians. Make sure to try them all.
Frequently Asked Questions:
How do you save in Baldurs Gate 3?
You can save the progress in Baldurs Gate 3 manually by simply pressing F5 anytime, or automatically by waiting for the autosave. Additionally, if you prefer the long way, you can also save from the game menu that you can access at all times by pressing ESC. However, if you have the Baldur's Gate 3 Can't Save Game issue and nothing works, you could also reduce the time between autosaves until the error is solved.
Saving Tip: Use the automatic Long Rest save. This method is less favorable as it drains resources but the good thing is that you can find them in most places. Unfortunately, it won't work during combat, and it is a bit limiting, but it works.
Why won't Baldur's Gate save?
If Baldur's Gate won't save, make sure that you have enough space left on your disk. Afterwards, delete your old saves unless they were made during important choices to free up some resources. Also, consider installing Baldur's Gate on an SSD. However, if you encounter the "Can't save at the moment" issue, follow the solutions above.
---
Related Articles:
---
Final Thoughts
The above solutions should fix Baldur's Gate 3 can't save problem. If you have disabled the cloud sync to resolve it, enable the feature after the future game update to see if the developer has addressed the bug. Also, always ensure that no third-party service is interfering. For this, try to play the game in Clean Boot mode. Know that most of the solutions mentioned previously worked on different systems, and they were also tested by our team. However, if you discover anything new, feel free to share it with us in the comments. Our team will test your solution, and if it works, we will add it to the list.