Best VPN For League Of Legends: Top 7 Picked by Gamers
Are you a League of Legends fan and looking for the best VPN for gaming? We've selected the top 7 options, so check them all and choose the perfect one!💯
In the world of competitive online gaming, using the best VPN can make a significant difference in your League of Legends gaming experience.
Whether you're seeking to reduce lag, bypass geo-restrictions, or ensure your connection remains private, finding the right VPN is crucial.
In this guide, we'll delve into each tool's features, performance, security, and compatibility to help you make an informed decision and elevate your gameplay to the next level.
Which is the best VPN for League of Legends?
The seven VPNs below provide everything you need for a smooth League of Legends session. The best VPN for LoL should provide low MS, no lag, server stability, and various options to protect your Riot account and personal data from doxxing and DDoS attacks.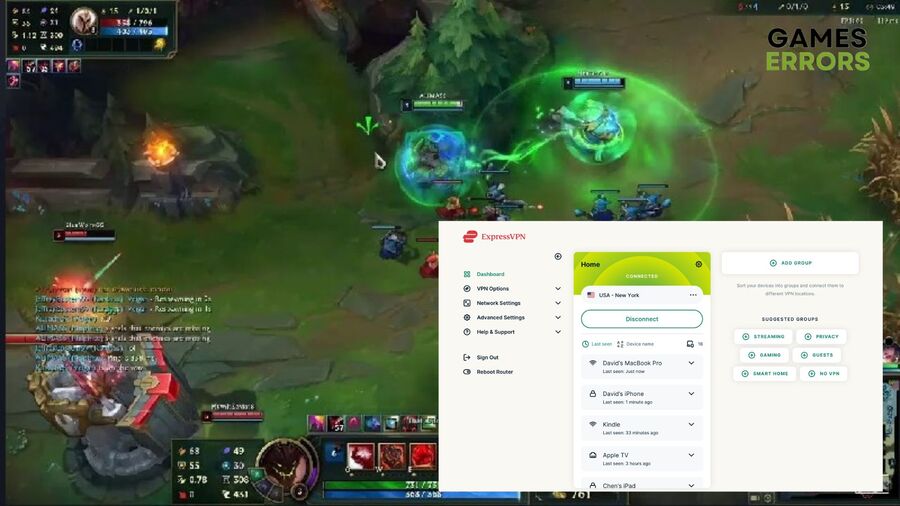 Because of its lightning-fast speeds, impeccable reliability, and consistently high performance, ExpressVPN ensures that your gaming sessions remain uninterrupted by lag or connection issues, being one of the best VPNs for playing League of Legends.
This VPN's dedication to a secure and seamless online environment means you can focus on dominating the LoL arena without worrying about slowdowns or disruptions.
🔑These are the main key features of ExpressVPN:
Unlimited bandwidth in 94 countries around the world
Over 3000 servers in 160 cities
256-bit AES DDOS protection
It can be used on up to 8 devices simultaneously
Threat Manager: Block app trackers in one tap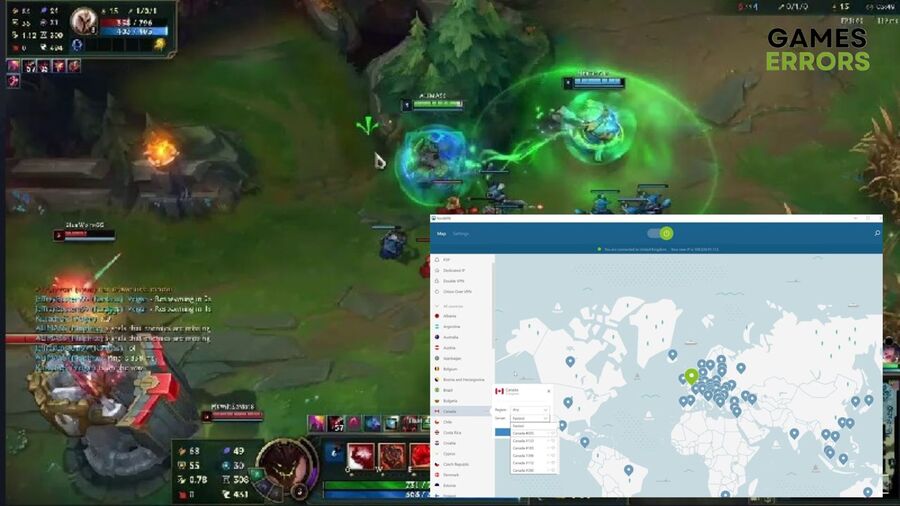 Known for its robust encryption protocols and airtight privacy measures, NordVPN shields your online presence from cyber threats while you focus on dominating the Summoner's Rift.
Moreover, with this tool's cutting-edge technology, your data remains encrypted and your IP address is hidden, safeguarding you from DDoS attacks and potential prying eyes.
🔑Check out the main NordVPN key features:
No bandwidth limits
It can secure up to 6 devices with a single account
No-logs policy
More than 5700 servers located in 60 countries
Compatible with Windows, macOS, Linux, Android, as well as iOS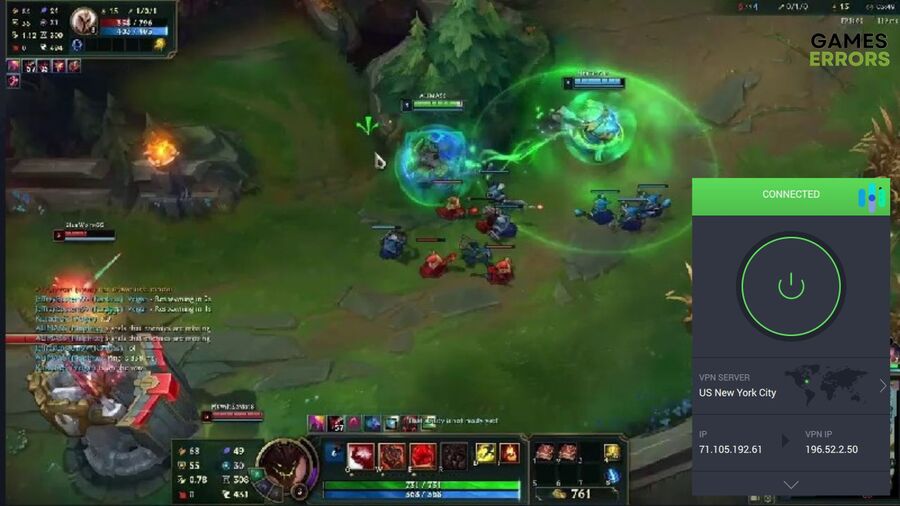 Private Internet Access (PIA) ensures that your personal information remains encrypted and keeps your gaming exploits confidential, as well as your virtual battlefield secure.
With a network of servers strategically positioned in key regions, PIA VPN minimizes latency and eliminates the frustrations you might encounter in League of Legends due to lag.
🔑Take a look at the PIA's key features:
Unlimited device protection at no extra cost for every platform, every browser, and every operating system
Kill switch, Split tunneling, as well as Torrenting support
Built-in ad-blocking
Mid-game DDOS protection
Servers in 60 countries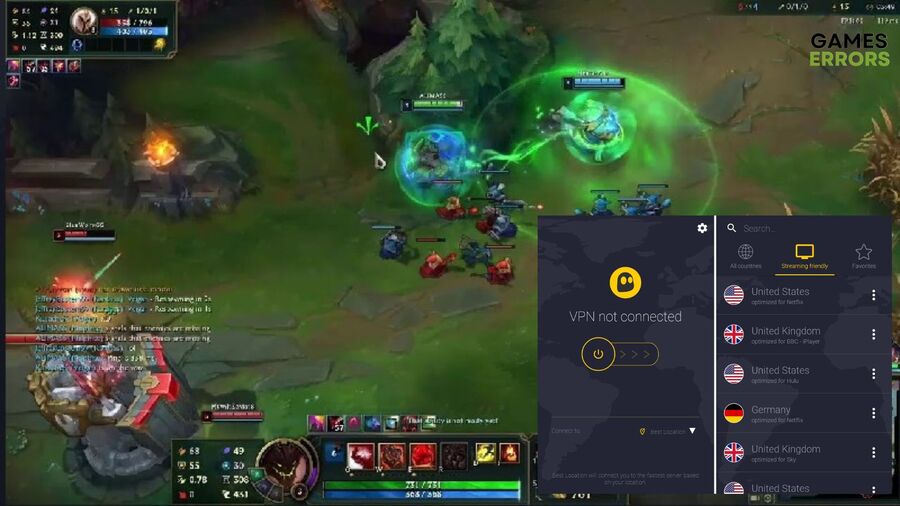 CyberGhost's dedication to bypassing geo-restrictions empowers you to transcend virtual boundaries while embracing League of Legends' global community.
Empower your League of Legends journey with the strength of CyberGhost VPN, where seamless connectivity merges with impenetrable security to create an environment where victories are yours for the taking.
🔑Make sure you verify these CyberGhost key features:
256-AES bit encryption
Split Tunneling and Kill Switch
It can secure up to 7 devices
Compatible with Windows, Mac, iOS, and Android, as well as with Linux devices
Works with gaming consoles, smart TVs and routers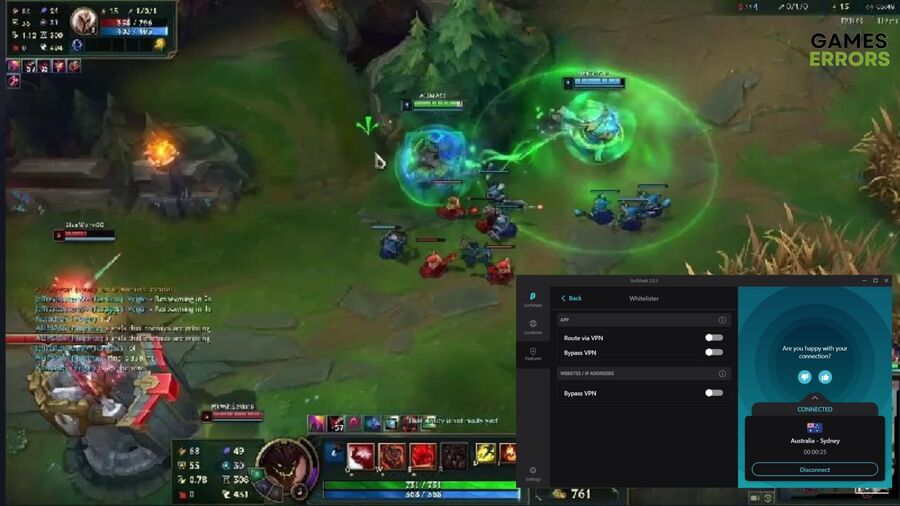 Because it has a user-friendly interface, seamless integration, and it is also budget-friendly pricing, Surfshark seems to be one of the best VPNs for League of Legends, that propels your gameplay to new heights.
Forge your legacy as a League of Legends champion, backed by the speed, adaptability, and affordability that Surfshark VPN brings to the virtual battleground.
🔑These are the main key features of SurfShark:
Secures unlimited devices
IPv4 stack
AES-256-GCM encryption
Kill Switch and Camouflage Mode
No-logs policy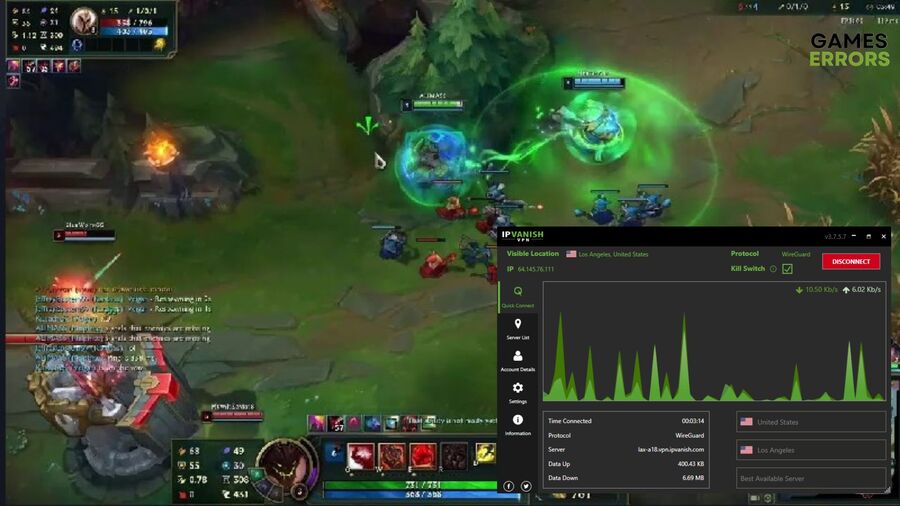 IPVanish's commitment to fast and reliable connections translates into reduced latency, allowing you to respond to in-game events with unparalleled speed. With this VPN in LoL, you won't need to worry that you will miss spellshots due to high MS.
Therefore, IPVanish VPN ensures that your actions are executed in real-time, granting you a decisive advantage over opponents.
🔑IPVanish comes with these key features:
Over 2.200 servers in more than 75 countries
Compatible with Chrome OS, macOS, Android, FireTV, Windows, Linux, iOS, routers
Unlimited bandwidth
Split Tunneling and Kill Switch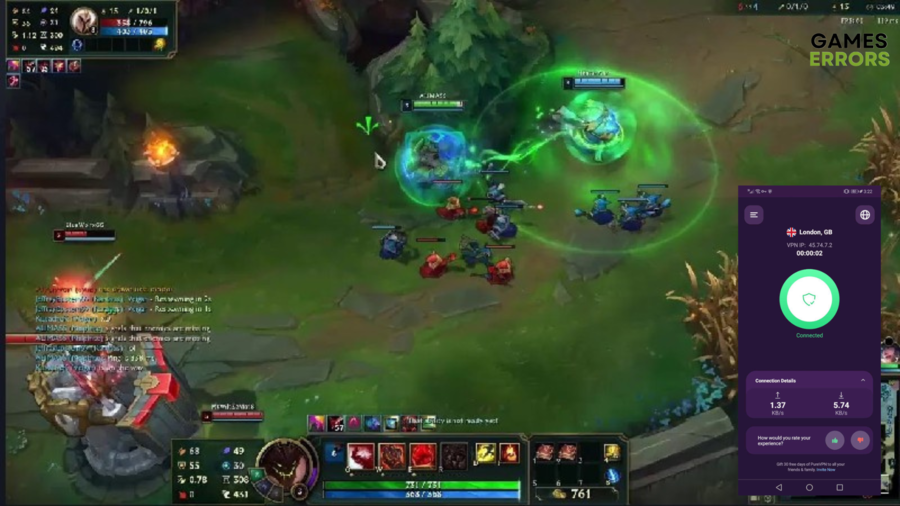 PureVPN's emphasis on performance optimization translates into seamless connections that minimize ping times and eradicate lag.
Moreover, PureVPN's diverse server options and customizable performance parameters provide the canvas on which you paint your League of Legends legacy.
🔑These key features explain why we recommend PureVPN:
AES-256 encryption
Kill Switch and DDoS protection
10 Multi-Logins per Household
Compatible with PC, smartphone, router, Smart TV, Amazon Fire TV Stick, as well as Kodi
More than 6,500 servers in over 96 locations
How do I setup a VPN for Legue of Legends?
To setup a VPN for LoL, first define your focus and decide if you are looking for a VPN to fix server connectivity issues, one that grants your account's safety, or even one that can bypass geo-restrictions. Then follow the steps below:
Install the desired VPN, I would like to recommend you to get one from the list because they are professional and verified.
Find the location of the VPN server and also check for the closest official Riot server around you.
Enable all the safety options of the chosen VPN, to make sure that you are protected.
Connect to the VPN server and open League of Legends.
To make sure that your team doesn't start cursing you after 3 minutes for network-related reasons, try out a game with Bots.
Frequently Asked Questions:
Which VPN location is best for League of Legends?
Panama and Switzerland are the best VPN locations for gaming because the countries have advanced personal privacy protection laws. Additionally, you might pick locations from the US, South Korea, Brazil, and China, but make sure to select major cities as they are closer to the game servers.
📢Be careful to always check your ping and latency when you are using the VPN for gaming, because sometimes changing your location might cause MS spikes, especially on overcrowded servers.
Can I play League of Legends with a VPN?
You can play League of Legends with a VPN. If you have a higher rank, you should even consider using a VPN for your data and account's safety. Also, by using a VPN in LoL, you can ensure that the random disconnects that might happen from time to time due to the unstable Riot server problems are fixed.
Is VPN good for League of Legends?
Playing with a VPN is good for League of Legends because it allows the game to run faster. With it, you can also bypass geo-restrictions, and sometimes you might even be able to get limited-time skins that are only available in certain regions. Additionally, using a VPN increases your security and protects your privacy because it doesn't allow your data to be tracked easily.
Related articles:🎯
To sum up, now that you're equipped with a comprehensive understanding of the best 7 VPNs for smoothly running League of Legends, you can pick the one that fits your necessities. Also, make sure to use the trial period of the VPNs to decide which one works best for your location and on your system.
In a realm where strategic mastery and seamless connectivity are essential, the right VPN can be the differentiator that enhances your gaming journey.