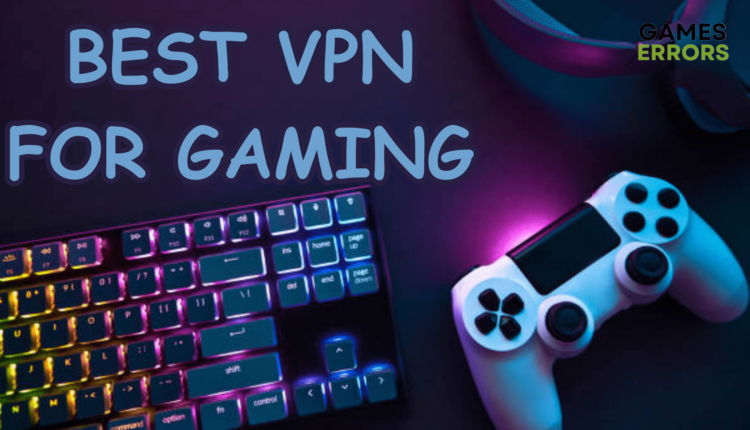 Best VPN For Gaming: Top-Rated Solutions On The Market
Read our guide completely and discover the best VPN for gaming: elevate your gameplay with top-rated solutions for speed, security, and seamless online experiences!🎮
Finding the best VPN for gaming has become an essential quest for both casual players and dedicated enthusiasts alike.
Whether you're vying for supremacy in competitive e-sports arenas, exploring expansive virtual worlds, or simply seeking a secure online environment, this guide will serve as your ultimate resource to unlock unparalleled performance, protection, and possibilities in your gaming endeavors.
What kind of VPN is the best for gaming?
The best kind of VPN for gaming is the one that offers you low ping, amazing speeds, and great protection against possible Distributed Denial-of-Service (DDoS) attacks. As a bonus, a great VPN should also anonymize what you're doing online with ease.
Additionally, the best VPN should give you the opportunity to access games during their early release or location-locked events, and it should also allow you to bypass IP bans.
1. ExpressVPN – The Greatest VPN Available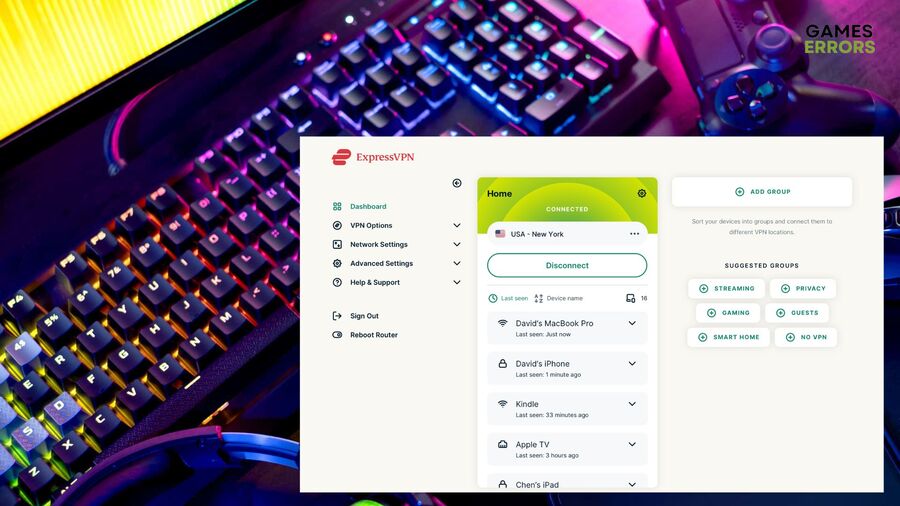 ExpressVPN ensures that your gaming sessions are free from lag and delays, being one of the best VPNs for gaming.
Not only does it prioritize speed, but it also boasts robust security features, including military-grade encryption and a strict no-logs policy, safeguarding your sensitive data and enabling you to immerse yourself in the gaming universe with complete peace of mind.
🔑 These are the top features of ExpressVPN:
Leak protection, kill switch, and split tunneling.
Unlimited bandwidth
Compatible with PC, phone, tablet, PlayStation, Xbox, Nintendo Switch
256-bit AES encryption across over 90 countries
2. NordVPN – The Safest VPN On The Market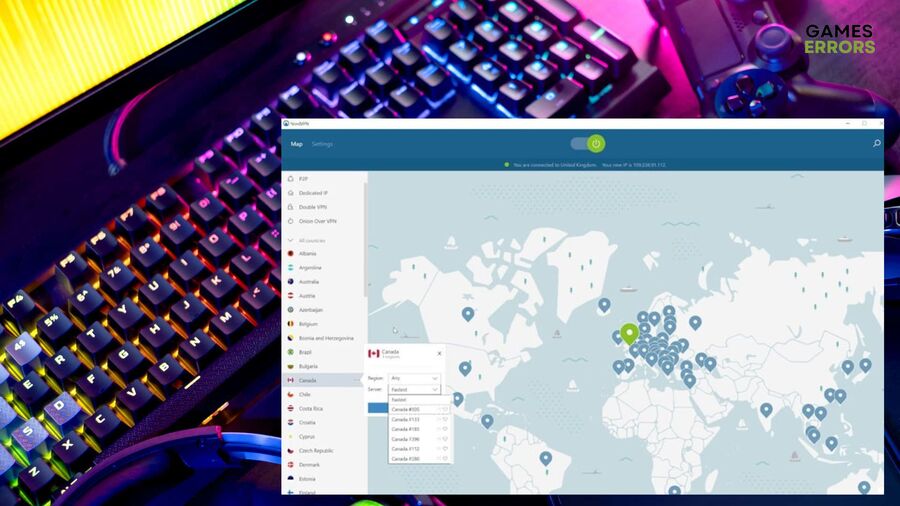 Renowned for its robust security features and exceptional speed, NordVPN stands out as an excellent choice for gamers seeking a seamless and secure online environment.
This tool employs advanced encryption protocols to shield your data from potential threats, ensuring that your gaming sessions remain not only fast but also secure from any potential cyber threats.
🔑 Check out these NordVPN key attributes:
More than 5.800 servers in 60 countries
It secures up to 6 devices
Compatible with Mac, Windows, Linux PCs, and Xbox or Playstation consoles
AES-256 encryption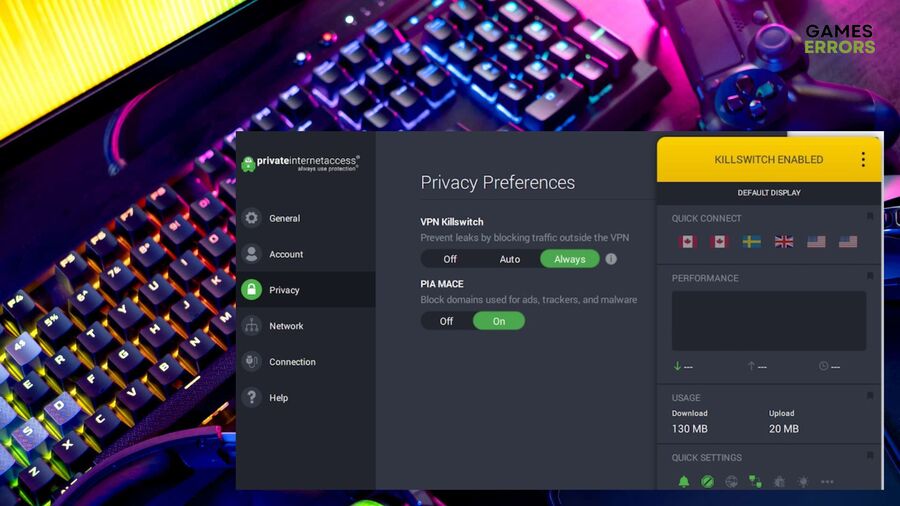 Private Internet Access offers a range of features tailored to enhance the gaming experience, making it a favorite among those looking to minimize latency and maintain their online privacy simultaneously.
With its robust encryption protocols, automatic Killswitch, and no-logs policy, gamers can enjoy their favorite titles with peace of mind, knowing their data is protected from potential cyber threats.
🔑 These are the critical features of PIA:
Servers in over 80 countries
No-logs policy
Easy configuration
Unlimited device protection
4. CyberGhost – The Best VPN for Gaming Optimized Servers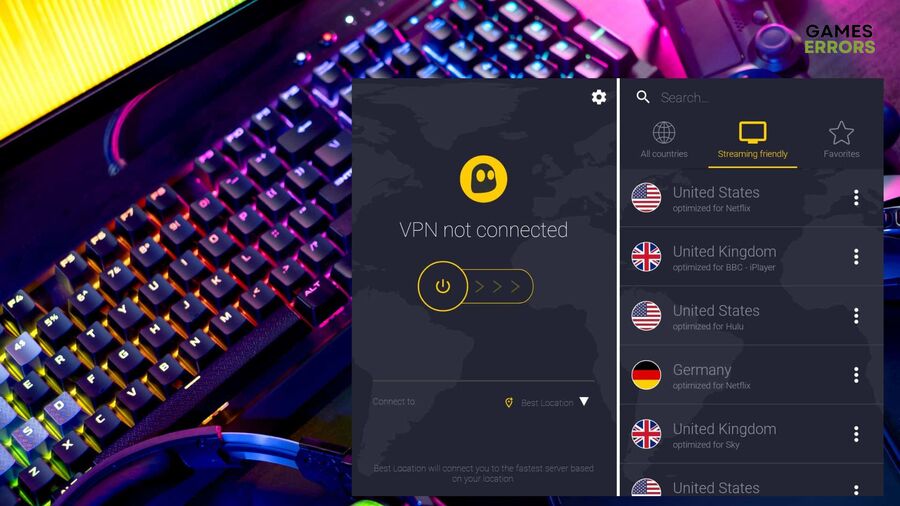 CyberGhost boasts an extensive network of servers strategically located around the world. This broad coverage allows gamers to connect to servers that are geographically close to gaming servers, resulting in reduced ping times and minimized lag.
Security is a paramount concern for gamers, and CyberGhost doesn't disappoint in this aspect either. With military-grade encryption, a strict no-logs policy, and an automatic kill switch, gamers can be confident that their data and activities remain private and protected.
🔑 Here you can discover the primary features of CyberGhost:
Over 9,000 servers across 90 countries
Easy to set up
Built-in leak protection
256-bit AES encryption
5. SurfShark – The Best VPN at Simultaneous Connections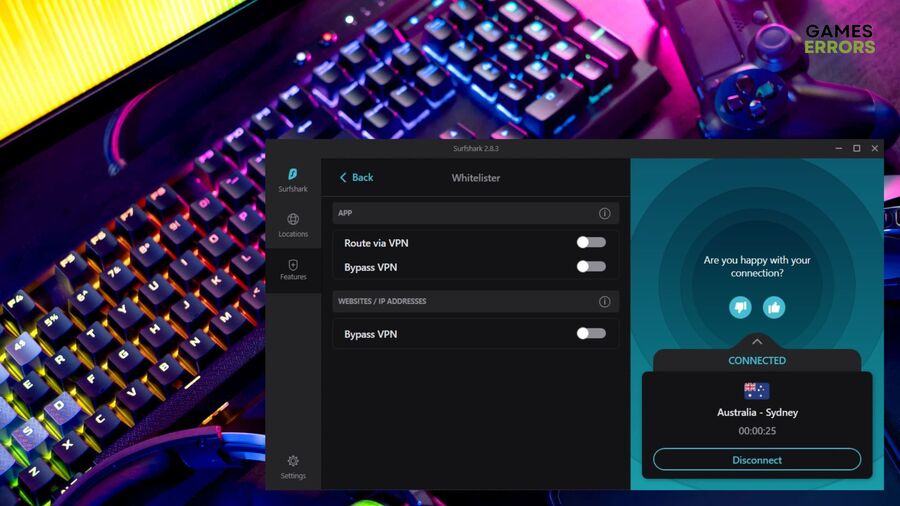 Surfshark emerges as an appealing choice for gamers looking to optimize their gaming sessions through a VPN. With a focus on speed, security, and user-friendly features, Surfshark has positioned itself as a contender in the realm of gaming VPNs.
Its extensive server coverage allows gamers to connect to servers that are geographically closer to gaming servers, resulting in reduced latency and improved gameplay performance.
🔑 These are SurfShark's central attributes:
10 GBit servers in 100 countries
Zero bandwidth limits
More than 3,000 servers
No limit to simultaneous connections
6. IPVanish – The Best User Friendly Interface VPN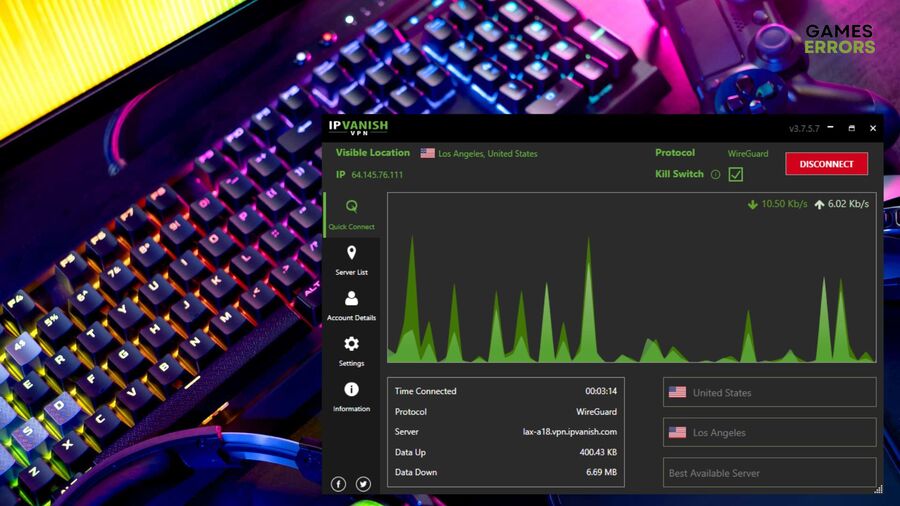 Renowned for its high-speed connections and focus on anonymity, IPVanish aims to provide gamers with a seamless and secure online experience.
IPVanish employs its Tier-1 network, which means it manages its servers directly, contributing to better overall performance and reliability.
🔑 Take a look at these IPVanish key features:
Over 2000 servers across 75 countries
Unlimited bandwidth
Kill Switch and Split Tunneling
No-logs policy
7. PrivateVPN – The Best At Unblocking Geo-Restricted Media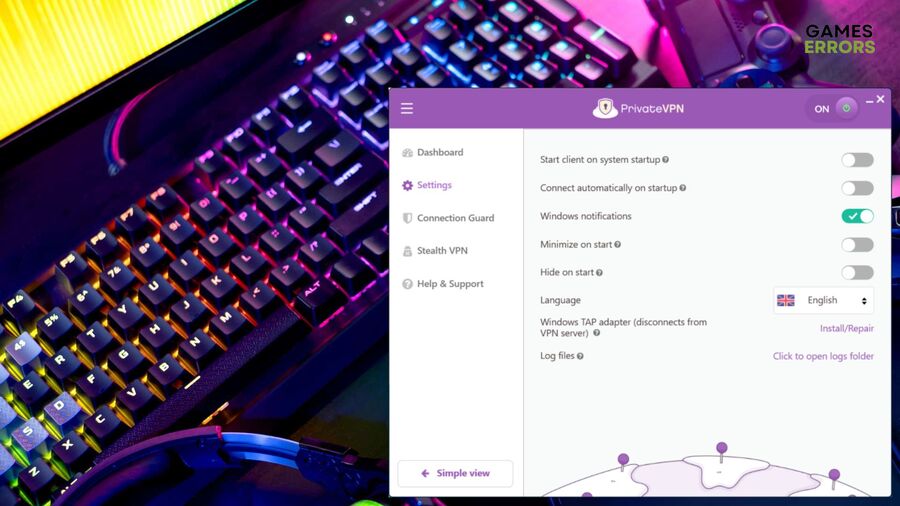 PrivateVPN presents itself as one of the best VPNs for gaming that prioritizes both speed and security. With a focus on bypassing geo-restrictions and delivering smooth online experiences, PrivateVPN aims to cater to the needs of gamers who want to play without limitations while maintaining their privacy.
Its servers are designed to minimize latency and provide players with stable connections, which is crucial for multiplayer gaming.
🔑 These are the central attributes of PrivateVPN:
It secures up to 10 devices at the same time
Zero bandwidth limits
AES-256 encryption
No logging policy
How do I setup a VPN for gaming?
To set up a VPN for Gaming, you need to browse to find out where is the game server location, and then to check how stable your ping in that location is. Due to various factors it might be somewhat unstable. After you decided where you want to set camp. Follow the instructions below:
Open your VPN and check the ping levels around the location that is closest to your location or the game server.
If your VPN allows it, you might be more precise by setting the coordinates manually.
Go to the VPN settings and check the safety boxes. Even if it is a different UI, it should be a similar setting.
Once you make sure that your IP address is not trackable, you are free to establish your VPN connection, and to enjoy a smooth gaming session.
Frequently Asked Questions:
Which VPN server is best for gaming?
It's hard to determine which VPN server is best for gaming, but there are some stable, well-known servers you can relay on, such as Amsterdam. The VPN that provides the best VPN servers is undoubtedly ExpressVPN. Yet, I'd advise you to test the ones that provide a free trial period to make sure that you choose the one that matches your needs.
Will using a VPN get me banned?
In theory, using a VPN won't get you banned, and the best option is to use a VPN that's known to be good for gaming, such as the ones mentioned above.
⚠️For the safety of your account, do not use unprofessional VPN software.
Is A VPN good for gaming?
A VPN is good for gaming because it can slightly improve your connection, protect you from cheaters and hackers, and bypass IP bans. Additionally, it will protect you if you connect to public Wi-Fi addresses, allow you to play geo-blocked games, and avoid bandwidth throttling.
🎯 Related articles:
Final Thoughts:
Keep in mind that the best VPN for gaming will depend on your specific requirements and priorities. In addition, make sure that you choose the right VPN for your needs by using the trial versions provided by most VPNs. After all, with the right solution in your arsenal, you can immerse yourself fully in the virtual worlds of your favorite games, all while enjoying the peace of mind that comes with enhanced security and privacy.