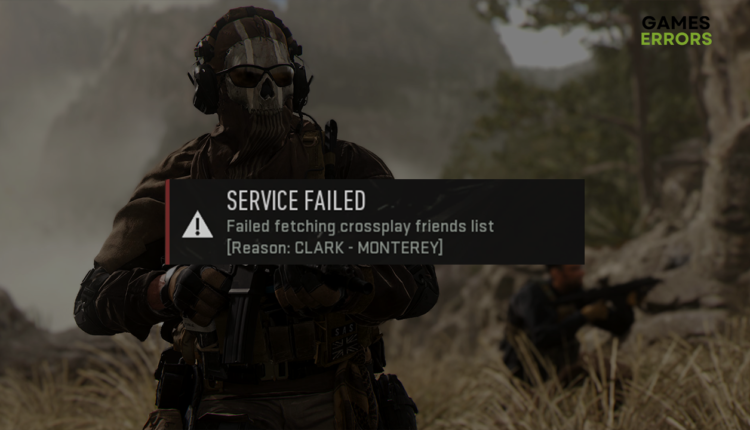 Clark Monterey Error MW2: How to Fix It
Learn more about Clark Monterey and why this error code prevents you from enjoying MW2. We also know how to fix it! 😉
If you love enjoying this awesome third-person shooter, but Clark Monterey error MW2 ruins your experience, you are in the right place! We found the most frequent causes of the issue, and although there are no definite solutions, we will present you with ways to avoid this annoying error code.
If the game continuously crashes, learn what to do when MW2 crashes on your PC.
What is the Clark Monterey code in MW2?
The Clark Monterey code is an error that occurs when you want to crossplay MW2. It occurs due to an outage of Activision online services, problems on your home network, Windows Firewall, corrupted game files, or misconfigured network settings on your PC.
How to fix Clark Monterey error MW2?
To fix this error code quickly, apply the fixes and perform the checks:
Check online services: Whenever you experience an error in MW2 that is only occurring in multiplayer, check the status of the Activision online services. If you see 'All platforms online,' the issue is on your PC.
Restart your home network: This can be done by pressing the reset button on your modem and router. To be sure, we recommend you unplug the devices from the power socket, wait a bit, and then plug them back in.
Restart the game: Now that you are sure the online services are working and your home network is good, try restarting the game several times, and check if this makes some impact.
If the error still occurs, proceed with the following solutions:
1. Allow MW2 through the firewall
Time needed: 3 minutes
Windows Firewall is one of the core security features this OS offers. However, it can cause network-related errors like Clark Monterey. This is why you should add MW2 as an exception.
Click on the Windows icon, type Windows Defender Firewall, and open it from the search.

Click on the Allow an app or feature through Windows Defender Firewall.

Click on the Change Settings and Allow Another App.

Select Browse, and navigate to the installation folder of Call of Duty Modern Warfare 2.
Select the game executable file (.exe) and hit Open.
Check the checkbox in columns Private and Public in the MW2 row and hit OK.
Restart your PC.
2. Verify game files
Corrupted game files can cause issues when you want to play crossplay. It is common that even though the game starts normally, you can't use some features, or the game crashes at some point due to faulty game files. This is why you should use features in Steam or Battle.net to verify game files.
For Steam users:
Launch Steam and go to the Library.
Find and right-click Call of Duty®: Modern Warfare® II and choose Properties.
Navigate to the Local Files.
Click on the Verify integrity of game files…

For Battle.net users:
Launch Battle.net and go to the game library.
Find Call of Duty®: Modern Warfare® II and click the gear icon.
Select the Scan and Repair option.

Select the Begin Scan option.
3. Reset network settings
If you have problems in the multiplayer and crossplay of MW2, this might be related to your network settings. You can use Command Prompt and a few commands to reset network settings and ensure it is running flawlessly.
Click on the Windows icon, type Command Prompt, and select this tool.
Type the following commands individually and hit Enter after each command:
ipconfig /flushdns
ipconfig /registerdns
ipconfig /release
ipconfig /renew
netsh winsock reset

Restart your PC.
Extra steps
In some cases, the Clark Monterey error MW2 will persist, even after following previously mentioned fixes. If this is the case for you, try to:
➕ Invite your friends manually: If you experience Clark Monterey error MW2 when you try to play with friends, try to add them manually by clicking on the headset icon in the main menu. After adding your friends, navigate to the channel and try inviting all channel members to the party.
🎮 Re-enable crossplay: Playing with players from different platforms is great but can cause trouble. Head to the game settings, disable crossplay and close the game. Launch the game after a few minutes, enable crossplay, and try to play with your friends.
🔁 Reset your Windows: Some gamers claim they couldn't fix the issue without a clean OS installation. Even though it is not a fast or convenient process, you might want to try it if nothing else does the trick. You can use the Reset this PC option on Windows and preserve your files.
Related articles:
Conclusion
Clark Monterey error MW2 can be a tough nut to crack, and if you still experience troubles, we advise you to contact Activision support. Let us know how it went, and leave any additional questions in the comment section.