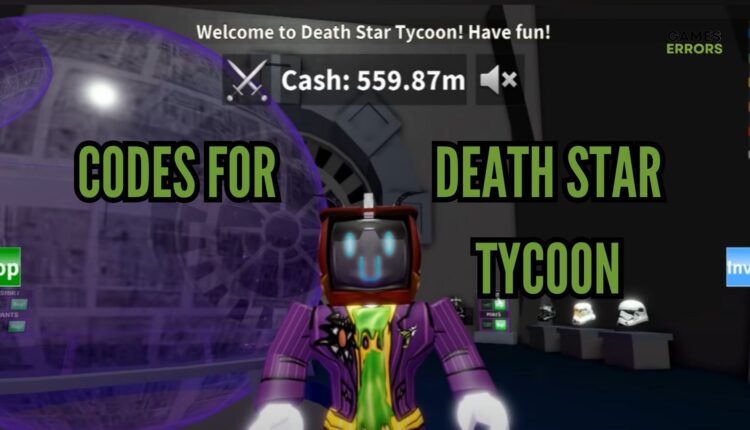 Codes For Death Star Tycoon: Updated Guide For 2023
Do not miss out on free rewards for Death Star Tycoon, so make sure you check all the codes listed below!🎁
If you aspire to ascend swiftly within Death Star Tycoon and unlock its full potential, there's an invaluable strategy to employ—codes. When redeemed, these offer a treasure trove of awesome rewards.
In this guide, our mission is to equip you with an up-to-date list of active codes for Death Star Tycoon.
Additionally, we'll walk you through the process of code redemption, ensuring you're well-prepared to reap the bountiful rewards that await you in this galactic odyssey.
What are the codes in Roblox Death Star Tycoon?⭐
1. Active codes
| | |
| --- | --- |
| Code | Reward |
| 🐦BLUEBIRD2020 | Redeem the code for Bird Nest Dropper |
| 🚢SAVETHEFLEET | Redeem the code for Supremacy Ship |
| 🤖THENOOBTWEETS | Redeem the code for Auto Collect |
2. Expired codes
| | |
| --- | --- |
| Code | Reward |
| 🌟MAYTHEFOURTH | Double Saber |
| 🚀spacesquad | Double Saber |
How to redeem the codes for Death Star Tycoon?🔒🔑
Open the game.
Go to the spawn area of the game.
Find the circle with the word Redeem on it.
Step on the circle.
Copy and paste one of the codes, just as they appear in the provided list.
Click the Redeem button.
Finally, click the Activate button and enjoy!
💡Note: In order to use certain codes, you'll need to sufficiently upgrade your Death Star.
What are the ways to get more free codes for Death Star Tycoon?🆓
🔍🆕Regularly check our dedicated guide. We update our guide frequently with new codes as they are released. Our dedication to frequent updates means that you can count on us to provide you with the most current and reliable information, so make sure you save this guide somewhere safe.
📲👥Follow the game's developers on social media. The developers of Death Star Tycoon, Noob Army, often release new codes on their official Twitter and YouTube accounts.
🎮🤝Join the game's Discord server. The Discord server for Death Star Tycoon is a great place to find new codes, as well as get help and tips from other players.
🎉🌐Attend Roblox events. Roblox often hosts events where players can earn free codes, so make sure you always keep an eye on any announcements.
How do you get money in Death Star Tycoon?🤑
There are many ways to get money in Death Star Tycoon. Here are a few of the most effective methods:
🏆Complete tasks: There are a variety of tasks that you can complete in the game to earn money. These tasks include destroying enemy ships, collecting resources, and completing missions. Keep in mind that some tasks will earn you more money than others. Focus on the most profitable tasks to maximize your earnings.
💲Sell items: You can sell items that you collect in the game for money. These items include resources, weapons, and vehicles.
🔧Invest in upgrades: You can invest money in upgrades for your Death Star. These upgrades will make your Death Star more powerful and efficient, which will allow you to earn more money.
👷‍♂️Hire workers: You can hire workers to help you with tasks. These workers will earn money for you, which you can then collect.
🤝Join a guild: You can join a guild to earn money from guild activities. Guild activities include completing missions, destroying enemy ships, and collecting resources.
💥Upgrade your Death Star: The more powerful your Death Star is, the more money you will earn. Invest in upgrades to make your Death Star as powerful as possible.
How do you get Supremacy in Roblox Death Star Tycoon?💯
To get the Supremacy ship in Roblox Death Star Tycoon, you need to redeem the code SAVETHEFLEET. This code was released in celebration of the game's 100 million visits.
📢Related articles:
You're now aware of the latest released codes for Death Star Tycoon. Do not forget that they provide you with the means to accelerate your progress, decorate your Death Star, and outshine your competitors.
Armed with the insights and strategies shared in this guide, you are now well-prepared to dominate the cosmos and leave your mark on the universe.