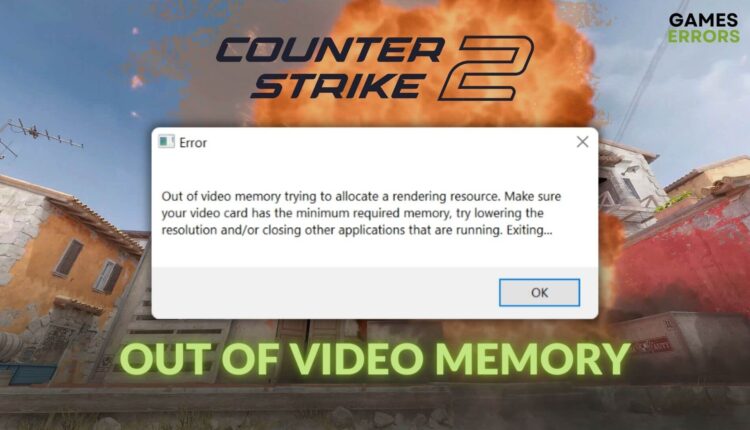 CS2 Run Out of Video Memory: How to Solve This Issue Easily
Is the out of video memory error appearing and stopping you from playing the Counter-Strike 2 on your PC? See how can you solve this issue from this article 👇
A lot of CS2 players are going through run out of video memory error on Windows. We were successfully able to fix this problem when it occurred on our end. If you are currently having this issue, you can follow this troubleshooting guide to learn how to fix it.
Unlike other modern games, the new Counter-Strike 2 is not a resource-demanding title. Yet, gamers may go through out-of-video memory-type issues. By taking the correct steps, you can prevent this error from appearing.
How much VRAM does CS2 use?
According to the Steam, Counter-Strike 2 requires 1GB or more dedicated video memory. However, it is the minimum requirement. While playing, the CS2 can use over 2 or 3 GB or even more.
If your GPU has more dedicated VRAM, the game will use more to give you a better performance. However, if you see out of video memory error, it can occur due to the following factors:
Outdated driver.
Hardware limitations.
Problematic game files and components.
How can I fix CS2 run out of video memory error?
This problem can appear on both low and high-end PCs. If you want to fix this issue, first, complete these quick steps:
Now, apply the following methods one by one to fix run out of video memory error on CS2:
1. Update the GPU driver
Time needed: 5 minutes
When we encountered the out of video memory error on CS2, we were able to fix it by updating the GPU driver.
Select Search automatically for drivers and finish the process.
Restart Windows.
Rather than using the device manager, it'll be better if you use a tool like Outbyte Driver Updater to update the GPU driver. It is because this tool can find the most recent version of the compatible driver that can fix a lot of issues, including out of video memory errors while launching or playing games like Counter-Strike 2.
⇒ Get Outbyte Driver Updater
2. Enable high-performance mode
Press Win + I to open Windows Settings.
Go to Graphics.
Select Counter-Strike 2 and then click on Options.
Restart Windows.
Now, run and try to play CS2 to see if it still runs out of video memory or not. This method will also help to fix the low FPS problem on Counter-Strike 2.
3. Increase the virtual memory
Press Win + I on the keyboard to open Run.
Type the following command and then click on OK: SystemPropertiesPerformance
Navigate to the Advanced tab.
Untick Automatically manage paging file size for all drives and tick Custom size.
Click on the system drive and increase the Virtual memory size.

Save the settings.
Restart your PC.
After that, try to play Counter-Strike 2 and see whether it still shows the out-of-video memory error or not.
More things to do:
There are a few more things you can try if the problem persists:
Perform a clean boot and run this game to see if it works.
Re-install the GPU driver.
Update Windows.
By applying the above-mentioned methods, anyone can fix the CS2 run out of memory error as we did. However, in case the problem still exists and your GPU is very old or less powerful, consider upgrading to a modern one. Have you any questions regarding this topic? Feel free to let us know in the comment box.