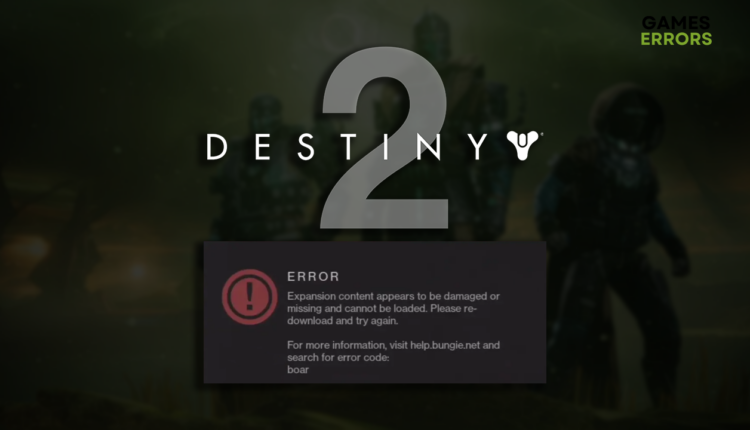 Destiny 2 Error Code Boar: Quick Fix [PC, PS4 & Xbox]
This error code doesn't discriminate against different platforms. It influences all gamers equally! This is why we are here to help you resolve it. 🥇
Destiny 2 error code Boar already ruined the experience for too many gamers across all platforms the game comes on. That was the reason for us to create the complete list of causes and solutions to put an end to this network-related error.
Another annoying issue is related to the Destiny 2 Companion. Learn what to do when Destiny 2 app isn't working.
Why do I get Destiny 2 error code Boar?
You get the error code Boar in Destiny 2 due to problems with your internet connection, temporary issues on your home network, weak wireless signal, an outdated network driver, pilled-up cache files, or outdated network settings on your PC.
How to fix Destiny 2 error code Boar?
Resolve this region mismatch error by following these quick checks and fixes:
The most effective solutions for the Destiny 2 error code Boar on PC are here.
1. Update the network driver
Time needed: 5 minutes
An outdated network driver will pose difficulties to your Destiny 2 client while communicating with the game server. This is why we advise you to check for updates and keep the network driver updated.
Click the Windows icon, type Device Manager, and open it.

Double-click on Network Adapters.

Right-click on your internet adapter and select Update driver.

Select Search automatically for drivers.
Install the driver update.
Restart your PC.
Are you looking for a tool to automatize driver management? You just found it! Outbyte Driver Updater is a swift and reliable driver updater tool that will save you so much time and frustration.
⇒ Get Outbyte Driver Updater
2. Clear cache files
Pilled-up cache files will cause your game to load slowly and can cause errors if they are corrupted. We advise you to use the below-described method to clear them whenever you experience issues with Destiny 2.
Use the Windows Key + R shortcut to open the Run dialog, type %localappdata%, and hit OK.
Press CTRL + A to select all files in the folder.
Hit the Delete key to delete all the files in the folder.
➡ If prompted to confirm, click on Yes.
➡ If some files can't be deleted, click on Skip.

3. Restart network settings
Some network settings on your PC can't restart automatically, and you must use Command Prompt. We listed steps and commands to enter to do it effectively.
Click on the Windows icon, type Command Prompt, and open it.
Paste the following commands and hit Enter after each one:
ipconfig /flushdns
ipconfig /registerdns
ipconfig /release
ipconfig /renew
netsh winsock reset

Restart your PC.
🎮 Fix Destiny 2 error code Boar on PlayStation
If you are experiencing error code Boar on your PS4, apply the following fixes:
🕹 Fix Destiny 2 error code Boar on Xbox
Here are fixes for the error code Boar on Xbox:
💡 The Boar error can occur if you simultaneously try to connect from two consoles. Ensure you only log in to your Destiny 2 account on one console.
Related articles:
Conclusion
Hopefully, you resolved problems with the Destiny 2 error code Boar, regardless of the platform on which you are playing the game. Let us know how it went, and share the solutions you found the most useful.