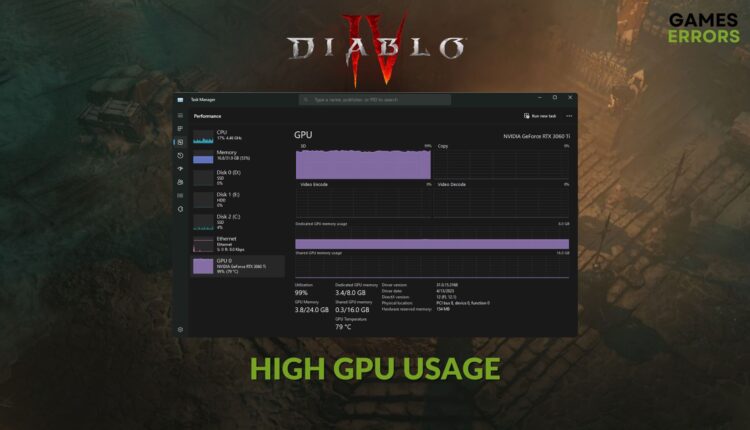 Diablo 4 High GPU Usage: Most Effective Ways to Fix It
Limit FPS by tweaking Diablo 4's settings and also update the graphics driver to fix high GPU usage problem 🎯
Abnormally high GPU usage on Diablo 4 has become an everyday problem for some gamers. It's even occurring on high-end gaming PCs. This article will discuss this error and feature the solutions you need.
Diablo 4 is a new game. Bugs, errors, and performance issues can occur. However, if GPU utilization with RTX 4070/80 or similar models becomes very high, that's a real concern. Unfortunately, it's happening. GPU usage constantly reaches 100% for some gamers, and fans' RPM becomes very high.
What is causing high GPU utilization on Diablo 4?
If you encounter this problem, it usually occurs due to the following reason:
Bugs: For any new game, optimization is a big problem. You may get a serious GPU usage problem for internal bugs.
Problematic GPU driver: Outdated, buggy, or corrupted display driver also unusually increases the graphics resource usage and causes Diablo 4 crashing issues.
Incorrect settings: Unsuitable settings can cause Diablo 4 low FPS problems and high resource usage issues.
Problematic game components: Problems with the related game components and files also can increase GPU usage on Diablo 4.
Background services: Else, third-party background services can affect the overall system resource usage on a game like this ARPG.
How can I fix Diablo 4 high GPU usage?
We suggest you check Diablo 4's system requirements before taking any action. Then, do these quick things:
Install/update both Visual C++ and DirectX Runtime.
Disable your antivirus and firewall and restart your PC.
Ensure that the game is up to date.
Make sure that the cooling system of your PC is sufficient.
After that, try the following methods to get rid of abnormal graphics card usage problems on this ARPG:
1. Update the display driver
Time needed: 2 minutes
If you are going through sudden or constant high GPU usage, update the GPU driver to the latest version. It may solve the problem.
After that, click on Search automatically for drivers and finish the process.
At last, restart your PC.
You should use Outbyte Driver Updater to update the GPU driver more effectively. An incompatible driver can cause high GPU usage issues. This tool can find the most compatible version of the official GPU driver, which helps to get rid of the problem you are facing on Diablo IV.
⇒ Get Outbyte Driver Updater
2. Reduce background activities
Press Win + I on the keyboard to open Windows Settings.
Turn off the switch next to the startup items you want to disable.
Then, restart your PC.
Next, press CTRL + Shift + Esc to open Windows Task Manager.
Make sure that you are on the Processes tab.
Click on the process you want to end and then click on End Task.
Similarly, disable any other unnecessary resource-hungry services.
Now, launch Diablo 4 and monitor the GPU usage. Hopefully, it will fix your problem.
3. Repair Diablo IV
Repairing the game files also can solve Diablo 4's extremely high graphics card usage problem. For this, follow these steps.
Launch the Battle.net app on your PC.
Go to Diablo IV.
Click on the gear icon and then click on Scan and Repair, as shown in the screenshot.
Next, click on Begin Scan.
Wait for a while until it finishes the task.
4. Tweak in-game settings
If you see a sudden spike in GPU usage on Diablo 4, it also can be because of the improper in-game settings. So, we suggest you do these things in the game settings:
Launch Diablo 4.
Navigate to its graphics settings.
Lower the Texture Quality.
Set NVIDIA Reflex Low Latency to Disabled.
Limit Max Foreground FPS, Background FPS, and Cutscene FPS.
Tweak other settings if you think appropriate.
Relaunch the game.
For more tips, learn how to make Diablo 4 run better.
5. Roll back the GPU driver
Open the Device Manager like method 1.
Right-click on the GPU driver and go to Properties.
Navigate to the Driver tab.
Complete the process and restart your PC.
6. Re-install the GPU driver
In Device Manager, right-click on the GPU driver and click on Uninstall.
Restart Windows.
Go to AMD, Intel, or NVIDIA driver download page, depending on your GPU.
Select the model and click on Search.
Download the driver.
Install it and restart your PC.
If nothing helps, contact Battle.net tech support.
Learn how to fix high RAM usage on Diablo 4 if necessary.
This article has shown how to solve the Diablo 4 high GPU usage problem. Let us know in the comment box if you have any opinions.