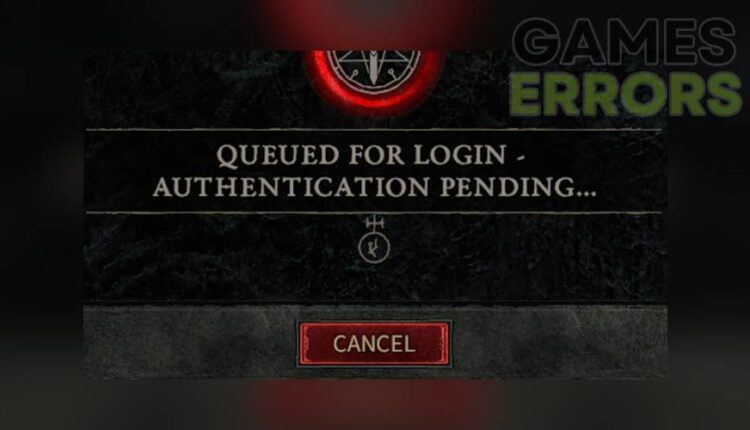 Diablo 4 Queued For Login Authentication Pending [Quick Fix]
Troubleshooting steps for Diablo 4 queued for login authentication pending error👏
X
INSTALL BY CLICKING THE DOWNLOAD FILE
Because things won't always go as planned, many players have faced the infamous 'queued for login authentication pending' error on Diablo 4.
As a result, they're stuck outside at Diablo 4's login page and flocking to the internet to find a potential fix for this error. Fortunately, there are several ways to fix this issue, and we have explained all of them below so that you can dive into the game. So without any further ado, here's how you can fix queued for login authentication pending error in Diablo 4.
Why is Diablo 4 queued for login authentication pending?
The Diablo 4 queued for login authentication pending error usually occurs when the game servers are offline or many users are accessing them at the same time. In such cases, the servers have to face technical difficulties as they are overcrowded by users, so developers take them offline to increase their capacity.
Now that you know the possible reason for the "queued for login authentication pending" error in Diablo 4, let's explore all methods individually to fix this issue potentially.
Troubleshooting Diablo 4 queued for login authentication pending error
Table of contents:
1. Check the Diablo 4 server status
As we've already mentioned, online multiplayer game servers need maintenance to address technical difficulties, and Diablo 4 is no exception. Therefore, you should check the server status first to see if this is the case. This will give you information on the current state of the servers and help you plan your next move. If the servers are offline, there's nothing you can do on your end to fix this error.
Therefore, you can only wait until Blizzard Entertainment, the game developers, acknowledge this issue and deploy an official patch. You can also check the official Battle.net Twitter handle for any maintenance or technical updates.
2. Check your internet connection
Sometimes the primary culprit for server connection problems is none other than your internet connection. Therefore, ensure you have a stable internet connection to eliminate such issues. To kick things off, visit online speed test websites like (speedtest.net) to verify if you have stable internet. If the internet speed varies drastically, then we highly recommend getting in touch with your internet service provider in order to get it fixed.
Additionally, temporarily disabling your firewall can assist in determining if this is indeed the root cause of the problem. Finally, incorrect DNS server settings can also cause this error, so double-check that these are configured correctly.
3. Restart the game
Sometimes the game processes can act up, and just shutting down the game won't do the trick. That's when you have to roll up your sleeves and head over to the Task Manager by right-clicking on the Taskbar. From there, you'll want to end all the Diablo 4 processes manually. Once you've done that, fire up the game again and give the match another go. If all goes well, you shouldn't run into that pesky issue anymore.
4. Disable any proxy server connections
Time needed: 2 minutes
A proxy server could be your jam if you want to keep your online privacy and security in check. But be warned, as it can also wreak havoc on certain connections, causing headaches like the dreaded "queued for login authentication pending" error, and can also give you low FPS in Diablo 4.

Now, if you run into this problem, don't worry. The solution is simple, disable any active proxy server connections. Here's how to do it:
Open the Start Menu on your Windows computer.

Type "Internet Options" into the search bar and press Enter.

Click on the "Connections" tab in the Internet Options window.

Select "LAN settings."

Uncheck the box labeled "Use a proxy server for your LAN."
After you've followed those steps, any active proxy server connections will be shut down. That should address that annoying "queued for login authentication pending" issue.
5. Contact Blizzard support
If none of those fixes I mentioned above seem to be doing the trick, don't lose hope just yet! Your last resort is reaching out to Blizzard support. Just hit their website and click on the "Contact Us" option to contact a representative.
You can either chat with them or request a callback. Remember, though, you might need to log in to the website with your Battle.net account. That way, the support squad can show its magic and fix your authentication pending error for good.
Related articles:
That is everything you need to know about fixing the Diablo 4 queued for login authentication pending error.