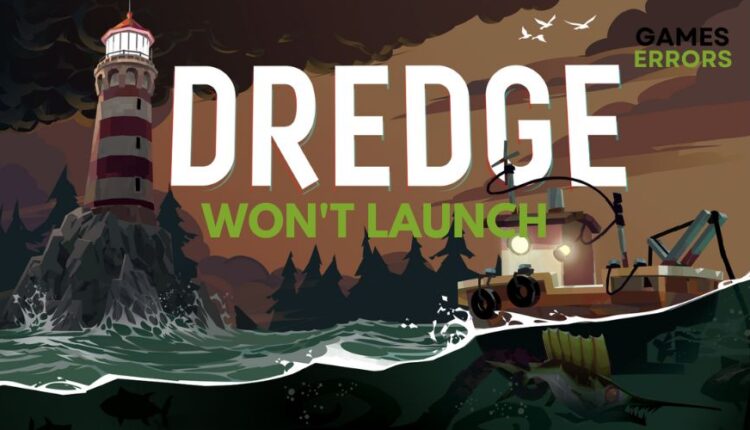 Dredge Won't Launch on PC: Easy and Practical Fixes
Attempt these proven solutions to address the problems preventing Dredge from starting up on your PC.
If you are a horror game fanatic who loves a mind-racking twist, then Dredge must have got you hooked! However, a common problem that many players complain of is the game not loading.
This can be due to several reasons, from incompatible hardware to corrupt game files.
While it can be extremely frustrating when Dredge won't launch, we have got you covered with quick fixes that actually work.
Keep reading to understand the reasons that may be causing this issue and their solutions.
Why won't Dredge launch on PC?
A number of reasons can be responsible for Dredge not launching on PC. Here are the most probable ones:
PC compatibility issues
Outdated graphics card drivers
Damaged or missing game files
Outdated game version
Game framework issues
Too many background apps
Antivirus intervention
How to fix Dredge not launching issue?
If you have scrolled till here wondering why Dredge won't launch, we've got you covered. But, before checking the top fixes, ensure meeting the following basic requirements first:
Make sure your PC meets the latest Dredge system requirements.
Update the Windows version installed on your PC.
Turn off all unnecessary background tasks from the Task Manager (Ctrl + Shift + Esc).
Check your internet connection.
After you're done performing the above preliminary checks, continue with the following troubleshooting methods until one works for you.
1. Run the game in Windowed mode
If you have downloaded Dredge from Steam, you can try running the game in Windowed mode to fix why Dredge won't launch on PC.
Go to Steam and navigate to Library.
Right-click on the tab for Dredge, and then click on Properties.
Next, hit Set Launch Options under the section titled General.
Type in this command-line argument: -windowed -noborder
Save the changes you made and relaunch the game to check if the issue still persists.
2. Install and update game frameworks
Time needed: 5 minutes
Game frameworks like DirectX, Visual C++ Redistributable, and .NET Framework help games like Dredge communicate and work with your computer's hardware. If you do not have these installed on your PC, you may experience games crashing on PC and even not launching.
Download and install game frameworks.

So, the first step is to get these on your PC.
Download .NET framework
Download Visual C++ packages
Download DirectX Runtime

Several gamers have also reported that trying to play Dredge with older versions of game frameworks has led to Dredge not opening.

Update DirectX

Install the latest updates of DirectX in the following steps:
– On your PC, navigate to the folder path C:\Program Files (x86)\Steam\steamapps\common\Steamworks Shared\_CommonRedist\DirectX.
– Open the file DXSETUP.exe.
– Reboot your device to apply changes.


Update Microsoft Visual C++ Redistributable

Also, try updating Microsoft Visual C++ Redistributable. Here's how:
– Go to the folder path C:\Program Files (x86)\Steam\steamapps\common\Steamworks Shared\_CommonRedist\vcredist.
– Run the file vc_redist.x64.exe in all available folders.
– Restart your PC.
This should fix it if Dredge won't launch due to game framework issues.
3. Update graphics drivers
Games stuttering or not launching is often due to the outdated GPU drivers on your PC. Try updating them in the following steps to solve the issue of Dredge not loading on PC.
Open the Quick Link Menu by pressing Windows + X.
Next, select Device Manager and then click on Display adapters.
Click on Update driver and then Search automatically for drivers.
Your PC will automatically download and install available updates.
Once completed, restart your PC to fix the issue.
If you are looking for a way to get precisely the latest GPU driver versions automatically without wasting so much time, use Outbyte Driver Updater.
Download and install Outbyte Driver Updater.
Next, launch the app. It will start scanning for the latest updates automatically.
Click on Update all Drivers Now. This will install all updates and fix whatever driver issues you were facing.
4. Fix damaged Windows files
Sometimes, Dredge won't launch if the Windows files on your PC are corrupted or damaged. It is also often a reason behind games crashing on startup.
Here, you can do a few scans to repair these files.
Perform a DISM Scan in the following steps:
Start by typing "cmd" in the search section of Start to open the command prompt screen.
Next, enter the following commands:
Dism /Online /Cleanup-Image /ScanHealth
Dism /Online /Cleanup-Image /CheckHealth
Dism /Online /Cleanup-Image /RestoreHealth
Alternatively, you can try doing an SFC scan as follows:
In the Start search bar, enter "cmd" .
Now, run it as administrator, and enter the following command: "sfc /scannow".
Then, reboot your system to make changes.
Some other fixes you can try:
In case Dredge won't launch even after trying all the above methods, give the following methods a shot:
Contact customer support
Run the game as admin
Launch the game from local file
Run the game in compatibility mode
Turn on high-performance mode
Avoid overclocking your CPU and GPU
Disable Windows Firewall and Antivirus
Reset and reinstall the game
Perform a clean boot
These were our top fixes for Dredge not starting on PC.
You can also check our solutions for Dredge black screen and Dredge crashing on PC if you face these issues even after issues with the game launching are fixed.