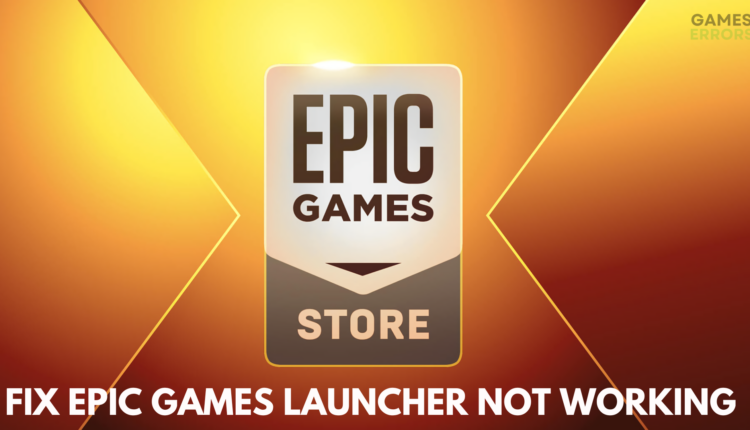 How to Fix the Epic Games Launcher Not Working
Troubleshooting Tips: Getting Your Epic Games Launcher Back on Track
Epic Games Launcher is gaming client software for which many players install and launch Windows games. However, users can't access Epic Games Launcher when it's not working. For example, one user reported Epic Games Launcher not working on Reddit as follows:
When I double-click on Epic Games Launcher, it does the blue spinning wheel but then suddenly stops. There's no error message or anything, it just doesn't open.

Reddit
When Epic Games Launcher is not working, that software doesn't start. It may or may not throw up an error message when it doesn't start. This is how you can fix the Epic Games Launcher not working on a Windows 11/10 PC.
Why is my Epic Games launcher not working?
The causes for Epic Games Launcher not working can be quite varied. Here are some of the more likely potential causes for Epic Games Launcher startup issues:
Corrupted Epic Games cached data: Corrupted Epic Games Launcher cached data can cause startup issues.
Third-party antivirus blocks: If a third-party antivirus app is installed on your PC, then that might have wrongly flagged Epic Games Launcher as suspicious software.
Corrupted Epic Games Launcher installation: The Epic Games Launcher has missing or corrupted files. In this case, repairing or reinstalling Epic Games Launcher will likely fix a corrupted installation.
Display resolution settings: Some users say they fixed Epic Games Launcher not working by changing resolution and other display settings on their PCs. So, that can only mean misconfigured display settings can also cause issues.
How can I fix Epic Games Launcher not working?
Table of Contents
1. End the Epic Games Launcher process
First, try ending the Epic Games Launcher process if you can see it in Task Manager. End the Epic Games Launcher process in Task Manager as instructed within this Games Error guide for disabling background processes. Then try restarting the software after selecting End task for the Epic Games Launcher Process.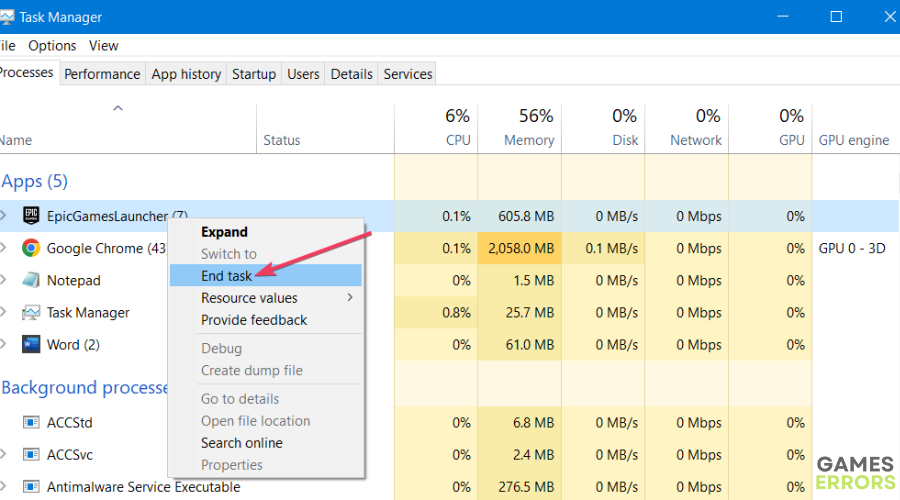 2. Set Epic Games Launcher to run with admin rights
A few users have also confirmed running Epic Games Launcher with admin rights kicked-started the software for them. Applying that possible fix will give Epic Games Launcher full system access rights. This Games Errors post about running games with admin rights provides full instructions for starting software with elevated privileges.
3. Select to repair Epic Games Launcher
Start Run, an accessory you can access by pressing Windows logo + R keys, and input this command: appwiz.cpl

Click OK to bring up a Programs and Features Control Panel applet for uninstalling software.
Next, select Epic Games Launcher within the list of installed software.
4. Delete the webcache folders
Time needed: 2 minutes
Start the Run dialog and input this location command there: %localappdata%

Select OK to view a Local folder.

Double-click the EpicGamesLauncher folder to open it

Next, open the Saved subfolder from there.

Right-click on the webcache folder and select the Delete option to erase it.

Repeat the previous step for the webcache_4147 and webcache_4430 folders if you can see them.
5. Set an OpenGL launch property for Epic Games Launcher
Click in the Target box on the Shortcut tab.
Select Apply to set the new target location.
Then click on OK to exit the Shortcut tab.
6. Change your PC's display resolution
Press your keyboard's Windows logo + S keys simultaneously to access a search box.
Type display resolution inside the search box.
Select the Change the resolution of the display search result.
Click Keep Changes to confirm your settings.
7. Temporarily turn off a third-party antivirus shield
Look for and right-click your antivirus app's icon in the system tray on the right side of the Windows taskbar.
Select a disable option for the antivirus shield on the context menu.
If there are additional time options available, select to disable the antivirus shield for about an hour.
Then, have another go at starting Epic Games Launcher again.
If Epic Games Launcher works with the antivirus disabled, set up an exception for the gaming client within your security software. Most security apps include an exception list to which you can add software to exclude from antivirus shields. Go through the tabs in your antivirus software to find its exception list and add Epic Games Launcher to it.
8. Set a different DNS
Open Run and input this command for opening the Network and Sharing Center: control.exe /name Microsoft.NetworkAndSharingCenter
Click OK to access the Network and Sharing Center applet in the Control Panel.
Input 1.1.1.1 inside the Preferred DNS server box.
Enter 1.0.0.1 inside the Alternative DNS server box.
Select OK to set the new DNS server.
9. Reinstall Epic Games Launcher
Open Programs and Features as instructed in the first couple of steps of resolution three.
Select Epic Games Launcher in Programs and Features.
Restart Windows before reinstalling Epic Games Launcher.
Bring up this Epic Games Launcher download page.
Simultaneously press the Windows logo and E keyboard buttons and go to whatever folder to which your browser usually downloads files. Windows Downloads folder is the default location for most web browsers.
Double-click the EpicInstaller file to bring up Epic Games Launcher's setup wizard.
Select to install Epic Games Launcher within the setup wizard.
Those eight potential resolutions have fixed the Epic Games Launcher software not starting for many players. So, one of those remedies will very likely fix Epic Games Launcher not working on your PC.
However, you can contact the Epic support service if more troubleshooting guidance for the Epic Games Launcher not working is needed. To do so, click the Contact Us button on this technical support page to submit a support ticket to Epic.
If you encounter any issues or errors while playing your favorite games and require support, feel free to contact us here. Our team is always ready to assist you and ensure your gaming experience is seamless and enjoyable.