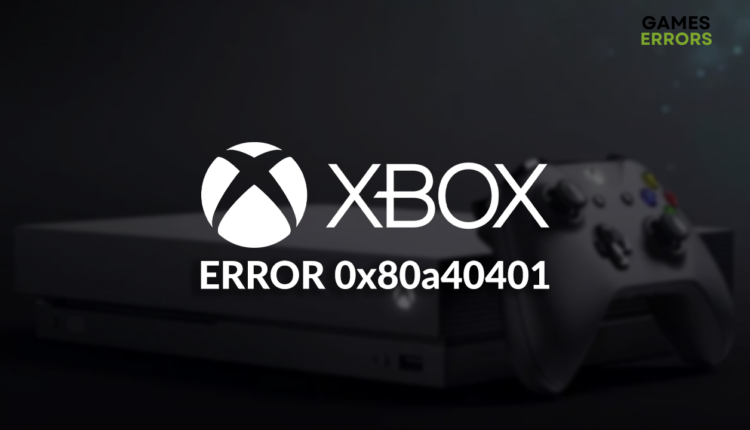 Error 0x80a40401 Xbox [Quick Fix]
You can't believe this error is occurring and are wondering if there is any way to fix it? This is why we decided to do our investigation and find workarounds! 🕵️‍♂️
Many gamers complain that error 0x80a40401 Xbox is making their consoles useless. We did an investigation and found out that there are some workarounds for this problem.
If you experience issues connecting your console to the home network, learn how to fix the "Additional Authentication Needed" error on Xbox.
Why do I get the error 0x80a40401 Xbox?
You get the error 0x80a40401 on your Xbox due to a geo-restricted console, blocked Xbox services for your country or region, problems with your internet connection or network devices, and issues with your MAC address or Microsoft account.
How do I fix error 0x80a40401 Xbox?
💡 Although there is no official fix for the error 0x80a40401 on Xbox, we will reveal the potential workarounds and solutions for this issue.
Start with these quick checks and fixes:
Check your internet: Open your mobile or PC browser and head to the Internet Speed Test page. Hit the Go button and check if your connection is working and what are the speeds and latency.
Reset network devices: The problem can be related to temporary issues with your network devices. Find your router and modem and press the reset button, usually on the device's backside.
Use an alternative network: Connect to another wireless or wired network and check if you can use your Xbox. Use a mobile hotspot if there aren't other networks close by.
If error 0x80a40401 still occurs on your Xbox, follow the step-by-step solutions described below.
1. Use a VPN
If the previously mentioned methods didn't make the difference, and you still experience error 0x80a40401 on your Xbox, you must use a Virtual Private Network. VPN will allow you to connect to the Xbox server since the server will register your connection from the server's location, not your home network.
Using a VPN on PC is straightforward, but using it on your console can be problematic. Luckily, some providers, like ExpressVPN, offer VPN software for routers that support it. If your router doesn't have this functionality, you can purchase the router directly from this provider.
Still not sure if this will help you with error 0x80a40401 Xbox? If you decide to do it:
🏠 You will have access to VPN on any device using your home network. Ideal for your Xbox console.
🌐 Connect to 5 different locations at a time. Suitable if you want to use multiple locations.
👨‍💻 Configure which device is using VPN and through which server. Perfect for seamless management.
2. Clear the MAC address
Time needed: 5 minutes
MAC address is a unique identifier for your console on the home network and the internet. Since this address caused a lot of issues in the past, Microsoft decided to add a feature for clearing this address.
Press the Xbox button on the Xbox controller.

Navigate to Profile & System tab and then select Settings.

Go to the General tab and select Network Settings.

Select Advanced Settings.
Select Alternate MAC address.
Hit the Clear button and restart your Xbox.
3. Re-add your account
The problem with the 0x80a40401 error might be related to your account. Follow the steps below to remove and then add your Microsoft account. Ensure you know the login credentials before proceeding!
Press the Xbox button on the Xbox controller.

Navigate to Profile & System tab and then select Settings.

Go to Account and then select Remove Accounts.

Select your account and then select Remove.
Restart your Xbox.
Navigate to Profile & System and select Add or Switch.

Select Add New.

Enter your login credentials and configure your Microsoft account.
Extra steps
Some players won't be able to resolve the error 0x80a40401 on Xbox by applying the previously mentioned solutions. If you are one of them, try to:
🔁 Reset Xbox to factory settings: Although this option is unpopular, you can try resetting your console to solve this network-related error. First, try keeping the games and apps and do a full factory reset if the problem occurs again.
📞 Contact Xbox support: Contact the Xbox support team through different channels, such as Twitter, email, or any other contact you got when you purchased the console.
Related articles:
Conclusion
We hope applying these solutions helped you in fixing the error 0x80a40401 Xbox. Share your experience in the comment section, and let us know if you discover other solutions or workarounds.
If you encounter any issues or errors while playing your favorite games and require support, feel free to contact us here. Our team is always ready to assist you and ensure your gaming experience is seamless and enjoyable.