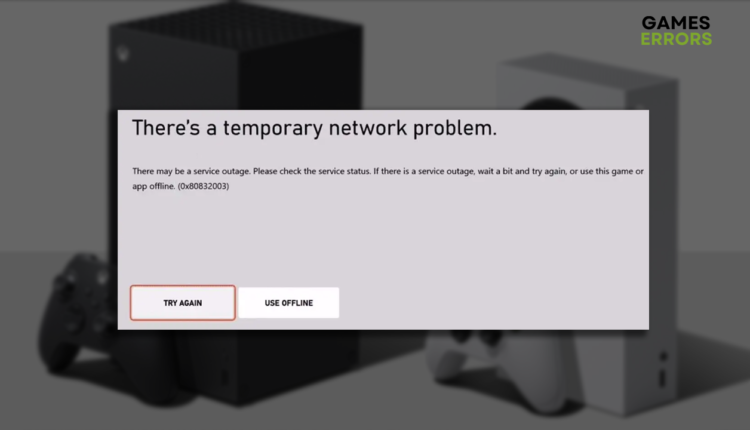 Xbox Error 0x80832003: Fix It Quickly
Network-related errors can be related to the console, Xbox services, or the network in-between. 👾
X
INSTALL BY CLICKING THE DOWNLOAD FILE
Getting an Xbox error 0x80832003 when launching an app or a game can be annoying and stressful. Removing the problem causing this inconvenience can be quick and stress-free if the problem is on your end. Be patient and review our list of causes and solutions for this network-related error.
If you have a Series X console and can't play any game on it, learn what to do when games don't launch on Xbox Series X.
Why do I get Xbox error 0x80832003?
You get error 0x80832003 on your Xbox because there is an outage with Xbox services, your internet is not working, there are misconfigurations with your networking device or Xbox, the console software is outdated, or there are issues with your account.
How do I fix error 0x80832003?
Begin troubleshooting this error on your Xbox by performing these quick checks and fixes:
Visit the Xbox Status page: Ideally, all services will be marked as up and running with a green circle. This will also mean the problem is either on your end or the network between you and Xbox servers. If you see a 'limited' or 'major outage' status, wait and try again later.
Check the internet on another device: Use your smartphone, tablet, or PC to check if the internet connection works. If you discover a general internet problem, try using your mobile hotspot and see if the error disappears.
Restart your networking device: Inspect your modem or router and see if the LEDs are signaling any issue with the device. Restart the device by pressing the restart button on the back. You can also power cycle the device by unplugging it from electricity, waiting a few minutes, and plugging it back in.
Power cycle your Xbox: Similarly to networking devices, your Xbox console might also have some temporary issues with connection. Turn Xbox off, unplug it from the power outlet, wait a few minutes, and boot the console back up.
If this doesn't solve the issue, and the error 0x80832003 still occurs, follow the solutions listed below.
1. Clear the MAC address
Time needed: 5 minutes
Media Access Control (MAC) address is a way for your console to identify the network. Since many experts reported that it could cause network-related issues on game consoles, the Xbox developers added an option for clearing this address.
Press the Xbox button on the Xbox controller.

Navigate to Profile & System tab and then select Settings.

Navigate to the General tab and select Network Settings.

Select Advanced Settings.
Select Alternate MAC address.
Hit the Clear button and restart your Xbox.
2. Update your Xbox
Like any other device, Xbox problems and bugs are constantly being patched. These patches come through updates, which happen automatically by default. However, your Xbox might have skipped an update due to network issues or other circumstances, so we advise you to update it manually.
Press the Xbox button on the Xbox controller.

Navigate to Profile & System tab and then select Settings.

Navigate to the System and select Updates and Downloads.

Select the Console update available option.
If you don't see such an option, your console is up-to-date.
Wait for the update to complete and restart your Xbox.
3. Re-add your account
When you log into your account on Xbox, the information is verified online since this is the only way for the console to verify your identity. Some gamers report that due to unknown reasons, their account was bugged until they removed it and added it again.
⚠ Important: Before removing your account from your console, check if you remember your email address and password. The best is to write it down and keep it while troubleshooting.
Press the Xbox button on the Xbox controller.

Navigate to Profile & System and then select Settings.

Select Account and then Remove Accounts.

Select your account and then select Remove.
Restart your Xbox.
Navigate to Profile & System and select Add or Switch.

Select Add New.

Enter your email address and select Enter.
Enter your password, select Enter, and configure your Microsoft account.
Extra steps
Here are a few additional solutions you can use to fix Xbox error 0x80832003:
📞 Contact Xbox support: Before doing anything else, we recommend you contact Xbox support and explain your issue. If you bought your console from a reseller, get them as well.
🕹 Reset Xbox to factory settings: Save this option as a last resort, and consider it the only one you have no choice. Navigate to the Xbox settings, select Reset, and keep your games & apps option. This way, you don't lose the installation and game progress you made.
🎮 (Alternative) Play the game offline: If the error code appears even after the factory reset, the only alternative we found is playing the game in offline mode.
Related articles:
Conclusion
Xbox error 0x80832003 can be easily fixed if related to the Xbox services or the network. However, if the problem is associated with a faulty console, you might be unable to fix it alone. Let us know how it went for you, and comment if you have other issues with your Xbox.