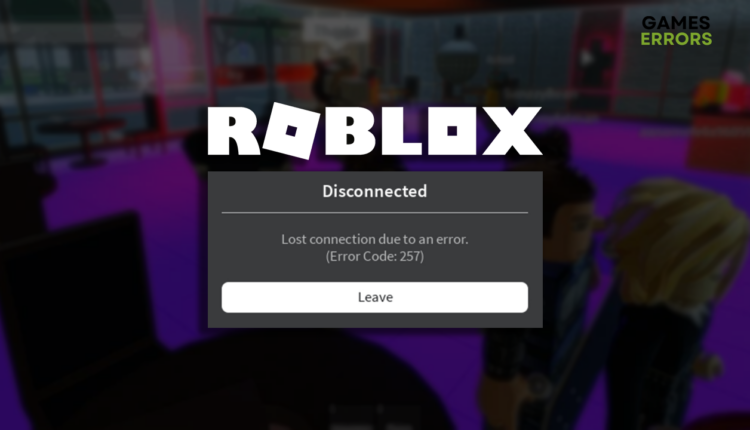 Error Code 257 Roblox: How to Fix It
Dealing with network errors is annoying. We propose you the map for the perfect solution! 🗺
Are you experiencing problems with the error code 257 Roblox? Don't look any further. Take action now! To help you out, we prepared the ultimate list of solutions that will help you troubleshoot this annoying network-related error in Roblox.
If you experience latency-related issues, learn how to fix high ping in Roblox.
Lost connection due to an error.
(Error Code: 257)
Why do I get error code 257 Roblox?
You get error code 257 in Roblox due to problems with Roblox servers, faulty extensions or mods, issues with Windows permissions, Windows Firewall blocking Roblox, an outdated network driver, pilled-up cache files, or obsolete network settings.
How to fix error code 257 Roblox?
Troubleshoot this network-related error quickly by applying the following checks and fixes:
Check Roblox servers: If all systems are operational, the error is due to issues on your device and communication between your game client and Roblox servers.
Disable extensions and mods: Both desktop and browser versions of Roblox have modifications and extensions which enhance gameplay but possibly create connectivity issues.
Launch Roblox as an administrator: Right-click on the Roblox executable (.exe) file, select Properties and navigate to Compatibility. Enable Run this program as an administrator and hit OK.
Proceed with the step-by-step solutions below to eliminate error code 257 in Roblox.
1. Allow Roblox through Firewall
Time needed: 5 minutes
Windows Firewall is the core security feature of your PC and should always be kept enabled. However, if you experience network-related issues in Roblox, like error 257, add the game as a Firewall exception.
Click on the Windows icon, type Windows Defender Firewall, and open it.

Click on Allow an app or feature through Windows Defender Firewall.

Click on Change Settings and Allow Another App.

Select Browse, and navigate to the Roblox installation folder.
Click on the Roblox executable file (.exe) and select Open.
Check the checkbox in columns Private and Public in the Roblox row and hit OK.
2. Update the network driver
The network driver manages your internet adapter and controls the communication with your home network and internet. To ensure it is functioning properly, you must regularly update the network driver.
Click the Windows icon, type Device Manager, and open it.

Double-click on Network Adapters.

Right-click on your internet adapter and select Update driver.

Select Search automatically for drivers.
Install the driver update.
Restart your PC.
There is a quicker way to keep the network driver updated! Use Outbyte Driver Updater to scan, monitor and update drivers so you have more time to enjoy Roblox and other favorite titles!
⇒ Get Outbyte Driver Updater
3. Delete cache files
Roblox and other apps on your PC store cache files to help them launch quicker and run smoother. If these files are corrupted or outdated, they might cause errors, so we advise you to delete them.
Use the Windows Key + R shortcut to open the Run dialog, type %localappdata%, and hit OK.
Press CTRL + A to select all files in the folder.
Hit the Delete key to delete all the files in the folder.
➡ If prompted to confirm, click on Yes.
➡ If some files can't be deleted, click on Skip.

4. Restart network settings
Specific network settings depend on your PC, so they are stored locally. If you updated your network driver or switched to another network, we recommend you restart outdated network settings.
Click on the Windows icon, type Command Prompt, and open it.
Paste the following commands and hit Enter after each one:
ipconfig /flushdns
ipconfig /registerdns
ipconfig /release
ipconfig /renew
netsh winsock reset

Restart your PC.
Extra steps
If you still get the error code 257 when you want to play Roblox, try to:
🛡 Temporarily disable antivirus: Your antivirus can see Roblox as a threat and prevent it from connecting to the server. If it doesn't occur when the antivirus is disabled, whitelist Roblox.
⏳ Try again later: Some players report that this is a common issue, but it often disappears after a few minutes.
📞 Contact your ISP: If nothing has resolved the error code 257 in Roblox for you, we advise contacting your internet service provider, as everything points to problems with your network.
Related articles:
Conclusion
Hopefully, the error code 257 Roblox is part of the past, and you no longer have to deal with it. However, if you still experience issues comment, somebody from our team will happily assist you.