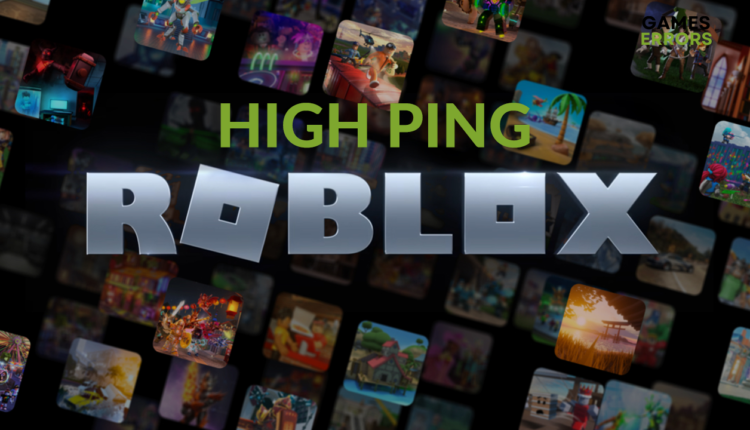 How to Fix High Ping in Roblox Once & For Good – Expert Guide
Discover what are the most frequent causes for high ping in Roblox and how to lower it! 👾
X
INSTALL BY CLICKING THE DOWNLOAD FILE
You've probably been thinking: 'Why is my ping so high in Roblox?' – the answer is because of connection-related issues. However, this can mean many things. The problem might be on the side of Roblox servers, your ISP provider, your home network, or even the PC you are using.
If you can't open the game, check how to troubleshoot starting error in Roblox.
Why is my ping so high in Roblox?
Your ping in Roblox is high due to overloaded Roblox servers, slow internet speed, misconfigured network device, faulty DNS settings, outdated network driver, pilled-up cache files, and apps running in the background using the bandwidth that would otherwise be dedicated to Roblox.
Why is my ping so high in Roblox but my internet is good?
If your internet is good, but you tho' have high ping in Roblox, maybe you should check the minimum specs of the game. Sometimes incompatible OS could lead to high ping.
How to fix high ping in Roblox?
Begin with these simple checks and fixes:
Check the status of Roblox servers.
The problem is on your device and/or network if servers run.
Use Google internet speed test to check the speed of your internet.
The minimum for Roblox is 4-8 Mb/s.
Restart your PC if you haven't in a while.
Restart your router, modem, and other network devices.
Use a wired internet connection instead of a wireless one.
Follow the step-by-step solutions below to troubleshoot high ping in Roblox:
1. Use Google DNS
Time needed: 3 minutes.
Windows automatically connects you to suitable DNS server addresses. We recommend manually setting these to Google DNS for optimal performance and lowering ping in Roblox.
Use the Windows Key + R shortcut to open the Run dialog, type control, and hit OK.

Select View network status and tasks under Network and internet.

Click on the Change adapter settings.

Right-click on the network you use and select Properties.

➡ The green signal icon marks a wireless connection
➡ The cable icon marks a wired network

Double-click Internet Protocol Version 4 (TCP/IPv4).

Enable Use the following DNS server addresses and add:

➡ 8.8.8.8 for the Preferred DNS server
➡ 8.8.4.4 for the Alternate DNS server

Click on the OK button and restart your PC.
👉 If you have trouble connecting to Google DNS, you can re-enable automatic DNS by following the same steps and selecting Obtain DNS server address automatically.
2. Update the network driver
You should have the latest network driver installed to ensure a stable internet connection. You can use Device Manager or some more advanced driver updater tool to do so.
Click the Windows icon, type Device Manager, and open this tool when it appears under Best match.

Double-click on the Network adapters section to expand it.

Right-click on the internet adapter you use and select the Update driver option.

Click on the Search automatically for drivers option in the Update Driver Wizard.
Follow the steps for installation. If this doesn't method find a driver update, use a driver updater tool to double-check for driver updates.
Restart your PC.
The driver updater tool that we recommend is DriverFix. This swift, portable, and reliable tool will make driver management easy for any PC.
3. Delete cache files
Roblox, and every other software on your PC, save cache files so it loads faster. This is very convenient but can cause many issues, so we advise you to delete these files from time to time.
Use the Windows Key + R shortcut to open the Run dialog, type %localappdata%, and hit OK.

Press CTRL + A to select all files in the folder.
Hit the Delete key on your keyboard to delete all of the files in the folder.
▫ If prompted to confirm, click on Yes.
▫ If some files can't be deleted, click on Skip.

4. Close background apps
Before starting Roblox, ensure no apps are running on your PC. To do so, use Task Manager. This will ensure that apps are not using the network bandwidth that Roblox needs.
Use the Ctrl + Shift + Esc shortcut to open Task Manager.
Review the list of currently running apps in the processes tab. Find an app you want to close.
Right-click on the app and select the End task option.

Repeat this for every app you don't need, which is using resource (Network column).
⚠ Avoid closing apps and terminating processes you are unfamiliar with. Doing this can cause system malfunction and security vulnerabilities.
5. Restart network settings
Click on the Windows icon, type Command Prompt, and open this tool from Best match section.
Type the following commands individually and hit Enter after each command:
ipconfig /flushdns
ipconfig /registerdns
ipconfig /release
ipconfig /renew
netsh winsock reset

Restart your PC after executing all of the commands.
Extra steps
If nothing up until now helped you reduce ping in Roblox, try to:
Contact your ISP.
Disable VPN if you are using one.
Connect to another network and check if the problem disappears.
You can use a mobile hotspot for this.
Related articles:
Conclusion
We hope this article answered your question, 'Why is my ping so high in Roblox?' and that you managed to lower it. Let us know if you experience any other issues with Roblox, and we will be happy to help you.
If you encounter any issues or errors while playing your favorite games and require support, feel free to contact us here. Our team is always ready to assist you and ensure your gaming experience is seamless and enjoyable.