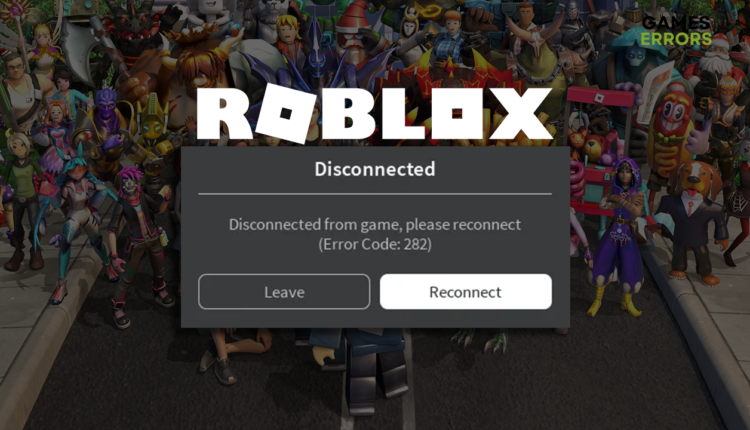 Roblox Code 282: How to Fix It For Good – Expert Solutions
You can't join Roblox and only thing you get is the "Disconnected from game, please reconnect" message? Follow our tips and fixes to solve it! 👨‍💻
Error code 282 Roblox will prevent you from enjoying one of the most popular sandbox games. Since many gamers complained recently about this error, we decided to conduct an investigation, and we are bringing you the ultimate list of causes and solutions for this error code.
👉 If you experience latency issues playing this game, read how to fix high ping in Roblox.
What is error code 282 Roblox?
Error code 282 is a network-related error in Roblox caused by the unavailable game server, problems with VPN, misconfigured network device, outdated network driver, incorrect network settings, or unreliable DNS. The problem might be an outdated browser if you play Roblox from the browser or Windows permissions if you play using an app.
How to fix error code 282 Roblox?
To get rid of this error, perform these checks and apply easy fixes:
Check the server status: Roblox publicly shares the server status, so head to the Roblox Status page and check if all systems are operational. If everything seems good and is marked with green color, proceed with troubleshooting the causes of this issue on your device.
Disable the VPN: Although VPNs can provide access to content you can't see otherwise while keeping your identity anonymous, they can cause issues when connecting to game servers. Disable your VPN software and check if the error occurs.
Restart the network device: There is a chance the issue is related to your home network. The best way to troubleshoot this is to find your modem or router and restart them by pressing the restart button. Additionally, you can perform a power cycle if the problem with the connection happens in other apps and games.
If this doesn't resolve the issue and the error code 282 Roblox still appears, proceed with the solutions below.
1. Update the network driver
Time needed: 5 minutes
The up-to-date network driver is the most crucial pre-requirement for your network device to function correctly. We advise you to constantly update this driver and avoid network-related issues like error code 282 in Roblox.
Click the Windows icon, type Device Manager, and open it.

Double-click on Network Adapters.

Right-click on your internet adapter and select Update driver.

Select the Search automatically for drivers.
Install the driver update.
Restart your PC.
Outbyte Driver Updater is an excellent alternative to the Update Driver Wizard, as it has access to a vast database of the latest drivers. It can scan, monitor and update the drivers for you while you can focus on enjoying Roblox and other games!
⇒ Get Outbyte Driver Updater
2. Restart the network settings
Another important step when troubleshooting network error codes like 282 in Roblox is to restart the network settings on your device. This can be achieved easily with the Command Prompt and a few commands.
Click on the Windows icon, type Command Prompt, and open it.
Paste the following commands individually and hit Enter after each one:
ipconfig /flushdns
ipconfig /registerdns
ipconfig /release
ipconfig /renew
netsh winsock reset

Restart your PC.
3. Use the Google DNS
Windows will connect you to the most suitable Domain Name System (DNS) server address. In most cases, this will be enough, but if you run into network-related issues like the one in Roblox, we advise you manually set the server addresses to Google DNS.
Use the Windows Key + R shortcut to open the Run dialog, type control, and hit OK.

Click on View network status and tasks.

Click on Change adapter settings.

Right-click the internet network you use and select Properties.

Double-click Internet Protocol Version 4 (TCP/IPv4).

Enable Use the following DNS server addresses and add:
➡ 8.8.8.8 for the Preferred DNS server
➡ 8.8.4.4 for the Alternate DNS server

Click OK and restart your PC.
Extra steps
Some players will face difficulties resolving error code 282 Roblox, even after applying the mentioned solutions. In this situation, double-check that you did everything we recommended up until now and then try to:
🔍 Update the browser: If you play Roblox directly from a browser, ensure the browser is up-to-date. Additionally, you can try playing using an alternative browser to see if it makes any difference.
👨‍💻 Run Roblox as an administrator: If the error code 282 occurs when you run Roblox using the executable file or shortcut, right-click on it, select Properties, and navigate to the Compatibility tab. Check the box next to Run this program as an administrator and hit OK.
💻 Use an alternative network: There is a chance that your home network can't connect to the Roblox server. Try connecting to another network and playing the game from there. If no other networks are available, you can use your mobile hotspot to test if this is the issue.
Related articles
Conclusion
We hope the error code 282 Roblox isn't occurring, and you can play the game without annoying interruptions. Please share with us what solution worked for you. Also, if you still have issues, comment with more details, and we will happily assist you.