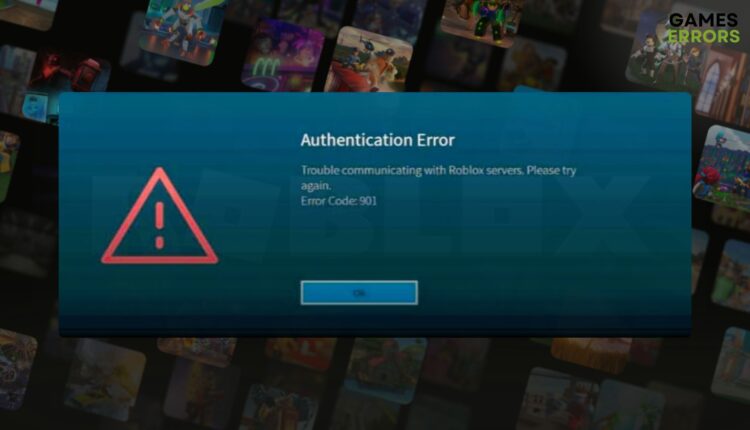 Roblox Error Code 901: How to Fix This Authentication Error
Sign in from a different device and log in again in Xbox if Roblox keeps showing the error code 901 ✅
X
INSTALL BY CLICKING THE DOWNLOAD FILE
If the Roblox error code 901 keeps popping up on your Xbox console, don't worry. You can go through several effective methods to solve this problem.
Undoubtedly, Roblox is an excellent gaming social platform where people can build and play specific types of games. But, the problem occurs when you encounter error code 901 while accessing this platform. Luckily, you can easily understand what causes this trouble and how to fix it.
What does error code 901 mean in Roblox?
The Roblox error code 901 is a problem that gamers encounter on Xbox consoles. When it appears, it throws the following or a similar error message:
Authentication error

Trouble communicating with Roblox servers. Please try again.

Error Code: 901
What causes the authentication error 901 on Roblox in Xbox?
As the error message suggests, it's a problem related to the connection. Usually, this problem arises due to any of these reasons:
Account problem: In many cases, users experience this situation due to a problem related to their accounts. It can occur if your Roblox account is banned.
Server issues: Any Roblox server problems, including sudden maintenance, outage, etc., can be responsible for this error code 901.
Problematic game files: Problematic files and cached data related to the game may also trigger this error. It also may cause games not launching on Xbox Series X or similar issues.
Network-related issues: It is also most likely to be a network-related problem. Network issues also may cause other problems like Roblox error code 279.
A known bug: In specific cases, you may encounter the Roblox error code 901 on a specific platform or game version and in a specific configuration.
If you dig deeper, you may find even more reasons behind this unexpected authentication problem. But you can always solve it no matter what is behind this error.
How do I fix Roblox error code 901?
Before getting started, we suggest you check the Roblox server status page and determine if everything is sound and OK. Then, ensure the following things before going through the main methods:
Make sure that you have a stable internet connection.
Try a wired connection rather than WiFi and see if it helps.
Ensure that your Roblox account is not banned. For this, try it from other platforms and see if everything seems alright there.
Make sure that the game is up to date.
If necessary, now, follow these methods to fix Roblox authentication error code 901:
1. Sign in from another device in the same network
Time needed: 2 minutes.
Currently, signing in from another device in the same network and then trying to log in to the Roblox Xbox version is the most working method to fix error code 901.
Visit this URL from a browser of any device connected to the same network as your Xbox console and click on Log In.
2. Change DNS
Press the Xbox button and then go to Xbox Settings.
Navigate to the General.
Press on the Network settings.
Go to Advanced settings.
Tap on DNS settings.
Tap on Manual.
Restart your console.
Now, run Roblox and try to log in, and see if the authentication error code 901 appears or not.
If necessary, learn how to solve 100% packet loss issues on Xbox.
3. Clear Alternate MAC address
Open the Network Settings like before.
Tap on Advanced Settings.
Go to Alternate Mac Address.
Next, tap on Clear.
Restart Xbox.
This method also helps if you see the error code 268 in Roblox.
4. Relink your Xbox account
Press the Xbox button on the controller.
Navigate to your profile.
Tap on Sign Out.
Now, again press the Xbox button on the controller and sign in with the same Microsoft account.
Now, you should be able to access Roblox in Xbox without encountering the error code 901.
If you are interested, learn how to fix Xbox keeps signing me out.
5. Update the Xbox Console
Go to Settings, as shown before.
Go to the System.
Tap to Updates.
Click on Update console.
Then, tap on Start Update.
After that, restart the console.
6. Re-install Roblox
If the error 901 still keeps bugging you on Xbox, re-install the Roblox completely and see whether it has worked or not.
Select the Roblox game in your Xbox and press the Options button.
Confirm the uninstallation.
Now, restart your console.
Install Roblox again.
The above methods should solve the error code 901 on Roblox. If not, we suggest you reset the Xbox Series X, S, or One console and see if it works.
If nothing helps, play Roblox on a different network or other platforms.
Check out the methods to solve Xbox Series X not loading anything if needed.
This article has discussed how to fix Roblox error code 901. If you have any questions or concerns, feel free to let us know in the comment box.
If you encounter any issues or errors while playing your favorite games and require support, feel free to contact us here. Our team is always ready to assist you and ensure your gaming experience is seamless and enjoyable.