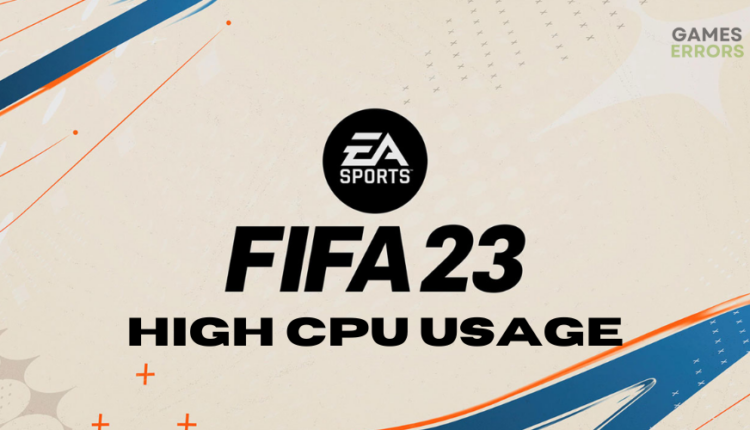 FIFA 23 High CPU Usage: How To Lower It
Fix the FIFA 23 high CPU usage with these simple and easy fixes and eliminate lag and CPU spikes 😉
Many players have complained about encountering the FIFA 23 high CPU usage issue, which causes the game to cause numerous performance lags. This problem occurs on high- and low-end PCs despite having the correct configurations to run the game. Some users report their CPU usage going as high as 90%.
If you're experiencing the same, we have discussed foolproof solutions you can implement in this troubleshooting guide. Keep reading to find a solution that works for you.
What causes high CPU usage in FIFA 23?
FIFA 23 relies more heavily on CPU than GPU, especially its cutscenes, which are pretty demanding on PC. So, if your CPU usage is higher when playing FIFA 23, don't worry. However, if the CPU usage spikes suddenly and unexpectedly and causes extreme lag between cutscenes, you may want to lower it.
The exact cause of the high CPU usage in FIFA 23 is unclear, as many factors can trigger it. These include:
Outdated GPU drivers: Outdated GPU drivers can cause incompatibility problems that cause game lag.
Outdated game patch version: You may have an outdated FIFA 23 version, triggering high CPU usage problems.
Corrupt and missing game files: If FIFA 23 files are corrupt, damaged, or faulty, they may cause high CPU usage issues.
Conflict with DirectX version: If you've recently updated DirectX, the new version may conflict with FIFA 23 and trigger high CPU usage.
Improper in-game graphics settings: If your FIFA 23 in-game graphic resolution settings are high, they may cause high CPU usage in FIFA 23.
Background applications: Sometimes, startup applications running in the background may trigger a CPU usage spike on your PC.
How do I fix FIFA 23 high CPU usage?
Since the exact cause of FIFA 23 high CPU usage is unclear, you may want to consider all the solutions listed in this article to find one that works for you.
✅Before we dive into the critical solutions, perform these quick things first:
If you still experience the FIFA 23 high CPU usage issue, proceed with the following simple fixes:
1. Update GPU drivers
Time needed: 2 minutes
If your GPU drivers are outdated, your PC may switch to using the CPU to run games. In this case, you may want to update your GPU drivers to ensure they function optimally and support FIFA 23. Here's how to do this:
Open Device Manager

Right-click the Windows start button and select Device Manager.

Expand Display Adapters

Double-click the Display Adapters tab to expand the category.

Identify the dedicated GPU driver.

Locate the dedicated GPU driver from the context menu, right-click it, and choose Update driver.

Choose the update method.

On the new pop-up window, choose Search automatically for drivers.

Complete process

Let Windows find and install the latest drivers on your PC. After the process is complete, reboot your PC to apply changes.

Launch FIFA 23

Launch the game to see if the high CPU usage issue is fixed.
We recommend using Outbyte Driver Updater to install the latest version of GPU drivers on your PC.
2. Configure in-game graphics settings
If FIFA 23 graphics settings are set high, the game will likely use more PC resources. This causes your CPU usage to spike and trigger extreme lags. To avoid this, consider configuring your in-game graphics settings to optimize the game:
Launch FIFA 23 on your PC.
Navigate to Customize and click Settings.
Navigate to Game Settings and select Display Configuration.
Now, you can make changes to FIFA 23's graphics settings. We recommend tweaking the following settings:

Resolution – 2560 x 1440 (16:9)
Frame Rate – Lock to 30 FPS to reduce lag.
Dynamic Resolution Scale – OFF
Rendering Quality – Low
Strand Based Hair – Off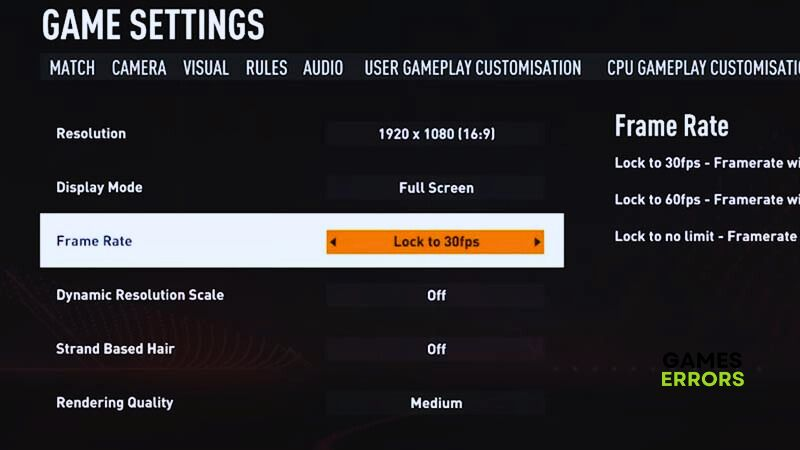 3. Force FIFA 23 to use the dedicated graphics card
Right-click an empty area on your desktop and select NVIDIA Control Panel.
Navigate to 3D settings and select Manage 3D settings.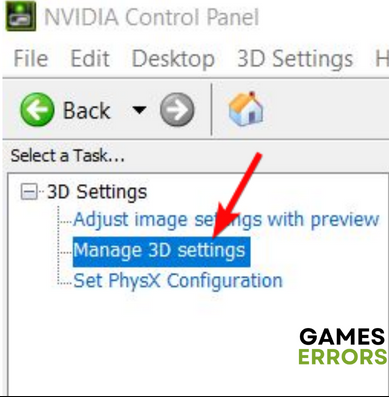 Click the Program settings tab and find FIFA 23 from the list.
Under the Preferred graphics processor for this program tab, choose High-Performance NVIDIA Processor.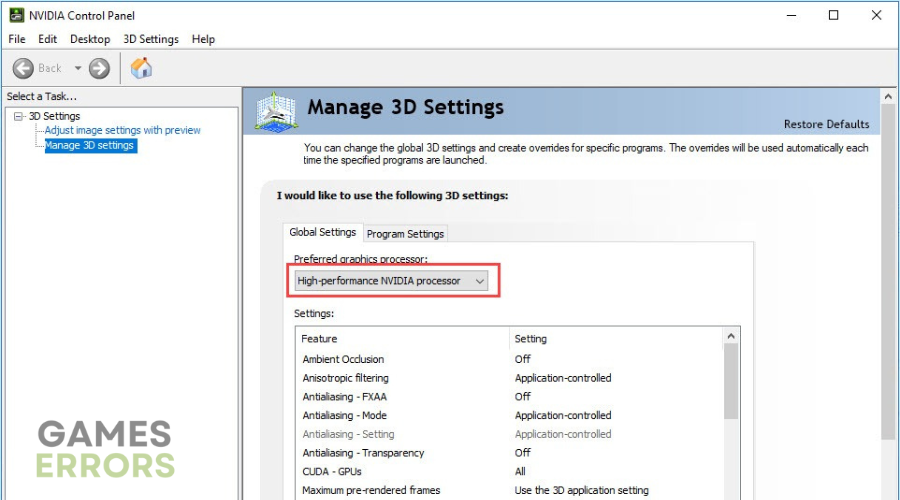 This will force your PC to use the NVIDIA graphics card to run FIFA 23.
Save changes and launch FIFA 23 to see if the high CPU usage problem is fixed.
Related articles:
Conclusion
The FIFA 23 high CPU usage can be frustrating and cause extreme lag. Remember to update GPU drivers, configure in-game graphics settings, and force FIFA 23 to use the dedicated graphics card.