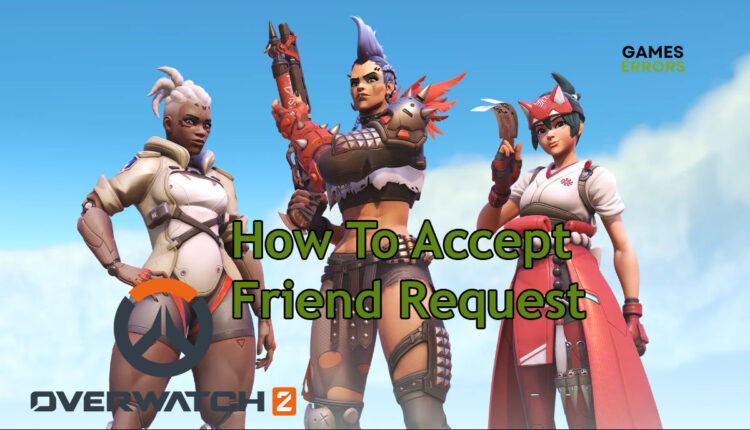 How to Accept Friend Request On Overwatch 2 [Gamer's Guide]
If you don't have friends on Overwatch 2, this guide helps you add, invite, and accept friend requests 💗
Online games are nothing without a social club. It's the hub where you make new friends, invite friends, and build your social network. But it's not always straightforward or easy to do so. Especially since each game has its own different rules for adding and accepting friend requests. So how to accept a friend request on Overwatch 2? And can you cross-play Overwatch 2 with a friend on multiple platforms?
💁🏻‍♂️
How to Accept Friend Request On Overwatch 2?
Time needed: 2 minutes
With over 350 million gamers worldwide, you can definitely find new friends to add on Overwatch 2. So how would you know that you have a friend request? The socials tab at the top right corner of the game will let you know about new and pending friend requests. All you have to do is accept them. This is how to do it.
Click the Main menu and go to the Social menu.

Select Invitations to open a new screen.

Here you'll see a list of all pending friend requests.

Click the orange check mark next to each friend request to accept it. 

If you don't want to accept a certain friend request, click the X mark next to the name.

After accepting a friend request, you'll get a pop-up notification that they have been added to your friends' list.
✚
How to Add Friends on Overwatch 2 Cross-Platform?
Since its release, Overwatch 2 has been attracting gamers of all ages and types. But did you know that it's also a cross-platform game? That means you can cross-play Overwatch 2 with other friends even when they're using a different gaming platform than yours. You could be playing on PS5 while your friend is playing on Xbox One. But in order to cross-play across different gaming platforms, you need to add your friend first and set up cross-play.
Open the Main menu and go to the Social menu

Click on Add Friend.

A pop-up will prompt you for your friend's name.

Enter your friend's BattleTag and click Add. This sends an invitation to your friend on their own gaming platform.

Wait for your friend to accept your request and appear on your friends' list.

Now you can invite them to a party.
📲
How to Send a Friend Request On Overwatch 2?
Sending a friend request on Overwatch 2 is easy to do through the Social menu. You'll need to know your friend's BattleTag which they signed up with on Battle.net. Then follow the steps in the previous section.
But what if you don't know your friend's BattleTag, can you still send them a friend request? Yes, you can. All you need is their email. Here's how to do it.
Open Battle.net Launcher and sign in.

At the top right corner, you'll see Add Friend. Click it.

Enter your friend's email and click Add.

A friend request will go to your friend's email inbox.
Some players reported that sometimes, new friends won't appear on the social list even after they have accepted the friend request. In that case, logging out of the game and signing back in would solve this issue.
How to Invite Friends to Overwatch 2?
To invite a friend or more to a party or a match on Overwatch 2, they need to be on your friends' list first. Then follow these steps.
Open the Main menu and go to the Social menu.

Under the Friends tab, you will find a list of your friends.

Click the plus sign next to each friend you want to invite.

Wait for your friends to accept your invitation.
Related Articles:
Having friends on Overwatch 2 makes the game much more fun. This guide walks you through the different steps to accept friend requests, invite new friends, and send friend requests through the social menu in the game or the Battle.net launcher. We'd like to hear from you about your social experience with Overwatch 2 as well as other games you're currently playing. Hit the comments box below.