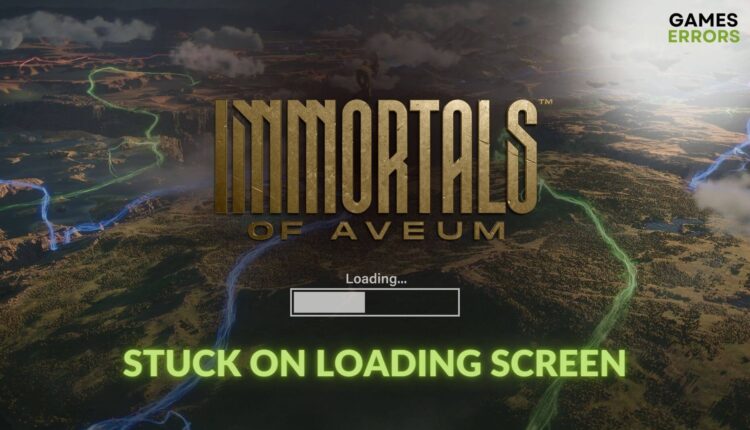 Immortals of Aveum Stuck on Loading Screen: Best Ways to Fix
Is Immortals of Aveum taking an infinite amount of time while loading? You should take the steps featured in this article immediately to fix this problem 👇
In your PC, you may see that the Immortals of Aveum is stuck on the loading screen and stays there forever. Other gamers may also notice the same problem as you. Luckily, you can solve this matter easily.
You may be eager to explore the story of Jak in Immortals of Aveum. But, if you cannot play this title due to an infinite loading screen issue, your anticipation can transform into frustration. Tweaking the appropriate things can get you out of this unwelcome situation.
Having performance issues with this game? Learn how to solve low FPS problems on Immortals of Aveum.
What causes the infinite loading screen problem on Immortal of Aveum?
Usually, the following things can cause infinite loading screen issues on Immortal of Aveum:
System requirements: In case your PC lacks the required specifications, Immortal of Aveum won't launch or get stuck while loading.
Graphics driver problem: Corrupted and incompatible GPU driver can trigger this problem.
Corrupted game components: Problematic game files, components, and related settings can make Immortal of Aveum take forever to load.
Third-party services: Any active background apps, including your antivirus, game booster, etc., can also cause this problem.
Else, various other minor factors can also work behind this situation. But the instructions from the next part of this article are enough to tackle this problematic situation.
How can I fix Immortal of Aveum stuck on the loading screen?
Before taking the main steps, it's always better to do these initial things:
Now, go through the following troubleshooting methods one by one to solve Immortal of Aveum stuck on the loading screen:
1. Disable in-game overlay
Open the Steam desktop app.
Go to Settings.
Go to the In-game tab.
Relaunch Steam.
If you use the EA app, click on the profile icon and go to Settings. Go to the Application tab. Scroll down and toggle the switch to off under the In-game overlay section.
Some of you, particularly the NVIDIA GPU users, may have GeForce Experience installed on your PC. If yes, disable the overlay feature from there as well.
2. Update the GPU driver
Time needed: 4 minutes
To fix Immortals of Aveum's infinite loading screen problem, update the GPU driver to the latest version.
Click on Search automatically for drivers and finish the update.
Restart Windows.
You should Outbyte Driver Updater to update the GPU driver rather than the device manager. By using this small application, you can get the best version of the driver for Windows 11 and 10 which can enhance your gaming experience.
⇒ Get Outbyte Driver Updater
3. Repair common disk problem
To resolve the infinite loading screen problem on Immortals of Aveum on Windows 11 or 10, repairing the common disk space can help you too. For this, try the following steps:
Press Win + E to open the File Explorer.
Locate the drive where you have installed Immortals of Aveum, right-click on and go to the Properties.
Navigate to the Tools tab.
Then, click on Scan Drive.

At last, restart your PC.
After repairing the disk drive, launch Immortal of Aveum and see whether it still takes forever to load or not.
Additional solutions:
The problem may still occur. In this situation, try the following methods:
Install Visual C++ and DirectX packages and restart Windows.
Disable your antivirus and firewall to see if it helps.
Enable high-performance mode from Windows settings.
Delete the locally saved game files and see if it works.
Update Windows to the latest version.
Try to run this game in clean boot mode.
Re-install the game.
If you are interested, learn how to fix Immortals of Aveum crashing.
This article has just featured the most working solutions to fix Immortals of Aveum stuck on loading screen. However, if the problem keeps occurring, we suggest you update Windows to the latest version. Also, look for the memory issues on your PC. Have any questions just appeared in your mind? Feel free to ask us in the comment box.