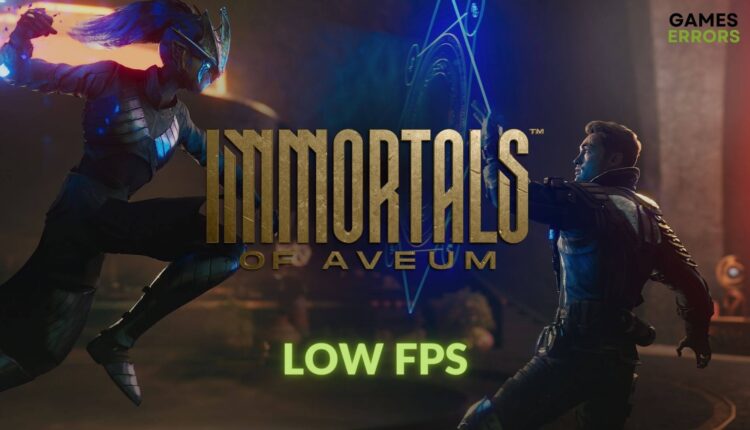 How to Improve Immortals of Aveum's Low FPS: 6 Quick Ways
While playing Immortals of Aveum, if you encounter poor FPS problem, you will not enjoy the story of this game at all. So, try the tricks from this post to boost its performance 🚀
You won't have to go here and there to fix Immortals of Aveum's low FPS problem. This article has all the tips you need.
Modern video games have come too far in terms of visuals. To get an immersive experience, the frame rate per second is important. However, if you don't get the expected FPS from a first-person shooter action Sci-Fi title like Immortals of Aveum, you will not get the true enjoyment of the gameplay.
This issue may occur even if you have a decent PC. But, by tweaking a few things and settings, you can easily get rid of this situation.
Why am I getting poor FPS from Immortals of Aveum?
For too low FPS, stuttering, and lagging issues in Immortals of Aveum, the followings are the most common reasons:
Display driver problem: A troublesome or outdated GPU driver is one of the reasons you are not getting the expected FPS from this Sci-Fi action-adventure title.
Excessive background activities: Too many background services can affect performance and cause low FPS issues on Immortals of Aveum.
Improper settings: Even if your PC meets the system requirements perfectly, you won't get the anticipated frame rate from Immortals of Aveum if the settings on the game or on Windows are not suitable.
Corrupted components: Immortals of Aveum will get stuck while loading or give you a very poor FPS if related game components are outdated or problematic.
How do I fix Immortals of Aveum low FPS?
Before you take any major steps, you must complete these quick ones to make the whole thing more effective:
After that, try the following methods to boost FPS on Immortals of Aveum:
1. Enable game mode
Press Win + I on the keyboard to open Windows Settings.
Turn on the switch next to the Game Mode.
Close the Settings.
2. Update the graphics driver
Time needed: 4 minutes
To get rid of the low FPS situation on Immortals of Aveum, you should check for the GPU driver update and install the latest version.
Click on Search automatically for drivers and finish the process.
Restart Windows.
We suggest you use Outbyte Driver Updater to scan and detect the outdated GPU driver and install the latest version. Unlike the device manager, this tool can update all of the Windows 11 or 10 drivers with just a single click.
⇒ Get Outbyte Driver Updater
3. Disable fullscreen optimization
Disabling fullscreen optimization may help you to fix low FPS problems on DirectX 12 games like Immortals of Aveum. Follow these steps to do it:
Go to the Immortal of Aveum installation directory.
Right-click on the EXE file of this game and go to Properties.
Go to the Compatibility tab.
Click on Apply and OK.
4. Enable high-performance mode
Open Windows Settings like before.
Relaunch the game.
This method will also help to fix the Immortals of Aveum not launching problem.
5. Tweak Windows Graphics Settings
Tweaking a few things on Windows Graphics Preference may help you to resolve FPS dropping or poor frame-rate-related problems on Immortals of Aveum. Follow these instructions to do it:
Open Windows Settings again.
Go to Graphics.
Click on Immortals of Aveum and then on Options.
Next, click on Change default graphics settings.
Enable Hardware-accelerated GPU scheduling.
Also, enable Optimizations for windowed games.
Restart Windows.
6. Disable vertical sync
Open the Windows Search Box, search for your graphics controlling app, like NVIDIA Control Panel, and open it.
Go to the Manage 3D settings.
Locate the Vertical sync and turn it off.
Save the settings.
Restart Windows.
Now, launch Immortals of Aveum and see if you still get low FPS or if the problem has gone away.
Extra solutions:
Is the FPS still very low? Try these solutions too:
Learn how to fix Immortals of Aveum crashing if necessary.
If you apply the above techniques properly, you should be able to fix Immortals of Aveum low FPS issue. However, in case the problem still persists, we suggest you lower the in-game graphics settings. Enable DLSS/FSR-like features, disable Ray Tracing and other similar options. Have you got any questions? Let us know in the comment box.