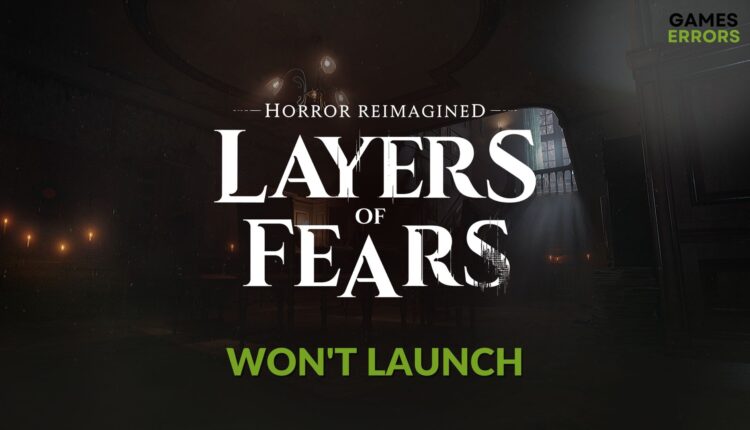 Layers of Fear Won't Launch: Most Successful Ways to Run It
If you cannot launch Layers of Fear remake on your PC, don't forget to try the solutions featured in this post 🎯
You may notice that Layers of Fear won't launch suddenly or after installation on your PC. It can be a very simple or even a serious problem. This article will tell you what to do in this situation.
Any psychological horror game can give you a unique experience that you won't get from other types of horror titles. Layers of Fear is such a type of game that has got a remastered/remake version. However, if somehow, it doesn't run on your computer, it's a matter of concern.
Why is Layers of Fear not launching on my PC?
Usually, the game not launching problem occurs when the installation is incomplete or there are some internal problems. For the Layers of Fear it can be due to the following reasons:
Driver issues: Outdated, missing, or faulty system drivers on Windows 11 or 10 can prevent Layers of Fear from opening on your computer.
Problematic game components: Missing, outdated, or problematic game components and files also may be the reason why Layers of Fear remastered edition won't launch.
Third-party software: Third-party programs like antivirus, firewall, etc., can interfere and cause not launching problems on this horror adventure title.
How do I fix Layers of Fear won't launch?
Before you take any step, we want you to make sure that your PC meets the Layers of Fear's system requirements. Then, do these things quickly:
Disable your antivirus and firewall and restart your PC.
Enable game and high-performance mode.
If the Layers of Fear is still not launching, try the following methods one by one:
1. Update drivers
Double-click on Display adapters to expand this category.
Then, right-click on the graphics card you are using and choose Update driver.
Click on Search automatically for drivers and finish the update.
Update all other drivers in this way.
Restart your PC.
If you update the drivers one by one, it will take a lot of time. So, consider using a powerful tool like Outbyte Driver Updater. It can update dozens of drivers with just a single click. If configured correctly, this app can do this task regularly in the background without manual interaction.
⇒ Get Outbyte Driver Updater
2. Install Visual C++ redistributable packages
Visit the Visual C++ redistributable website.
Click on the download link for the X64 architecture.
Download and install it on your PC.
Restart Windows.
3. Clear game client cache
Time needed: 2 minutes
When you notice that Layers of Fears is not launching on your PC, clear the Steam download cache or the cache files related to the game client you are using to fix this problem.
Relaunch Steam.
In case you use Epic Games Launcher, you will not get such an option to clear the download cache. In this situation, you will need to clear the web cache.
For more details, please check out this guide on how to solve games not launching on Epic Games.
4. Re-install Layers of Fear
Open Steam or the game client you are using.
Go to the game library.
Right-click on Layers of Fear, hover the cursor on Manage, and then click on Uninstall.
After that, click on the Install button.
Select the installation location and click on Next. Make sure that it's on an SSD.
Then, wait for a while until it finishes the installation process.
Similarly, you can re-install this horror title on Epic Games Launcher if needed. Then, try to open it and see if the above method has solved the Layers of Fear remake won't launch issue.
5. Run in clean boot
Press Win + R to open the Run.
Type the following command and click on OK: msconfig
Go to the Services tab.
Click on Apply and OK.
Restart Windows.
Now, try to launch Layers of Fear and see if it still fails or not. You can also consider updating Windows to the latest version. If the game client is outdated, update it. It should work.
If you are interested, learn how to solve games won't launch on PC.
The above suggestions should help you to get rid of Layers of Fear won't launch or similar problems. Do you have any questions? Let us know in the comment box.