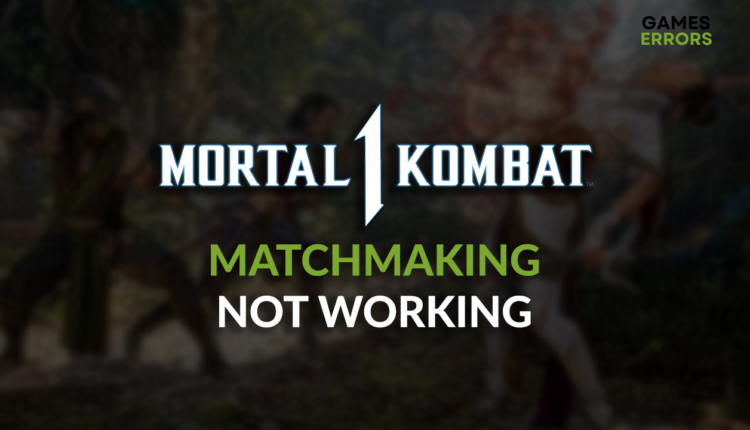 MK1 Matchmaking Not Working: Here Is What to Do
Story mode is great, but let's see how you can play the game with others. 👾
Many unfortunate ones find that their MK1 matchmaking not working problem will persist regardless of what steps they take. We are here to reveal the most common causes and solutions you can promptly apply on your PC to make matchmaking in Mortal Kombat 1 work flawlessly.
If you are also experiencing stability issues, learn how to fix crashes in Mortal Kombat 1.
Why is MK1 matchmaking not working?
MK1 matchmaking is not working due to the temporary unavailability of MK1 servers or technical issues on your side. The most common problems on your side include temporary issues with the game or the home network, unnecessary background apps, an outdated network driver, Windows Firewall blocking the game, problematic network settings, or corrupted game files.
How to fix MK1 matchmaking not working?
Start by applying these checks and fixes:
Restart Mortal Kombat 1: Some gamers claim that after re-launching the game, matchmaking got fixed, and they could play it without issues.
Restart your network devices: Most of the temporary issues on your home network can be resolved if you press the restart button on the back panel of your modem and router and wait a bit.
Close background apps: This will prevent potential compatibility issues and bandwidth problems.
Proceed with the step-by-step solutions listed below.
1. Update the network driver
Time needed: 5 minutes
An outdated network driver is the leading cause of network-related issues and problems with MK1 matchmaking on your PC. Head to the Device Manager or another driver updater tool and perform a network driver update.
Click on the Windows icon, type Device Manager, and open it.

Double-click on the Network Adapters section.

Right-click on your internet adapter and select Update driver.

Select the Search automatically for drivers option.
Install the driver update if the Update Driver Wizard finds one.
Restart your PC.
If you don't want to worry about driver updates and you are also done with experiencing driver-related issues, we advise you to look at Outbyte Driver Updater. From scanning and monitoring to performing driver updates, the worry shouldn't be yours!
⇒ Get Outbyte Driver Updater
2. Allow MK1 through the Firewall
Windows Firewall protects your PC from various threats. However, if it recognizes MK1 as a threat, it can block the matchmaking process, so it is better to add Mortal Kombat 1 to the Firewall exceptions list.
Click on the Windows icon, type Windows Defender Firewall, and open it.

Click on Allow an app or feature through Windows Defender Firewall.

Click on Change Settings and Allow Another App.

Select Browse and navigate to the Mortal Kombat 1 installation folder.
Click on the Mortal Kombat 1 executable file (.exe) and select Open.
Check the checkbox in columns Private and Public in the Mortal Kombat 1 row and hit OK.
Restart your PC.
3. Restart network settings
You can use Command Prompt by copy-pasting a few commands to resolve any misconfigured network settings on your PC.
Click on the Windows icon, type Command Prompt, and select it from the search results.
Type the following commands in separate lines, one by one, and hit Enter after each one:
ipconfig /flushdns
ipconfig /registerdns
ipconfig /release
ipconfig /renew
netsh winsock reset

Restart your PC.
Extra steps
Here are some additional methods that can help you if the MK1 matchmaking not working issue persists:
🌐 Use an alternative network: Ideally, you will connect to another network through an ethernet cable. Alternatively, you can use a mobile hotspot with a stable connection.
📁 Verify game files: This is a fast method for fixing corrupted game files.
⬆ Update Windows: Click the Windows icon, type Check for updates, open these System Settings, and perform pending updates. Restart your PC to finalize the installations.
🔁 Reinstall Mortal Kombat 1: The last resort is to uninstall the game, restart your PC, and perform a clean MK1 installation, preferably on your primary drive.
Related articles:
Conclusion
In conclusion, you can troubleshoot the MK1 matchmaking not working problem by restarting the game and your home network. We also advise you to close background apps before launching the game. To fix the potential issues on your PC, update the network driver, allow the game through the Firewall, and restart network settings.
Don't forget to connect to an alternative network should the issue persist. If any MK1 files are corrupted, you can use the game file verification system to find and replace them quickly. If it doesn't work out, you can use the last resort option: reinstalling Mortal Kombat 1. Good luck, and let us know how it went for you!