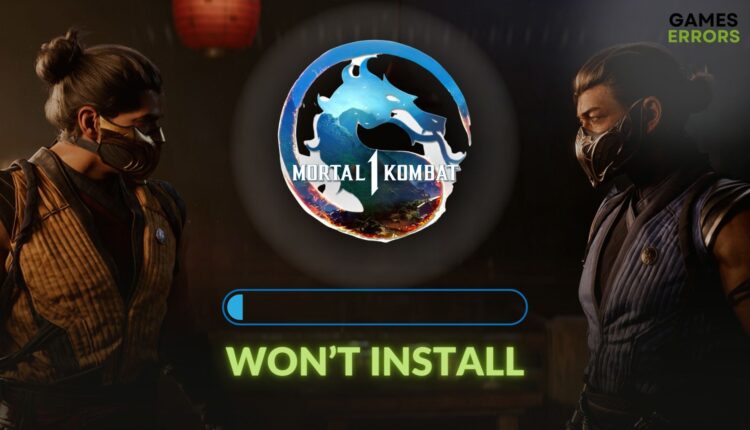 Mortal Kombat 1 Won't Install: 5 Working Ways To Fix It
Unable to install the Mortal Kombat 1 on your PC? Follow the solutions mentioned in this article that will work on both Steam and Epic Games Launcher ✅
If your Mortal Kombat 1 won't install or download, don't worry. You can fix the problems quickly and start playing this awesome game in no time.
For many reasons, the MK1 is a different fighting game. This franchise has a big fanbase. If you played the other titles from this game series, you must be very excited about this one. But, the excitement often can go away due to some technical issues.
Some users may notice that Mortal Kombat 1 won't install or download on their PC. So, we have featured the most essential solutions you need.
Learn what to do if MK1 keeps crashing.
Why is Mortal Kombat 1 not installing on my PC?
If Mortal Kombat 1 is not installing on either Steam or the Epic Games Launcher on PC, it is because of these reasons:
Server problem: In case the Steam or Epic Games servers are down, you won't be able to install anything, including the Mortal Kombat 1.
Problems with the store: The game launcher or client you are using may have some problems. It can be another reason MK1 is not installing.
Network problem: Unstable internet connection, proxy, or VPN, and problems with the network configurations also can trigger this issue.
Check out these methods to solve infinite loading screen issues on MK1 if necessary.
How can I fix Mortal Kombat 1 won't install?
To fix the Mortal Kombat 1 won't install problem, you should check your internet connection first. Also, before trying the main solutions, it's better to complete these quick steps:
After ensuring that everything works fine, try the following methods to fix the problem:
1. Clear the game client's cache
Time needed: 2 minutes
By clearing Steam's download cache or Epic Games's web cache, you can easily solve the Mortal Kombat 1 not installing or similar issues.
Give it a few seconds to finish the task and relaunch Steam.
To clear the Epic Games Launcher cache, open Run by pressing Win + R on the keyboard. Type %localappdata% and hit Enter. Then, go to the EpicGamesLauncher and then the Saved folder. At last, delete the folders whose name starts with webcache.
This method will also work if you see that the MK1 is not launching.
2. Change DNS
Changing DNS is another working method you should try if you see that the MK1 won't install on your PC. Follow these steps to do it:
Press Win + I to open Windows Settings.
Select Manual.
Then, enable IPv4 by toggling the switch next to it.
Restart Windows.
3. Repair the library folder
This method worked for some of us, even if it took a few minutes. But it might fix the MK 1 won't download problem for you too.
Open Steam and go to its Settings.
Go to the Storage Tab.
Select the drive where you usually install the games.
After that, relaunch Steam.
4. Reset the network
If you still see that the Mortal Kombat 1 won't install, take the following steps to reset the network settings:
Open Windows Settings like before.
Go to Network reset.
Next, click on Reset now.
After that, restart your computer.
5. Change the download region
If Mortal Kombat 1 won't download, you have two options: to either change the download region from the launcher or to use a VPN.
Launch the Steam again.
Go to Steam settings.
Navigate to the Downloads tab and select your preferred download region.
Click on OK.
Relaunch Steam.
Now, try to install the Mortal Kombat 1 and see if the process starts successfully or not.
After installing, if you face performance issues, see this guide on how to solve low FPS problems on MK1.
How to fix Mortal Kombat 1 won't install on PS5:
A redditor discovered that to fix the MK 1 won't download issue you can do the following:
Go to settings under the User tab
Select Other and then Restore Licenses
Restart your PS5
The game should work properly now without any issues.
More things to do when MK1 won't install:
Some users may still be unable to download and install the MK1. In this case, the following methods may help:
Update Steam or Epic Games Launcher.
Update the network driver using OutByte Driver Updater.
Try a different internet connection or a VPN like ExpressVPN if needed.
Use an ethernet cable.
Re-install the launcher.
To get more tips, learn how to make games download faster on PC.
Conclusion
This article has shown what to do when Mortal Kombat 1 won't install on your PC. However, if it keeps happening, update Windows to the latest version and also take the steps to solve problematic system files if necessary. Do you have any questions regarding this topic? Don't feel hesitant to ask us in the comment box.
If you encounter any issues or errors while playing your favorite games and require support, feel free to contact us here. Our team is always ready to assist you and ensure your gaming experience is seamless and enjoyable.