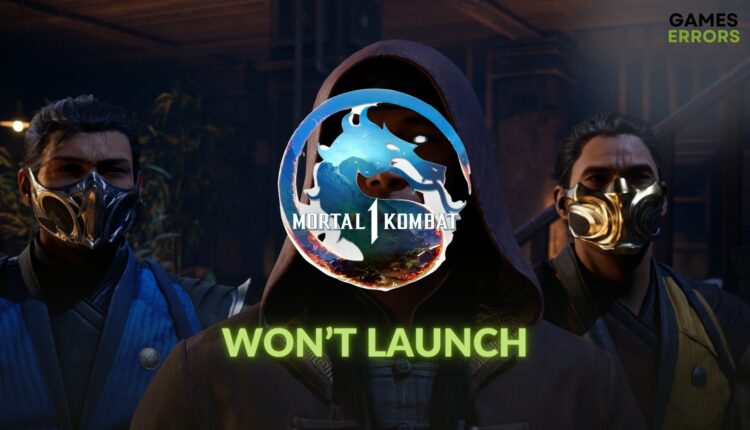 Mortal Kombat 1 Not Launching on PC: Fix It in 3 Ways
Can't play the MK1 just because this game is not launching? Try the solutions featured in this post before giving up ✅
No matter what, the Mortal Kombat 1 won't launch on your PC if some internal issues occur. The good thing is you will be able to fix this problem by taking the correct steps mentioned in this post.
The new Mortal Kombat 1 is indeed an exciting new fighting action game featuring a lot of awesome gameplay techniques.
However, on some PCs, some users may not be able to run this title, which is enough to melt down the crazy excitement. But, we won't let it happen as this article has the solutions you need.
Know the solutions to solve Mortal Kombat 1's infinite loading screen if needed.
Why is Mortal Kombat 1 not launching on my PC?
Mortal Kombat 1 is not launching on your PC because you might not meet the minimum system requirements or because your hardware might be faulty. However, there are other reasons why Mortal Kombat 1 is not starting, such as:
Faulty graphics driver: The root of the launching problem of MK1 may be related to the faulty or incompatible graphics driver on your PC.
Problematic game components: Missing, corrupted, or problematic game components and files are also known for causing game launching issues.
Third-party services: It's sad but true that many third-party services on your PC may cause Mortal Kombat 1 crashing or not launching issues.
Corrupted cache files: You may not run MK1 on your PC due to corrupted cache files as well.
How do I fix Mortal Kombat 1 won't launch?
To fix the Mortal Kombat 1 won't launch issue, make sure that your system files are working in the right way. Additionally, check the system requirements for Mortal Kombat 1 to be sure if your PC is compatible or not. If there is no issue, do these quick things before diving into the actual solutions:
Enable high-performance mode.
If the quick solutions don't work, try the following methods to fix Mortal Kombat 1 not launching:
1. Update the GPU driver
Updating the graphics driver is one of the best things to do if MK1 won't launch on your PC.
Expand the Display Adapters category.
Right-click on your graphics card and then click on Update driver.
Then, click on Search automatically for drivers.
After updating, restart Windows.
You should use a tool like Outbyte Driver Updater to update the graphics card driver. Unlike other similar apps or the built-in device manager, it can find the most compatible version of the GPU driver and install it automatically on your PC. That helps to avoid unwanted issues on games like MK1.
In case you go through a poor performance issue, this method will also work in fixing the low FPS problem on MK1.
2. Clear the client cache
Time needed: 2 minutes
If the Mortal Kombat 1 won't launch, you should immediately clear the game client's cache to fix this problem.
Within a few moments, the Steam will relaunch itself.
If you use the Epic Game Store, you will need to clear the web cache. To learn more, check out this guide on how to solve games not launching on Epic Games.
3. Update the game
In both Epic Games and Steam, the MK1 should get the updates automatically. If not, the following steps should be performed:
Open Steam or the client you are using.
Go to the game library.
Then, right-click on the Mortal Kombat 1 and go to the Properties.
Go to the Updates tab.
Relaunch Steam.
For the Epic Games Launcher, you can easily go to its settings. Then, scroll down and expand Mortal Kombat 1. Then, tick Auto-update.
After updating, verify whether it has fixed the MK1 not launching problem or not.
More solutions to fix the Mortal Kombat 1 not starting issue:
Are you still unable to play this fighting game? The methods mentioned below may help you:
Perform a clean boot and see if it works.
Disable any overlay such as the Steam Overlay
Play the game in windowed mode
Change the GPU used by the Selected Rendering Device setting
Disable the multi-threaded rendering setting from the game settings
Disable Intel E-Cores: To do so, follow the path BIOS > Power, Performance, and Cooling > Performance > Processor > Set the Active Efficient Cores to 0
To get even more tips on this issue, see this article on how to fix games not launching on PC.
Conclusion
The above methods are enough to fix Mortal Kombat 1 won't launch or similar issues. But, for some users, the issue may still persist. If it happens to you, re-install the game to resolve it permanently. However, if you have any questions, don't hesitate to ask us in the comment box.
If you encounter any issues or errors while playing your favorite games and require support, feel free to contact us here. Our team is always ready to assist you and ensure your gaming experience is seamless and enjoyable.