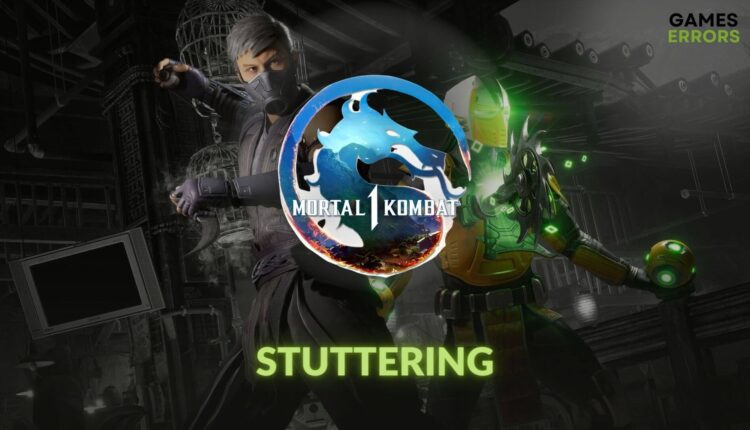 Mortal Kombat 1 Stuttering: 5 Ways to Fix It Right Away
Is the MK1 stuttering on your PC? Before getting mad, try the solutions from this article and magically eliminate this problem permanently 🎯
Gamers reported having Mortal Kombat 1 stuttering problems suddenly or from the beginning. This issue can completely ruin the experience. So, everyone should learn the methods to solve this issue.
While fighting against the AI, your friends, or a random person, if the game starts lagging or stuttering, you won't be able to do well. Unfortunately, some MK1 players are going through this issue on some PCs.
Learn how to solve Mortal Kombat 1 stuck on loading screen if needed.
What causes the stuttering issue on MK1?
The MK1 stuttering issue on PC is caused by outdated graphic drivers most of the time. However, there are other possible reasons too, such as:
GPU driver problems: For a buggy, incompatible, or corrupted graphics card driver, MK1 may crash or start stuttering after launching the gameplay.
Third-party services: Some problematic third-party services and the excessive amount of background activities can create this unwanted issue as well.
Issues with the game components: In case the required game components are outdated or there is something wrong, the Mortal Kombat 1 stuttering issue may appear.
How do I fix the Mortal Kombat 1 stuttering problem?
To fix the Mortal Kombat 1 stuttering problem, start with the pre-checks below:
Now, you can try the following solutions to troubleshoot the stuttering issue on Mortal Kombat 1:
1. Disable fullscreen optimizations
In many games, the full-screen optimizations are causing a ruckus. Unfortunately, it might be the reason why you encounter Mortal Kombat 1 PC stuttering. The good part is that you can disable it quickly and return to the game in no time.
Open the File Explorer.
Go to the MK1's installation directory.
Right-click on the application file of this game and then go to Properties.
Go to the Compatibility tab.
Click on Apply and OK.
Are you unable to download this title on your PC? See how to fix MK1 won't install.
2. Update the GPU driver
Time needed: 2 minutes
First, roll back the GPU driver and see if it works. If not, update the graphics driver to the latest version to fix stuttering issues on Mortal Kombat 1. This is the most successful method right now.
Click on Search automatically for drivers.
Finish the process.
After updating, restart your PC.
The Outbyte Driver Updater is one of the best tools that can find the right driver for your graphics card. It is more powerful and accurate compared to the other similar options. As a result, you are more likely to have a smoother gameplay experience from games like Mortal Kombat 1.
3. Tweak power settings and graphics preference
One of the things you should try when it comes to Mortal Kombat 1 stuttering on PC or when you encounter other performance-related issues is to change your power settings. If you choose the Maximum Performance, High Performance, or Best Performance option, your PC will function better by using more resources.
Press Win + I to open Windows settings.
Navigate to the Graphics.
Click on Mortal Kombat 1 and then on Options.
Relaunch the game.
This method will also help if you are having low FPS issues on MK1.
4. Enable hardware-accelerated GPU scheduling
To fix the Mortal Kombat 1 stuttering issue, you can also enable the Windows GPU scheduling feature. For this, go through these steps:
Go to the Display Settings like before.
Then, go to the Graphics.
Now, click on Change default graphics settings.
Enable Hardware-accelerated GPU scheduling.
Restart your PC.
5. Clear the shader cache
Most of the time, when you play a game or do something on your pc, your cache will accumulate data. If the data gets corrupted and it starts working improperly, the only thing you can do is clear it. Otherwise, you might encounter more problems, such as Mortal Kombat 1 lagging and stuttering.
Open the Windows settings.
Click on Temporary files.
Check DirectX Shader Cache.
Uncheck all other options if necessary.
At last, click on Remove files.
Now, launch Mortal Kombat 1 and see if the game still goes through the stuttering or lagging issue or not.
If you need, also see this guide on how to fix the MK1 not launching problem.
More ways to fix the Mortal Kombat 1 stuttering:
Are you still going through the stuttering issue on the MK1? These tips may help you:
Update the game and also the Steam or Epic Games Launcher.
Run the MK1 in the clean boot mode.
Set the maximum FPS to 60 or 30
Use VSync
Disable Intel E-Cores: BIOS > Power, Performance, and Cooling > Performance > Processor > Set the Active Efficient Cores to 0
Use DLSS
To get even more troubleshooting suggestions for this issue, check out this guide on how to stop games from stuttering.
Conclusion
The above methods are very effective in fixing the Mortal Kombat 1 stuttering problem. However, for some users, it may still persist. In this case, update the Windows, re-install the game, and repair the game files to see which one works. You also can consider upgrading your PC hardware. If you have any questions, let us know in the comment box.
If you encounter any issues or errors while playing your favorite games and require support, feel free to contact us here. Our team is always ready to assist you and ensure your gaming experience is seamless and enjoyable.