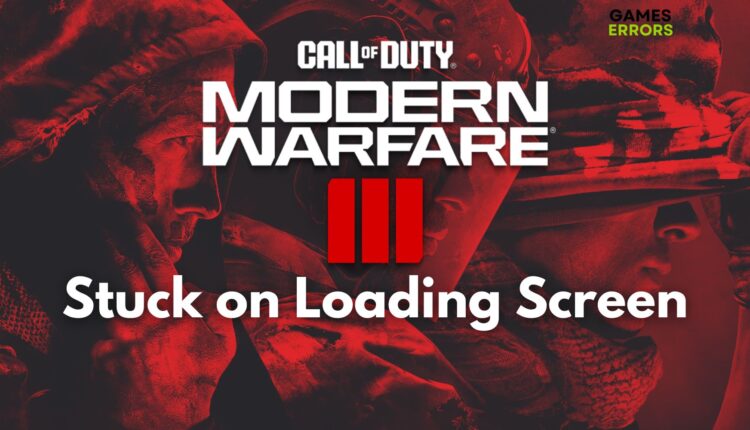 MW3 Stuck on Loading Screen: Efficient Quick Fixes
Discover all the solutions that worked for me to fix the MW3 stuck on loading screen problem. I tried various other solutions and fixes, but the ones below were the most efficient on my devices.
Nothing is worse than Call of Duty MW3 being stuck on a loading screen. Unfortunately, I've encountered this error multiple times by now. But, to save you the headaches I've endured, I put together this guide that walks you through how I resolved the issue in various ways every time I forced it to happen.
Table of Contents:
Why is Call of Duty Modern Warfare 3 stuck on loading screen?
Call of Duty Modern Warfare 3 is stuck on loading screen mainly due to outdated drivers and Windows-related services and processes. But they are not the only reason why this issue might happen. While I was researching the problem I have discovered that MW3 might also get stuck on loading screen due to:
System requirements: One of the most common reasons for encountering the MW3 infinite loading screen is not meeting the system requirements.
Corrupt Game Files: Sometimes, essential game files can become corrupted, causing the game to freeze during the loading process.
Insufficient Hardware: If your system doesn't meet the game's minimum requirements, you'll likely run into loading and performance issues.
Overheating: Your CPU or GPU overheating can lead to performance issues, including freezing at the loading screen.
Game Updates: Sometimes, an incomplete or corrupted update can wreak havoc on the game's ability to load properly.
Internet Connection and Server Issues: A poor or unstable internet connection can result in failed synchronizations between the MW3 client and the server, leading to hang-ups at the loading screen.
How to fix COD MW3 stuck on loading screen?
To fix the COD MW3 stuck on loading screen problem, the first thing I did was to update everything from my Windows-related processes and services to my drivers, and the problem was fixed, at least for now. Then, for the sake of research, I reverted the updates and started experimenting with other fixes and solutions too because I was looking for the most efficient and quickest options that work on multiple devices. Thus, you can start with the following checks, and if they don't work, try the fixes.
Pre-checks
The following pre-checks are my to-go quick fixes, which might solve the MW3 stuck on loading screen problem temporarily until a proper fix is released.
System Requirements: First, I made sure my PC met the MW3 minimum requirements. It's basic, but you'd be surprised how often this is the culprit.
Game Updates: Next, I verified that I was running the latest version of the game. Developers often release patches that fix issues such as MW3 stuck on loading screen.
Firewall and Antivirus: I take a moment to make sure that my firewall or antivirus software isn't blocking the game. Sometimes security software can interfere with game performance.
Check for Malware: I run a quick scan for malware or other unwanted software that might be impacting my computer's performance. The Virus & Threat Protection scan is great for this.
Adjust Power Settings: I switch my computer's power plan to 'High Performance' to make sure the system is using all its resources to run MW3 smoothly.
---
Software Solutions
There are plenty of efficient software-related solutions you could try before upgrading your hardware or repairing the faulty parts. Most of the solutions that I listed below are efficient, and they could fix multiple errors as well.
Run as Administrator

Here's what I did: I right-clicked the game's shortcut and chose Run as Administrator to ensure that the MW3 bypasses any system restrictions which might lead to the infinite loading screen error.
Additionally you can run the compatibility mode or disable the fullscreen optimizations to ensure that the game runs smoothly.

Updating Graphics Drivers

I make sure to keep my graphics drivers up to date, as outdated drivers often clash with new game updates, causing issues like MW3 getting stuck on the loading screen.
To update the graphics drivers manually follow the steps from the image below

Close Background Applications

I opened my Task Manager by pressing Ctrl+Shift+ESC and closed any unnecessary background apps that were hogging resources. Sometimes it's as simple as that.

Verify Game Files

Usually, the game files are corrupted or faulty after problematic installations or faulty updates. I am using Steam's Verify Integrity of Game Files button because it is the most convenient method.

Right-click on MW3 in Steam Library
Select Properties and then chose Verify Integrity of Game Files.
This often corrects any missing or corrupted files.

Adjust In-Game Settings

Inside the game, I went into the settings and lowered the graphics. I also turned off V-sync and anti-aliasing.

Update Your BIOS

I headed over to my motherboard manufacturer's website, downloaded the latest BIOS update, and followed their installation guidelines.

Update your Windows

Check for any available Windows updates, as they might come with fixes for the problem and additional updates for your services and processes. I do this often, as they are the best recommendations.

Reinstall the game

I dislike this method as it takes time and reverts most of the saved settings, but fortunately it works.
---
Hardware Solutions
This is always my last resort due to the fact that the hardware solutions take time and resources.
Check Your Storage

I checked to make sure I had enough space on my hard drive. You'd be surprised how often a lack of space is the issue. But you can fix this problem by clearing the temporary files.

Temperature Check

I monitored my CPU and GPU temperatures using third party software to ensure they weren't overheating.

Re-seat Your RAM

I powered down my PC, opened up the case, and made sure the RAM sticks were properly seated. Sometimes they can get a little loose.

Check for Overclocking

I reverted my CPU and GPU to their default clock settings, as overclocking can sometimes cause issues.

Use a Cable

I used to play COD on a WiFi connection, and I noticed that it increased the chances of infinite loading screens, so I switched to an Ethernet connection, which is more stable and reliable.
---
Related Articles:
---
Conclusion
I created this step-by-step guide with the hope it will help you quickly get past that dreaded loading screen and back into the action. We all know how frustrating these technical glitches can be. So if one of these solutions got you back into the game, I'd call that a win. If not, you might want to consider reaching out for professional help. Either way, happy gaming!