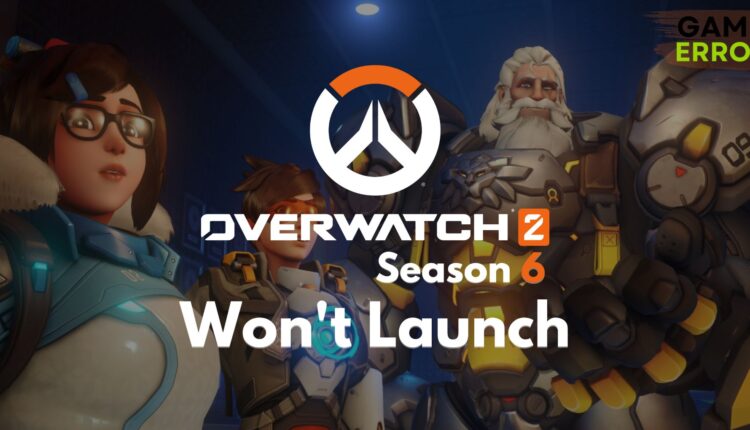 Overwatch 2 Season 6 Won't Launch: Fix It ASAP
Are you excited about the new season of Overwatch 2? For sure you won't be if you can't launch the game. This is why we are here to help. 😎
Some gamers recently complained that Overwatch 2 Season 6 won't launch. We decided to take prompt action and discovered the most frequent causes of this problem. To solve Overwatch 2 Season 6 launching issues, follow the fixes and solutions listed below.
If you can launch the game, but can't play it for long due to stability issues, learn what to do when Overwatch 2 Season 6 crashes.
Why is my Overwatch 2 not launching?
Overwatch 2 Season 6 is not launching due to poor PC specifications, resource-consuming background apps, problems with Windows permissions, Windows Firewall security settings, incorrect in-game settings, pilled-up cache files, or antivirus blocking the game from launching.
How to fix Overwatch 2 Season 6 won't launch?
Save yourself some time and perform these quick checks and fixes:
Check the system requirements for Overwatch 2: If your PC doesn't meet at least the minimum requirements, consider upgrading it.
Close background apps: Apps, games, and any other resource-consuming processes. If you keep some apps like Steam, Discord, or GeForce Experience, at least disable screen overlays.
Run Overwatch 2 as an administrator: Right-click on the game executable file (.exe), select Properties and navigate to the Compatibility tab. Enable run this program as an administrator and hit OK.
Proceed with the below-listed solutions for troubleshooting Overwatch 2 Season 6 launching issues.
1. Allow Overwatch 2 through the Firewall
Time needed: 5 minutes
Always keep the Windows Firewall enabled, as it is the first line of the defense against various threats. However, if the trusted game, such as Overwatch 2 Season 6, won't launch you can add it as an exception.
Click on the Windows icon, type Windows Defender Firewall, and open it.

Click on Allow an app or feature through Windows Defender Firewall.

Click on Change Settings and Allow Another App.

Select Browse, and navigate to the Overwatch 2 installation folder.
Click on the Overwatch 2 executable file (.exe) and select Open.
Check the checkbox in columns Private and Public in the Overwatch 2 row and hit OK.
Restart your PC.
2. Update the GPU driver
An outdated GPU driver will cause issues when performing graphically demanding tasks like launching and running Overwatch 2. That's why you should always keep the GPU driver updated.
Click on the Windows icon, type Device Manager, and open it.

Double-click on the Display Adapters section.

Right-click on your graphic card and select the Update driver option.

Click on the Search automatically for drivers option.
Install the driver update.
Restart your PC.
Outbyte Driver Updater is a reliable and swift driver updater tool that can take over the complete driver management process. This way, you will have more time to enjoy Overwatch 2 and other favorite titles without interruptions!
⇒ Get Outbyte Driver Updater
3. Reset in-game settings
In-game settings for some titles can be reset through the Battle.net launcher. This is extremely helpful if, like in your case, Overwatch 2 Season 6 won't launch.
Open the Battle.net launcher.
Navigate to Overwatch 2 and click on the gear icon next to it.
Click the Reset In-Game Options button in the Game Settings tab, and click Done.

4. Delete cache files
Every time you run Overwatch 2, or any other game on your PC, it reads data from cache files saved during the previous session. If these files are corrupted, the game might not be able to launch!
Use the Windows Key + R shortcut to open the Run dialog, type %localappdata%, and hit OK.
Press CTRL + A to select all files in the folder.
Hit the Delete key to delete all the files in the folder.
➡ If prompted to confirm, click on Yes.
➡ If some files can't be deleted, click on Skip.

Extra steps
Some players may encounter more problems launching the game, so we advise to:
🛡 Temporarily disable antivirus: Test if the game launches with your antivirus disabled. If so, whitelist Overwatch 2 Season 6 and re-enable your antivirus.
🎮 Enable the Game Mode: Click on the Windows icon, type Game Mode, and open it from the search. Enable this option to optimize your PC whenever you try to run the game.
⬆ Update Windows: Overwatch 2 not launching issues can be related to outdated Windows components. Type Check for updates in the search and install any pending updates.
Related articles:
Hopefully, this resolved the Overwatch 2 Season 6 won't launch problem. Share with us your experience and comment if you find any alternative solution that worked out for you.